Socialmedia 1
Listening
Geo. Promotion. Images. Advertising. 62 Ways to Use Twitter for Business. Most of you know that Twitter can be used for much more than just announcing what you ate for breakfast.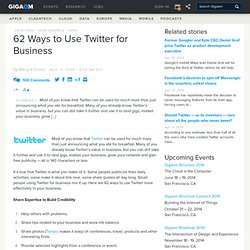 Many of you already know Twitter's value in business, but you can still take it further and use it to land gigs, market your business, grow your network and gain free publicity — all in 140 characters or less. It's true that Twitter is what you make of it. Some people publicize their daily activities, some make it about link love, some share quotes all day long. Smart people using Twitter for business mix it up. 100+ Twitter Tips & Tricks You May Not Know. Every month I receive around 100,000 visitors to my websites just from Twitter alone and so can every single one of you!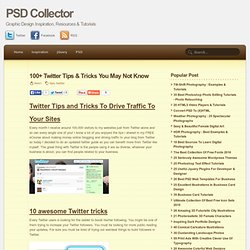 I know a lot of you enjoyed the tips I shared in my FREE eCourse about making money online blogging and driving traffic to your blog from Twitter so today I decided to do an updated twitter guide so you can benefit more from Twitter like myself. The great thing with Twitter is the people using it are so diverse, whatever your business is about, you can find people related to your business. The Social Media Side Order.
Six Key Benefits of Using Social Media for Small Business. Building Your Business One Tweet at a Time. "You want me to use Twitter to market my business?"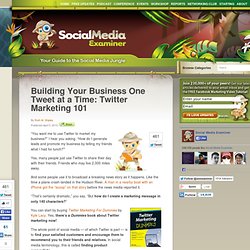 I hear you asking. "How do I generate leads and promote my business by telling my friends what I had for lunch?" Yes, many people just use Twitter to share their day with their friends. Friends who may live 2,000 miles away. How To Build Your Own Wordpress Theme. You don't need to be a PHP whizz to be able to put together your very own custom WordPress theme.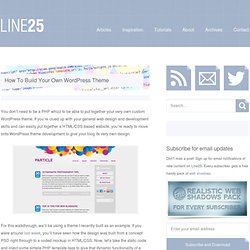 If you're clued up with your general web design and development skills and can easily put together a HTML/CSS based website, you're ready to move onto WordPress theme development to give your blog its very own design. For this walkthrough, we'll be using a theme I recently built as an example. Stop Squandering Your Social Media Opportunities. Can Social Media Help Small Business Overtake Corporate America? A movement is brewing across the internet.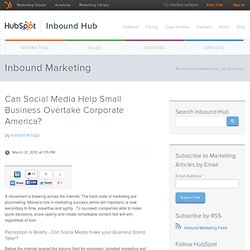 The hard costs of marketing are plummeting. Money's role in marketing success, while still important, is now secondary to time, expertise and agility. To succeed, companies able to make quick decisions, share openly and create remarkable content fast will win, regardless of size. Perception is Reality - Can Social Media make your Business Stand Taller? Before the internet leveled the playing field for marketers, targeted marketing and advertising were the realm of large companies with big budgets. Secrets of Social Media Buzz Marketing from CMO of Virgin America. 6 Do's and Don'ts for Your Company's Twitter Account.
7 Tips to Get More ReTweets. We all know content that spreads helps attract more people to your business, and a major way that content spreads on Twitter is through ReTweets (learn more about ReTweets on this free webinar).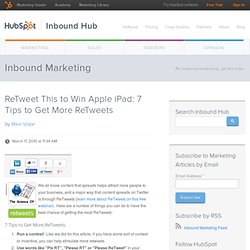 Here are a number of things you can do to have the best chance of getting the most ReTweets: 7 Tips to Get More ReTweets: Three Ways To Ensure Your Social Media Efforts Create Profitable Growth. Recently, I ranted about how blogging and tweeting are often incompatible with generating qualified leads or closed sales (" To Tweet or to March 11, 2010 Recently, I ranted about how blogging and tweeting are often incompatible with generating qualified leads or closed sales ("To Tweet or to Sell").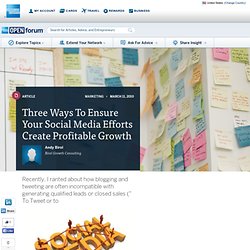 But if you run a business, how do you know if your tweeting and blogging are making you money? Or simply enabling the endless chattering among masses who have no need of your services or product, nor means of paying you for anything? When thinking about how social media can lead to profitable growth to write this article, I first had to convince myself it can. 7 Insanely Useful Ways to Search Twitter for Marketing. The Secret To A Better Social Media Strategy: Demographics. What social network should you be using to grow your business?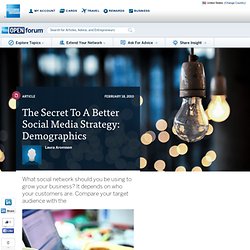 It depends on who your customers are. Compare your target audience with the February 18, 2010. 4 Simple Ways to Integrate Analytics into Your Daily Internet Marketing Efforts. Have you ever been confused about how to use your website analytics and how to maximize the value you get from them?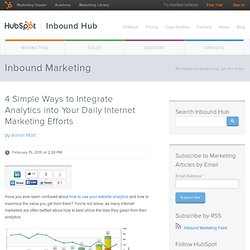 You're not alone, as many Internet marketers are often baffled about how to best utilize the data they glean from their analytics. Sure, you're looking at traffic and hopefully seeing those numbers go up as much as possible. Still, I wanted to point out some other very practical things you can be doing with your analytics that don't take very much effort and can greatly benefit your inbound marketing strategy . 48 Guerrilla Marketing Tips from Top PR Pros. A Different Thing Entirely: How to Distinguish Yourself From the Mass Market. Douglas Rushkoff, filmmaker, scholar, media wunderkind and author of Life Inc., a manifesto of changing our culture of corporate-run consumption, spoke at Etsy headquarters recently.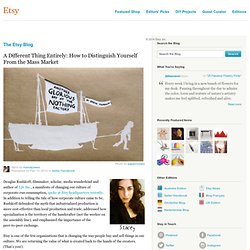 In addition to telling the tale of how corporate culture came to be, Rushkoff debunked the myth that industrialized production is more cost-effective than local production and trade, addressed how specialization is the territory of the handcrafter (not the worker on the assembly line), and emphasized the importance of the peer-to-peer exchange. Etsy is one of the few organizations that is changing the way people buy and sell things in our culture. 9 Blogging Mistakes to Avoid. Blogging a way to share your thoughts, knowledge and information like never before.
We blog for many reasons which are uique to us as a person but yet share a community that is a part of us. As a new blogger that is trying to gain new readership we look for new ways to get as many eyes (readers) and fingers to the keys (comments) to drive us to continue to write. 4 Myths About Social Media and Business. 25% of small business owners said they plan to spend more on social networking in 2010, according to the Ad-ology Small Business Market January 14, 2010 25% of small business owners said they plan to spend more on social networking in 2010, according to the Ad-ology Small Business Marketing Forecast.
Facebook ranked as the most beneficial social network for small businesses, followed by LinkedIn and Twitter, according to the November 2009 report. The 1,100 small business owners surveyed said the biggest benefits of social networking were the abilities to generate leads, keep up with their industry, and monitor the online conversation about their business. Want to Make Money on Twitter? Take a Look at How Dell Does It. CES Presentation: How to Demo Twitter. 4 Simple Social Media Suggestions for Small Businesses in 2010.
2010 is upon us, bringing new opportunities to jump ahead of the competition using social media. The web is evolving rapidly and those smal January 06, 2010 2010 is upon us, bringing new opportunities to jump ahead of the competition using social media. The web is evolving rapidly and those small businesses that identify trends first will be able to stay ahead. Here are four super-simple social media suggestions to kick start your business this year. Why Twitter Will Endure. 5 Trends That Will Shape Small Business in 2010 : Marketing. How to Promote Your Business on Flickr. Twitter For Business: The 7 Things That Will Surprise You Most About Twitter. 9 Top Twitter Techniques from Inc. Magazine.
Using a mobile device? Go to m.inc.com for our mobile version. Top Twitter Techniques (or 9 Good Excuses if you want to Ignore Twitter) Debunking Social Media Myths. By David Armano | 9:52 AM June 29, 2009 I recently spoke at and attended the Conversational Marketing Summit in NYC. On day two, I heard something from Brian Wallace of Blackberry that echoed thoughts I've been preaching for a while. He said "I was selling in the idea that social media is free, until the community manager headcount came in." This underscores a fundamental truth to social media that many organizations underestimate–being social means having real live people who actively participate in your initiatives. It's difficult to automate and a challenge to scale, but it can also help move your business forward in ways that produce leveraged outcomes such as new/better products or services.
Build a High-Traffic Blog Without Killing Yourself. Social Media Reality Check. Revitalize Your Blog: 31 Days to Build a Better Blog' Workbook. 5 Ways to Share Images on Twitter. All You Need to Know to Tweet on Twitter. 10 Ways to Launch a New Blog with a 'Bang' Highlights Four Ways in Which Enterprises Are Using Twitter. Nine Twitter tips for business | Business Center | Working Mac. 25 Smart Ways to Spice Up your Blogging Experience. Twitter And Other Social Media: Strategies That Generate Income And Savings. Expert Tips for a Tweeting Business. Groundswell book blog.
---