Socialmedia 1
Most of you know that Twitter can be used for much more than just announcing what you ate for breakfast.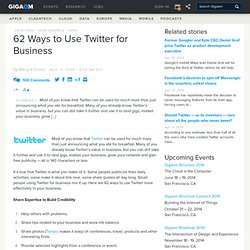 100+ Twitter Tips & Tricks You May Not Know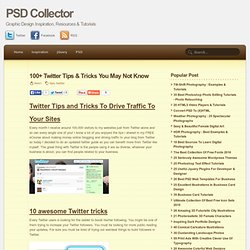 Every month I receive around 100,000 visitors to my websites just from Twitter alone and so can every single one of you! I know a lot of you enjoyed the tips I shared in my FREE eCourse about making money online blogging and driving traffic to your blog from Twitter so today I decided to do an updated twitter guide so you can benefit more from Twitter like myself. The great thing with Twitter is the people using it are so diverse, whatever your business is about, you can find people related to your business.
The Social Media Side Order
Six Key Benefits of Using Social Media for Small Business
Building Your Business One Tweet at a Time
"You want me to use Twitter to market my business?" I hear you asking. "How do I generate leads and promote my business by telling my friends what I had for lunch? " Yes, many people just use Twitter to share their day with their friends.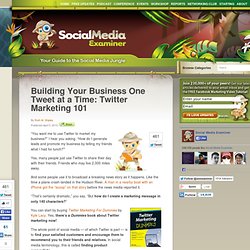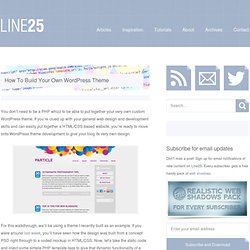 How To Build Your Own Wordpress Theme
You don't need to be a PHP whizz to be able to put together your very own custom WordPress theme. If you're clued up with your general web design and development skills and can easily put together a HTML/CSS based website, you're ready to move onto WordPress theme development to give your blog its very own design. For this walkthrough, we'll be using a theme I recently built as an example.
Stop Squandering Your Social Media Opportunities
Can Social Media Help Small Business Overtake Corporate America?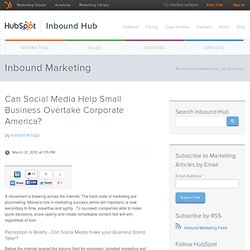 A movement is brewing across the internet. The hard costs of marketing are plummeting.
Last week, I had the opportunity to hear Porter Gale speak about how Virgin America has launched and marketed a new airline with a much smaller budget than their competition. To build their brand and sales, Porter and Virgin America have used a clever combination of inbound marketing tactics like event buzz, cool content and social media interactions. Select Your Target Customer and Grok Them.
Secrets of Social Media Buzz Marketing from CMO of Virgin America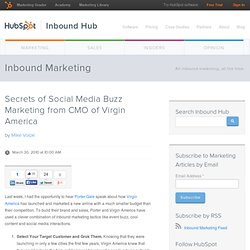 6 Do's and Don'ts for Your Company's Twitter Account
7 Tips to Get More ReTweets
We all know content that spreads helps attract more people to your business, and a major way that content spreads on Twitter is through ReTweets ( learn more about ReTweets on this free webinar ). Here are a number of things you can do to have the best chance of getting the most ReTweets: 7 Tips to Get More ReTweets: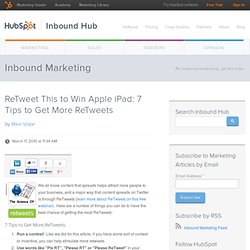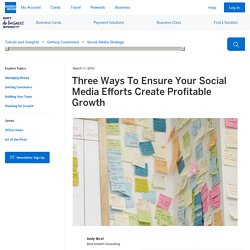 Three Ways To Ensure Your Social Media Efforts Create Profitable Growth
Recently, I ranted about how blogging and tweeting are often incompatible with generating qualified leads or closed sales (" To Tweet or to Sell ").
7 Insanely Useful Ways to Search Twitter for Marketing
The Secret To A Better Social Media Strategy: Demographics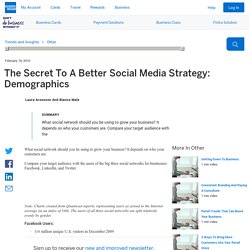 What social network should you be using to grow your business? It depends on who your customers are.
1. You haven't customized anything Small business owners who are just starting out on Twitter are awful at customization.
5 Ways Your Business isn't Using Twitter Well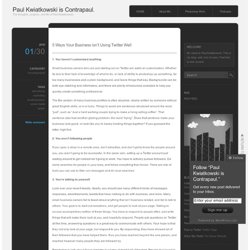 Have you ever been confused about how to use your website analytics and how to maximize the value you get from them? You're not alone, as many Internet marketers are often baffled about how to best utilize the data they glean from their analytics. Sure, you're looking at traffic and hopefully seeing those numbers go up as much as possible. Still, I wanted to point out some other very practical things you can be doing with your analytics that don't take very much effort and can greatly benefit your inbound marketing strategy .
4 Simple Ways to Integrate Analytics into Your Daily Internet Marketing Efforts
9 Tips For Getting More Twitter Followers
48 Guerrilla Marketing Tips from Top PR Pros
A Different Thing Entirely: How to Distinguish Yourself From the Mass Market
9 Blogging Mistakes to Avoid
Blogging a way to share your thoughts, knowledge and information like never before. We blog for many reasons which are uique to us as a person but yet share a community that is a part of us. As a new blogger that is trying to gain new readership we look for new ways to get as many eyes (readers) and fingers to the keys (comments) to drive us to continue to write.
25% of small business owners said they plan to spend more on social networking in 2010, according to the Ad-ology Small Business Marketing Forecast . Facebook ranked as the most beneficial social network for small businesses, followed by LinkedIn and Twitter, according to the November 2009 report.
4 Myths About Social Media and Business
Want to Make Money on Twitter? Take a Look at How Dell Does It
CES Presentation: How to Demo Twitter
4 Simple Social Media Suggestions for Small Businesses in 2010
2010 is upon us, bringing new opportunities to jump ahead of the competition using social media. The web is evolving rapidly and those small businesses that identify trends first will be able to stay ahead. Here are four super-simple social media suggestions to kick start your business this year.
And then there was the name. Twitter. In the pantheon of digital nomenclature — brands within a sector of the economy that grew so fast that all the sensible names were quickly taken — it would be hard to come up with a noun more trite than Twitter.
Why Twitter Will Endure
5 Trends That Will Shape Small Business in 2010 : Marketing
How to Promote Your Business on Flickr
Twitter For Business: The 7 Things That Will Surprise You Most About Twitter
9 Top Twitter Techniques from Inc. Magazine
Debunking Social Media Myths
Build a High-Traffic Blog Without Killing Yourself
Social Media Reality Check
Secondary Social Media Tools
Revitalize Your Blog: 31 Days to Build a Better Blog' Workbook
5 Ways to Share Images on Twitter
All You Need to Know to Tweet on Twitter
10 Ways to Launch a New Blog with a 'Bang'
Highlights Four Ways in Which Enterprises Are Using Twitter
Nine Twitter tips for business | Business Center | Working Mac
25 Smart Ways to Spice Up your Blogging Experience
twitter And Other Social Media: Strategies That Generate Income And Savings
Expert Tips for a Tweeting Business
Socialfishing...: 4 Steps for Setting Up an Organizational Twitter Account
groundswell book blog