Travel Blogs
Miyajima, a sacred island in Japan. So sacred in fact that its famous Itsukushima Shinto Shrine (now a UNESCO site) was designed very cleverly 500 years ago in a way that prevented anyone from actually touching it. You see, raised walkways provided a way for pilgrims to visit the island without coming into direct contact with the island's sacred ground.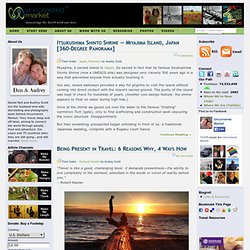 Uncornered Market | Around the World Travel Blog and Photos
Brave New Traveler - Online Travel Magazine
Nomadic Matt's Travel Site
Come Watch My Free Online Travel Course! Two months ago, I was asked to do an online travel course with Creative Live. Creative Live is an organization that runs free online classes on everything from… The Future of Guidebooks with Travel Legend Pauline Frommer A few years ago, I interviewed travel legend Pauline Frommer, picking her brain for great travel tips. Since that time, the guidebook company that bears her family name…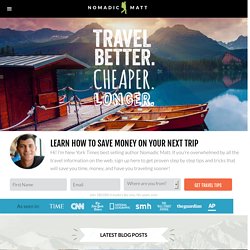 Everything Everywhere | Around the world travel blog
Last summer I did an island hopping tour of the Lesser Antilles in the Caribbean. I recently did two appearances on the popular Amateur Traveler podcast with my friend Chris Christensen to talk about my trip. Because there were so many islands, we split the interview into two with the first half talking about the Leeward Islands (USVI, BVI, St Martin, Saba, St Eustatius, Anguilla, St Bart's, St Kitts and Nevis, Antigua and Barbuda, and Montserrat) and the Windward Islands (Guadeloupe, Dominica, Martinique, St Lucia, Barbados, St Vincent and the Grenadines, Grenada, and Trinidad and Tobago).