Linux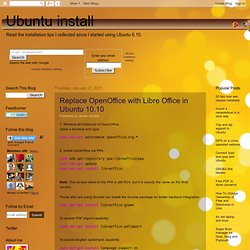 Replace OpenOffice with Libre Office in Ubuntu 10.10
1. Remove all instances of OpenOffice. Open a terminal and type: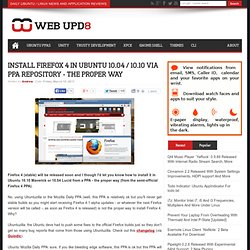 Firefox 4 (stable) will be released soon and I though I'd let you know how to install it in Ubuntu 10.10 Maverick or 10.04 Lucid from a PPA - the proper way (from the semi-official Firefox 4 PPA) . No, using Ubuntuzilla or the Mozilla Daily PPA (well, this PPA is relatively ok but you'll never get stable builds so you might start receiving Firefox 4.1 alpha updates - or whatever the next Firefox version will be called -, as soon as Firefox 4 is released) is not the proper way to install Firefox 4. Why? Ubuntuzilla: the Ubuntu devs had to push some fixes to the official Firefox builds just so they don't get so many bug reports that come from those using Ubuntuzilla.
Install Firefox 4 In Ubuntu 10.04 / 10.10 Via PPA Repository - The Proper Way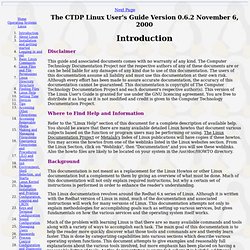 Introduction
Disclaimer This guide and associated documents comes with no warranty af any kind. The Computer Technology Documentation Project nor the respective authors of any of these documents are or can be held liable for any damages of any kind due to use of this documentation. The users of this documentation assume all liability and must use this documentation at their own risk. Although every effort has been made to assure accurate documentation, the accuracy of this documentation cannot be guaranteed.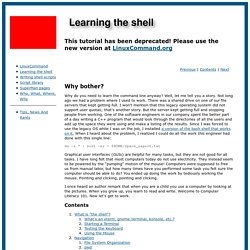 Why do you need to learn the command line anyway? Well, let me tell you a story. Not long ago we had a problem where I used to work.
Technology, Software, Tips and Tricks, Downloads and a bit of fun A New Morning 17 Essential Linux Resources That You Shouldn't Miss by Umar on May 25th, 2009 · 11 Comments
17 Essential Linux Resources That You Shouldn't Miss | A New Morning
Have you wondered why certain programs are located under /bin, or /sbin, or /usr/bin, or /usr/sbin? For example, less command is located under /usr/bin directory. Why not /bin, or /sbin, or /usr/sbin? What is the different between all these directories?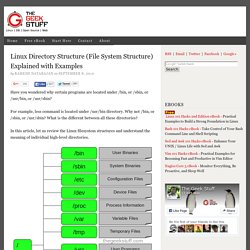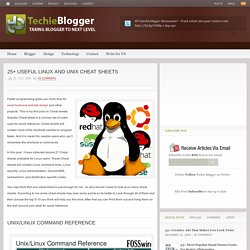 Faster programming gives you more time for small business website design and other projects. This is my first post on Cheat sheets. Actually Cheat sheet is a concise set of notes used for quick reference.