Science Expo
Alternative Green Source Of Energy
- Electricity generating tiles Apr 3
Renewable energy is generally defined as energy that comes from resources which are naturally replenished on a human timescale such as sunlight, wind, rain, tides, waves and geothermal heat.[2] Renewable energy replaces conventional fuels in four distinct areas: electricity generation, hot water/space heating, motor fuels, and rural (off-grid) energy services.[3] About 16% of global final energy consumption presently comes from renewable resources, with 10% [4] of all energy from traditional biomass, mainly used for heating, and 3.4% from hydroelectricity. New renewables (small hydro, modern biomass, wind, solar, geothermal, and biofuels) account for another 3% and are growing rapidly.[5] At the national level, at least 30 nations around the world already have renewable energy contributing more than 20% of energy supply.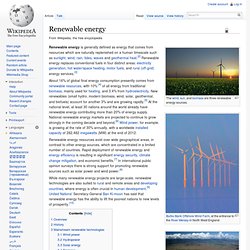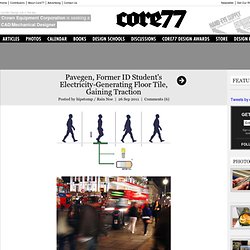 Pavegen, Former ID Student's Electricity-Generating Floor Tile, Gaining Traction
Several years ago, British entrepreneur Laurence Kemball-Cook built his first Pavegen electricity generating prototype while studying Industrial Design & Technology at Loughborough University. The Pavegen is a floor tile, similar in concept to (though developed independently of) the Sustainable Dance Floor from the Netherlands. Like that product, it captures electricity generated by footfalls, making it an ideal way to generate power from nothing more than people walking over it. In December of last year the Pavegen began real-world trials at a grammar school in Kent, and now Kemball-Cook has received his first commercial order for the system: The new Westfield Stratford City Shopping Centre in East London plans to roll out a grid of Pavegens to power the lighting. "30 million shoppers a year = great for Pavegen!"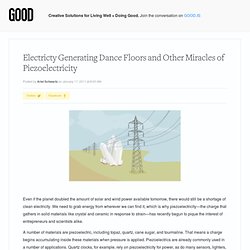 Even if the planet doubled the amount of solar and wind power available tomorrow, there would still be a shortage of clean electricity. We need to grab energy from wherever we can find it, which is why piezoelectricity—the charge that gathers in solid materials like crystal and ceramic in response to strain—has recently begun to pique the interest of entrepreneurs and scientists alike. A number of materials are piezoelectric, including topaz, quartz, cane sugar, and tourmaline. That means a charge begins accumulating inside these materials when pressure is applied. Piezoelectrics are already commonly used in a number of applications.
Electricity Generating Dance Floors and Other Miracles of Piezoelectricity - Technology
Pavegen tiles harvest kinetic energy from pedestrian traffic Image Gallery (6 images) Can you imagine the power of 50,000 steps a day?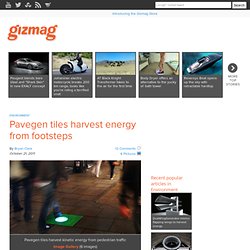 Pavegen tiles harvest energy from footsteps
Five ways to convert your footsteps into renewable energy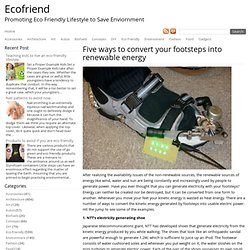 Five ways to convert your footsteps into renewable energy After realizing the availability issues of the non-renewable sources, the renewable sources of energy like wind, water and sun are being constantly and increasingly used by people to generate power. Have you ever thought that you can generate electricity with your footsteps? Energy can neither be created nor be destroyed, but it can be converted from one form to another. Whenever you move your feet your kinetic energy is wasted as heat energy. There are a number of ways to convert the kinetic energy generated by footsteps into usable electric power.