Competition
PCR Launches Next Generation Wealth Management Platform -- WILTON, Conn., July 12. WILTON, Conn., July 12, 2011 /PRNewswire/ -- Private Client Resources (PCR), founded in 2000, is a leading solutions provider to Private Banks, Family Offices and RIA firms.
PCR is a multi-faceted service company that delivers: private wealth aggregation; reporting and integrated systems; custom solutions and services. PCR is pleased to announce the launch of Palette Platform™. This latest innovation is an open architecture integration of systems and capabilities that can be customized to the varied needs of private wealth firms. Trading Room / Trading Technology - Swiss bourse to offer high-speed cross-asset trading. NASDAQ OMX Corporate Solutions Debuts Social Media and Investor Products at NIRI Conference. Fidessa enhances Canadian trading platform to further support growing electronic desks - Company news - News Investment Executive.
Fidessa group plc, provider of high-performance trading, investment management and information solutions for the world's financial community, Thursday announced the latest release of its Canadian sell-side trading platform.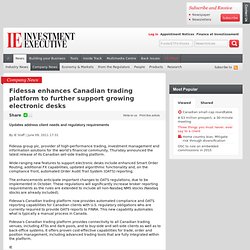 Wide-ranging new features to support electronic desks include enhanced Smart Order Routing, additional FX capabilities, updated algorithmic functionality and, on the compliance front, automated Order Audit Trail System (OATS) reporting. The enhancements anticipate important changes to OATS regulations, due to be implemented in October. These regulations will significantly increase broker reporting requirements as the rules are extended to include all non-Nasdaq NMS stocks (Nasdaq stocks are already included). Fidessa's Canadian trading platform now provides automated compliance and OATS reporting capabilities for Canadian clients with U.S. regulatory obligations who are currently required to provide OATS reports to FINRA. Morningstar-rebrands-realpoint-llc-businesses-123610264. CHICAGO, June 10, 2011 /PRNewswire/ -- Morningstar, Inc.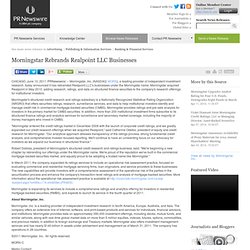 (NASDAQ: MORN), a leading provider of independent investment research, today announced it has rebranded Realpoint LLC's businesses under the Morningstar name. Morningstar acquired Realpoint in May 2010, adding research, ratings, and data on structured finance securities to the company's research offerings for institutional investors. Morningstar's structured credit research and ratings subsidiary is a Nationally Recognized Statistical Rating Organization (NRSRO) that offers securities ratings, research, surveillance services, and data to help institutional investors identify and manage credit risk in commercial mortgage-backed securities (CMBS). Advent and SunGard Address Cost Basis Reporting Requirements With Enhanced FIX Messaging.
---