Gaming
Super creepy Pokémon hack - Tiny Cartridge - Nintendo DS, DSi, & 3DS News, Media, Videos, Imports, Homebrew, & Retro Junk. I stumbled on this unsettling story of an obscure Pokémon bootleg/art-hack that I thought might be neat to share on here.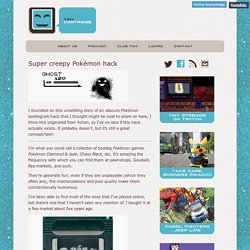 I think this originated from 4chan, so I've no idea if this hack actually exists. It probably doesn't, but it's still a great concept/tale! : I'm what you could call a collector of bootleg Pokémon games. Pokémon Diamond & Jade, Chaos Black, etc. Super Mario Bros. Wedding Invitation. If you grew up playing Super Mario Bros., like I did, you'll get a real kick out of Larry T Quach's Mario-themed wedding invitations.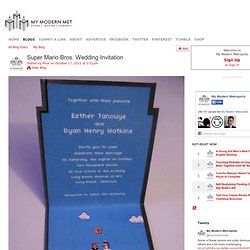 After he was asked by his good friends, Esther Tanouye and Ryan Watkins, to design their wedding invitations in an 8-bit Mario style, Quach not only completed the task (while pressed for time), but did the couple and the classic game justice! The details and nods to the original video game are impeccable. It's only upon closer inspection that one identifies the couple's last names in place of the Nintendo logo. Once the Nintendo cartridge-shaped invitation is opened, there are more nostalgic surprises including three question block cards - one for the wedding registry, one for directions to the wedding, and one for your RSVP and dinner selections.
---