Gadgets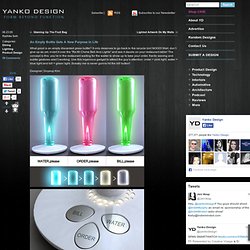 Re:fill Chime Bell And Lights For Restaurants by Doyeop Kim & Yanko Design
An Empty Bottle Gets A New Purpose In Life What good is an empty discarded glass bottle?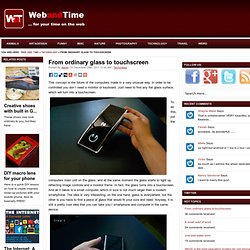 From ordinary glass to touchscreen
Posted by admin on December 29th, 2011 12:48 AM | Technology This concept is the future of the computers made in a very unusual way. In order to be controlled you don`t need a monitor or keyboard. Just need to find any flat glass surface, which will turn into a touchscreen. To do this, put the computers main unit on the glass, and at the same moment the glass starts to light up, reflecting image controls and a monitor frame. In fact, the glass turns into a touchscreen.
Belkin Mini Surge Protector/Dual USB Charger: Electronics
Bone Collection Portable Amplifier for iPhone, Horn Stand, White: Cell Phones & Accessories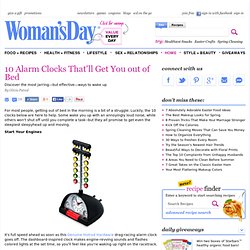 For most people, getting out of bed in the morning is a bit of a struggle. Luckily, the 10 clocks below are here to help. Some wake you up with an annoyingly loud noise, while others won't shut off until you complete a task--but they all promise to get even the sleepiest sleepyhead up and moving. Start Your Engines
The OmniTouch Makes Any Surface Interactive
Emergency Teddy Bear. | ZuZu Top
Ten Unusual Shapes For Mobile Phones The form factor of your cellphone is quite a defining factor on whether you approve of it or not. The grip, the interface and accessibility, all depend on this. At Yanko, we have covered some really unique and unusual forms and here is a re-cap of the Ten Most Unusual Shapes For Mobile Phones. 10) Nokia 888 Mobile Phone by Tamer Nakisci A wiggly worm or a bracelet, you choose its form! 9) Tarati – Touchless Cellphone by Nonobject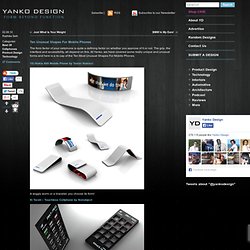 If only beds came equipped with dual climate control systems like some luxury cars… If you or someone you know loses sleep because they get too hot and sweaty, maybe this Bed Fan is the best remedy. Bed Fan The Bed Fan delivers a cool breeze between the sheets—without AC costs, and without disturbing your partner.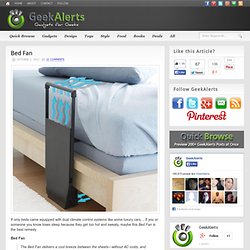 Headphone or Speaker? You choose! Designed by Lu Chieh Hua, Headphone or Speaker combines the lightweight mobility of headphones with the sound amplification of a speaker into a single unit that makes it possible to both listen to your music privately or share with others.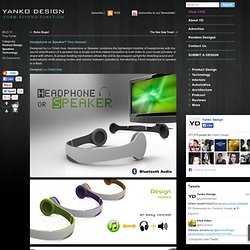 Headphone or Speaker by Lu Chieh Hua & Yanko Design - StumbleUpon