Architecture
CHALET
Architecture | House design. Ogrydziak/Prillinger Architects designed the Definite Home throughout Piedmont, Florida.
This specific project can be a total upgrade of active 1974 cast-definite as well as stone dwelling. The seven thousand sq ft house had been built for 1 couple, the substance wide open program structured around any key court. 2010 February at KITKA design toronto. February, 2010 House K by Yoshichika Takagi February 7th, 2010 I am in love with House K by Yoshichika Takagi, a home in Hokkaido Japan.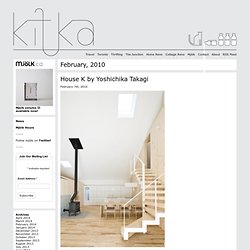 (A place we would love to go this year.) I can't get enough of the Hiroshima dining chairs by Naoto Fukasawa which we sell here at the store.
I-BEAM DESIGN + ARCHITECTURE. The Pallet House project by I-Beam Design, was initially conceived as a transitional shelter for the refugees returning to Kosovo after the war.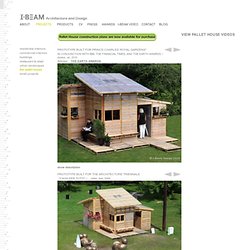 These people needed an immediate alternative to the typical tent solution that could potentially transform into a new permanent home over time, even without access to sophisticated tools and materials. It has since become our aim to also develop the project as a more permanent housing solution to serve not only refugees in disaster stricken areas but also as a modular, prefabricated solution to affordable housing everywhere that can improve people's lives, the environment, society and even inspire greater diplomacy among the various cultures of the world. The Pallet House is an inexpensive, efficient and easily realizable solution to the problem of housing people displaced by natural disaster, plagues, famine, political and economic strife or war. Building the Green Modern Home: Looking at Windows.
I used to be a strict modernist; my role at TreeHugger was to demonstrate that green design could be wonderful and cool and I filled the site with all kinds of modern houses with some claim, often weak, for being green.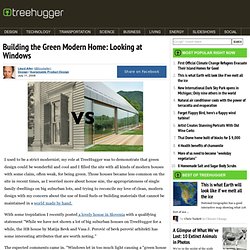 Those houses became less common on the site in recent times, as I worried more about house size, the appropriateness of single family dwellings on big suburban lots, and trying to reconcile my love of clean, modern design with my concern about the use of fossil fuels or building materials that cannot be maintained in a world made by hand. With some trepidation I recently posted a lovely house in Slovenia with a qualifying statement "While we have not shown a lot of big suburban houses on TreeHugger for a while, the HB house by Matija Bevk and Vasa J. Perović of bevk perović arhitekti has some interesting attributes that are worth noting. " The expected comments came in. Danish Home | Sprk / All Things Creative.
Bilder | Fjällhuset. Lifestyle architecture. Galeria - Wamhouse.pl. Studiomobile.org. VINCENT CALLEBAUT ARCHITECTE PROJETS TOUT. Actualités > MIKADO. Programme Logement / Culturel Education / Santé Tertiaire / Urbanisme Agriculture urbaine Chronologie Agence Actualités / Présentation Équipe / Contact / Accès FTP Facebook / Recherches Actualités.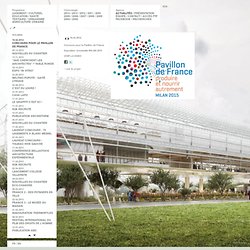 LINEAIRE-DESIGN.COM: ACCUEIL. Bienvenue sur le site de LINÉAIRE - DESIGN, entreprise spécialisée en éco-construction, en charpenterie de bois massif et en éco-design.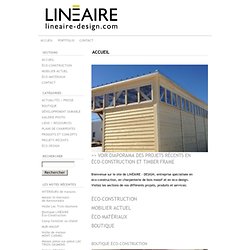 Visitez les sections de nos différents projets, produits et services: >> Plusieurs produits, matériaux et équipements disponibles sur place ou sur commande. >> ARTICLE paru dans LE SOLEIL, Décembre 2013 Le programme ARBRE-ÉVOLUTION à comme objectif premier la plantation d'un maximum d'arbres à travers le monde en mariant les concepts d'éco-foresterie, de développement durable et d'implication des communautés.
Small Summer House in Trosa. This small wooden house is a holiday home for a couple in their 60′s.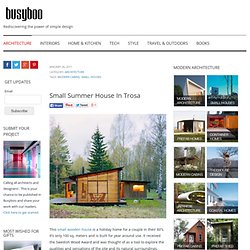 It's only 100 sq. meters and is built for year around use. It received the Swedish Wood Award and was thought of as a tool to explore the qualities and sensations of the site and its natural surroundings, through light, shade and changing weather conditions. The single-story structure is divided into different areas, consisting of a well insulated core area, that can be heated in winter, which contains the main functions of the home. During warmer periods, the living space can be extended to the adjoining veranda and hallway, which are heated only by solar radiation.
---