Outdoors
Hinterveld. Luxurious timeless Mohair blankets, scarves and throws, meticulously crafted mohair products in South Africa
Lovelane Caravans - Our Classic Caravans
At Love Lane, we have a unique collection of vintage vehicles and caravans. We lovingly restore them whilst keeping each as original as possible. Each has its own character and has have been decorated and fitted out in such a way as to accentuate its own individual charm. The caravans were designed to stop where fancy took them, and are comfortable and functional without the need for electric.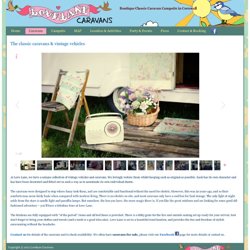 Products
Home
A "3V" geodesic or polyhedral dome is made of hexagons and pentagons, which means you will need 2 basic triangle shapes, called BAA and BCC. Start your project with a visit to desertdomes.com , where you will find dome diagrams, dome formulas and an invaluable dome calculator. This Instructable is for a dome with a 7' radius; this is a "5/8" 3V dome meaning taller vs flatter, over 8' tall in the middle. The dome likes a flat surface to sit on making it ideal for the open desert playa, not so suitable for uneven terrain. The dome base isn't exactly flat, but close; the flexible nature of the coroplast bows and yields a little when you deploy it to make up for any uneven contact (Note: the prototype pictured here has a radius of 7.2' but wasted more material from a 4x8 sheet.
Folding Geodesic Dome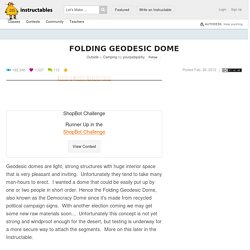 Folding Geodesic Dome
Teardrop Trailer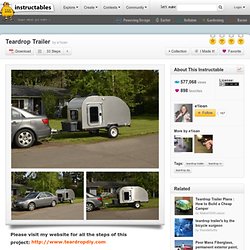 Feel free to click on the pictures to see them in full size for more details. The trailer box opened. Looks small. Lots of screws and parts.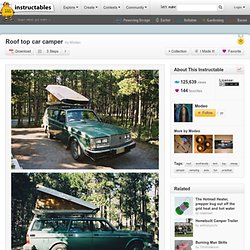 Roof top car camper
I made this project a long time ago (before digital cameras) therefore I do not have any step by step pictures. I will try to make up for it with my descriptions.
Yurt Without Steel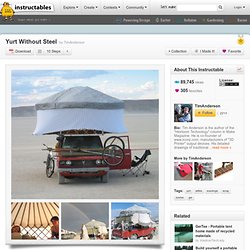 Here are the complete parts of the yurt frame laid out. From left to right and top to bottom they are: 1. Two rafters which have longer strings at the wall end to tie them to the top of the doorframe. 2.
Safari BaseCamp 10 is a homebuilt camper trailer that my dad and my brother and I built, with the help of some nearby craftsmen. One of the goals has been to create a self-sufficient system that facilitates a complete set of commodities without the need for hookups. Although many details were worked out during construction, there was quite a bit of prior planning and dreaming involved. It's probably been over two years since the building began, and we're still not done tweaking it.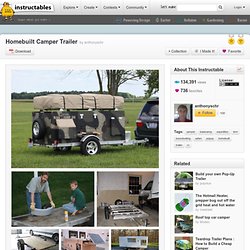 Homebuilt Camper Trailer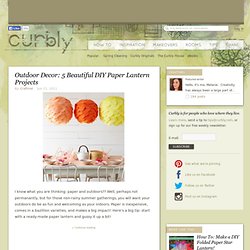 Outdoor Decor: 5 Beautiful DIY Paper Lantern Projects » Curbly | DIY Design Community « Keywords: DIY, outdoor, decor, lantern
I know what you are thinking: paper and outdoors?? Well, perhaps not permanantly, but for those non-rainy summer gatherings, you will want your outdoors do be as fun and welcoming as your indoors. Paper is inexpensive, comes in a bazillion varieties, and makes a big impact! Here's a big tip: start with a ready-made paper lantern and gussy it up a bit! 1. Belinda at the Happy Home Blog used doilies to make this stunning statement,above.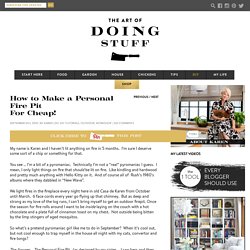 My name is Karen and I haven't lit anything on fire in 5 months. I'm sure I deserve some sort of a chip or something for that. You see … I'm a bit of a pyromaniac. Technically I'm not a *real* pyromaniac I guess. I mean, I only light things on fire that should be lit on fire. Like kindling and hardwood and pretty much anything with Hello Kitty on it.