D
Get flash to fully experience Pearltrees
These are my favorite new pillows. They are fast and unbelievably easy to make…and I hope you love them as much as I do. I did my best to simplify the instructions/pattern so they are beginner friendly, and super fun to make. If you've never worked with a template or curves, and your nervous about it…these pillows are a perfect place to start.
CL contributing editor Ryan McPhail reveals his method for creating a stealthy bar from a cast-off chest of drawers. Step 1: Measure the inside of a dresser drawer to determine its width (from side to side), depth (front to back), and height (base to top). Step 2: To create a middle divider, use a jigsaw to cut a piece of wood that measures the depth of the drawer and slightly less than its height. To create a shelf, cut another wood piece that measures slightly less than half the drawer's width and slightly less than its height.
Step One Select one or more photos and use a program like Photoshop to silhouette and size each image so that it measures about 2 1/2 inches high. If desired, apply a filter to achieve a colorful tint, like the red at left. Place one image in the bottom right corner of a horizontal Microsoft Word document.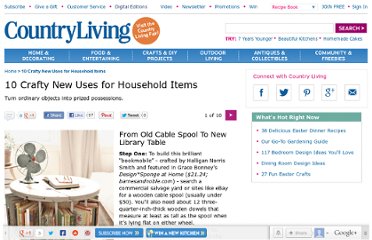 Step One: To build this brilliant "bookmobile" - crafted by Halligan Norris Smith and featured in Grace Bonney's Design*Sponge at Home ( $21.24; barnesandnoble.com ) - search a commercial salvage yard or sites like eBay for a wooden cable spool (usually under $50). You'll also need about 12 three-quarter-inch-thick wooden dowels that measure at least as tall as the spool when it's lying flat on either wheel. Step Two Lay the spool on one of its wheels, then use a ruler to measure the distance from the top of the top wheel to the top of the bottom wheel.