Crafts
Homemade Decoupage Medium!!! We made some!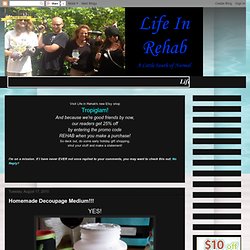 It was either that or skip the next mortgage payment! Savannah was very excited with how well our knock off worked! Did she take pictures of how to make it? ...no... 15 Awesome and Easy DIY Mason Jar Projects. As Chris mentioned a few weeks ago, mason jars have exploded (again?)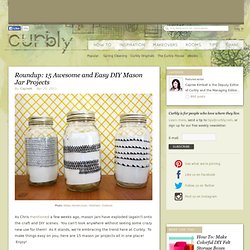 Onto the craft and DIY scenes. You can't look anywhere without seeing some crazy new use for them! DeviantART: where ART meets application!
Driftwood
Make a Lantern out of Wire Baskets. Home » $5 and Under, Decor, From Our Readers, Headline 11 June 2010 9,997 views 3 Comments by heather Reader Bambi at Crafting Occurs alerted me to her super awesome idea for turning two dollar store baskets into a lantern, and I just knew you guys would appreciate it.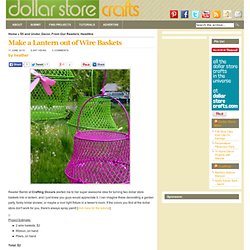 I can imagine these decorating a garden party, funky bridal shower, or maybe a cool light fixture in a tween's room. Crafting is what I do / sharpies and rubbing alcohol...who knew!? Crafting is what I do / bake marbles then drop in cold water to cause them to crack inside and then make into pretty pendants! DIY Hollow Out A Light Bulb at TeamDroid.
When I was growing up I had a keen interest in the sciences.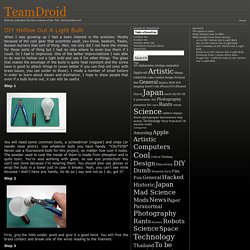 Mostly because of the cool gear that scientists used, you know, beakers, flasks, Bunsen burners that sort of thing. Well, not only did I not have the money for those sorts of thing but I had no idea where to even buy them if I could. So I had to improvise. CRAFTS. Mad in crafts. DIY. Craft Tutorials | Craftaholics Anonymous™ Geometric Crochet Basket Tutorial Hey there!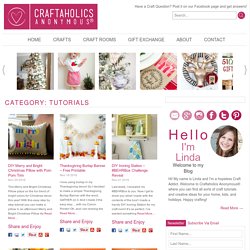 It's Alexis from Persia Lou back with a little crochet project. I have been loving everything black and white and geometric lately, so I decided to see how I could interpret the trend in crochet. I ended up with this little basket that is a perfect addition to my craft area, which I am currently working on organizing and sprucing up. DIY maybe. DIY - Alternatives to the Infinite Marketplace. Craft Ideas. Leather tooling punches. The trickiest part of this is finding a nice design, it has to be fairly simple.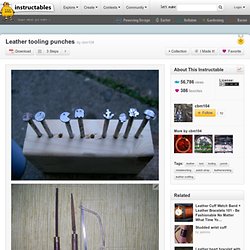 Repeating patterns work well, squares, triangles, chevrons etc. But today I fancy... Pacman! Picture 1 File the nail head flat, then set to work on the edges... Picture 2 The second picture shows the edge of the nail head has been filed so the top is sharper. Crafty / fun with foam :) printing inspiration. Tutorials.
Sewing 101: recycled paper basket. Thanks to a few recent online purchases, I had an enormous pile of long brown packing paper strips in my studio.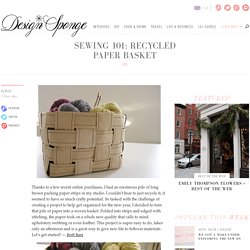 I couldn't bear to just recycle it; it seemed to have so much crafty potential. So tasked with the challenge of creating a project to help get organized for the new year, I decided to turn that pile of paper into a woven basket. Folded into strips and edged with stitching, the paper took on a whole new quality that calls to mind upholstery webbing or even leather. This project is super easy to do, takes only an afternoon and is a great way to give new life to leftover materials.
Let's get started! Duck® Brand - Duct Tape, Packaging Tape, Weatherization, Shelf Liner and DIY products. Michele made me. Leaf Skeletonization. We will be using sodium carbonate (not sodium bicarbonate) to loosen/separate the flesh from the leaf veins. which contain a decay-resistant chemical called lignin.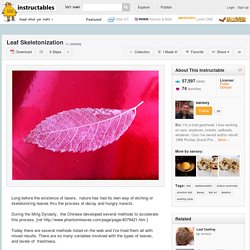 Arm & Hammer has a brand called Super Washing Soda, which you can find at your local ACE hardware store. 1/2 Cup Sodium Carbonate, aka Arm & Hammer Super Washing Soda 2 Cups Water 1 Cup Liquid Bleach for whitening (optional) 1 Metal Pan Fresh leaves that have a waxy appearance similar to Magnolia leaves Dried non waxy leaves. Five Days... 5 Ways: Try-it Tuesday: Anthropologie Trinket and Treasure Candlestick Knock-Off. I have a problem paying more money. than I think I should have to for anything.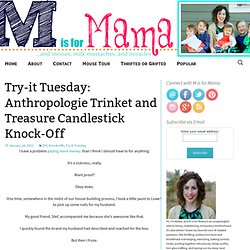 It's a sickness, really. Want proof? Okey doke. One time, somewhere in the midst of our house-building process, I took a little jaunt to Lowe's to pick up some nails for my husband. Make It: Chalkboard Paint. Mich L. in L.A. Mad in crafts. Paper Roll Wall Art. This is probably one of my favorite DIY Projects.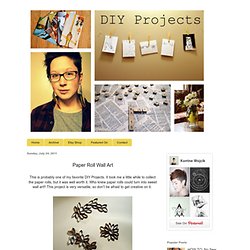 It took me a little while to collect the paper rolls, but it was well worth it. Who knew paper rolls could turn into sweet wall art!!
---