Clothing
Easy. 10+ Summery Clothes That You Can Make Yourself. How's your summer wardrobe looking this season?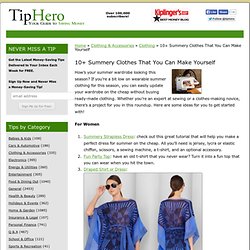 If you're a bit low on wearable summer clothing for this season, you can easily update your wardrobe on the cheap without buying ready-made clothing. Whether you're an expert at sewing or a clothes-making novice, there's a project for you in this roundup. CLOTHES.
FASHION. Clothes. Fashion and style. Makeup/Hair. Lingerie Ideas. Street Style. Costume.
Hats
Patterns. Skirts. Tops. Underthings. Pants. Accessories. Shoes. Dresses. Coverups. Pareos. Clothing.
Tshirts. Dancing.
---