101 Ideas
I've gathered some creative tutorials, free printables and just plain fabulous ideas to help create awesome handmade gifts for the men in your life. They can be so hard to shop for and this list will give you enough ideas to cover every birthday, Father's Day and Christmas for the next few years! You'll find a few things for the guys that like to grill, their office and even the garage. Don't miss the beautiful leather journal that's so easy to make and looks like a million bucks!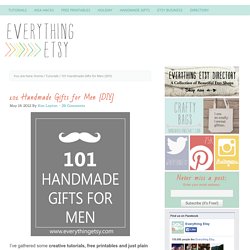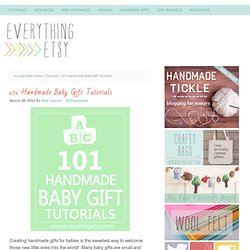 101 Handmade Baby Gift Tutorials
Creating handmade gifts for babies is the sweetest way to welcome those new little ones into the world! Many baby gifts are small and simple so you don't need a ton of time to make the cutest little hats, blankets and bibs! You'll find the perfect gift for your next baby shower on this list…trust me! I've gathered some beautiful gift ideas for newborns and toddlers. These are seriously cute, cute, cute! Don't you love little dresses and overalls?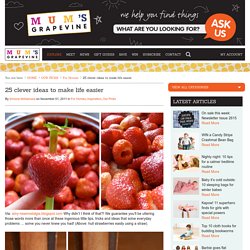 Via: amy-newnostalgia.blogspot.com Why didn't I think of that?! We guarantee you'll be uttering those words more than once at these ingenious little tips, tricks and ideas that solve everyday problems … some you never knew you had! (Above: hull strawberries easily using a straw). Via: apartmenttherapy.com Rubbing a walnut over scratches in your furniture will disguise dings and scrapes.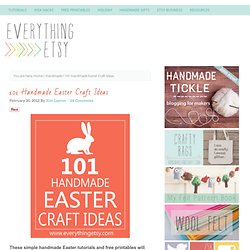 101 Handmade Easter Craft Ideas
These simple handmade Easter tutorials and free printables will make any crafty person's heart sing with joy! You don't need special skills or a bunch of time because these can all be done super fast! Simple and cute…that works for me! You won't believe how easy your Spring decorating can be with these simple tutorials and creative ideas! There's a little something for your friends, children, and home on this list and if I started talking about each one this would be a book, not a blog post.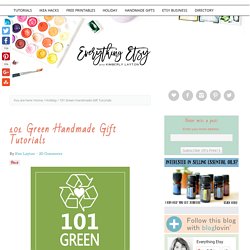 These crafty green gift tutorials are going to make you recycle, reuse, upcycle or repurpose like never before…you'll see. Whatever you want to call it, going green is the way to go! There's a little something for everyone and I know you are going to find the perfect gift for your neighbor, brother, mother, sister…you get my drift…there are 101 tutorials here, people!!!! They're not just ideas and pretty photos, but these links will lead you on the path to creating fabulous green gifts that are simple and require minimal supplies.
The best trick of all is repairing broken stuff. You would be amazed that in this throw away age so many things can be repaired easily. Invest your money in quality tools, and you will find the tool pays for itself in the first few repairs you make with it. There are wonderful adhesives and tapes that people aren't aware of that work wonders. Take an hour and go to a home hardware store and really browse around to discover some of these wonders of the modern world.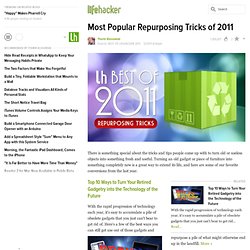 Interested in an eco-friendly alternative to a Christmas tree? Want to expand your recycling efforts? How about making a cardboard Christmas tree? Not only will you have a unique tree, but the making of it will be a fun activity for the whole family. This is a guide about making a cardboard Christmas tree. Solutions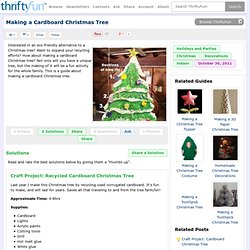 Making a Cardboard Christmas Tree
50 Handy Tricks
Tom and Millie MacKenzie, my Kenyan hosts on Lamu Island would arrange individual bananas on their kitchen shelves. I asked why and they said it was to prevent them from ripening so fast. Apparently they emit ethylene gas which signals the other bananas to ripen. When they're separated they get less exposure.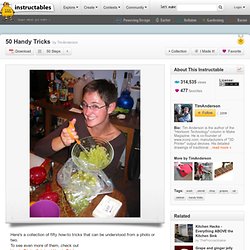 101 Handmade Easter Craft Ideas
101 Handmade Easter Craft Ideas
Home PomPom Pillow from Living with Punks. Dip-Dye Lamp and Pillow from Design Sponge. Simple Pillowcases from Made. Lazy Daisy Pillowcases from The Long Thread.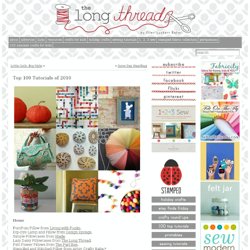 s Top 50 Mom Craft Blogs of 2012: did your fave make the cut?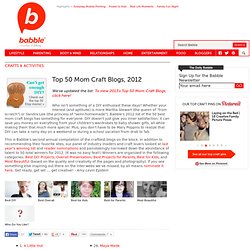 We've updated the list: To view 2013's Top 50 Mom Craft Blogs, click here! Who isn't something of a DIY enthusiast these days? Whether your interest (and aptitude) is more Martha Stewart (the queen of "from scratch") or Sandra Lee (the princess of "semi-homemade"), Babble's 2012 list of the 50 best mom craft blogs has something for everyone. DIY doesn't just give you inner satisfaction; it can save you money on everything from your children's wardrobes to baby shower gifts, all while making them that much more special. Plus, you don't have to be Mary Poppins to realize that DIY can take a rainy day on a weekend or during a school vacation from drab to fab. This is Babble's second annual compilation of the craftiest blogs on the block.
Once upon a time my friend Chad went to college. Now, Chad likes to tell people what made him decide to go to school and the reasons why he traded in a job at Best Buy for a few hard years of hitting the books. See, on a whim one weekend Chad packed his trunk and cruised down the highway to visit our friend Mike who was away at school.
Pin It Having a beautiful home doesn't need to leave your bank account in the red…GO GREEN! These fabulous and frugal green home decor tutorials are the best way to decorate while being eco-friendly!
101 Green Home Decor Tutorials - remodelingtherapy.com