SST Project
EPA Rethinks Plastic Bottle Safety: How to Identify Types of Plastics You Use - Info Barrel. You may have seen in the National News Headlines recently, that the Environmental Protection Agency (EPA), and Food and Drug Administration (FDA), have taken a shift in position.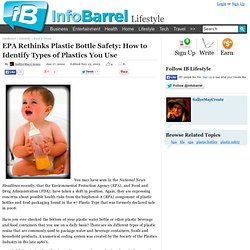 Again, they are expressing concerns about possible health risks from the bisphenol-A (BPA) component of plastic bottles and food packaging found in the #7 Plastic Type that was formerly declared safe in 2008. Have you ever checked the bottom of your plastic water bottle or other plastic beverage and food containers that you use on a daily basis? There are six different types of plastic resins that are commonly used to package water and beverage containers, foods and household products. Pollution Prevention (P2) Pays - N.C. Division of Pollution Prevention and Environmental Assistance. Explore Maps | Southern Forests For The Future.
North Carolina Law to Ban Plastic Bottles from Landfills | Collect. Connect. Recycle. Earth911 article by Trey Granger Under a new law that takes effect Oct. 1, North Carolina will be banning all rigid plastic containers from landfills.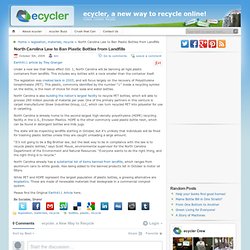 This includes any bottles with a neck smaller than the container itself. The legislation was created back in 2005, and will focus largely on the recovery of Polyethylene terephthalate (PET). This plastic, commonly identified by the number "1″ inside a recycling symbol on the bottle, is the resin of choice for most soda and water bottles. Pulp Mills - Map : Pulpwatch.org.
FAQs | PETRA: Information on the Use, Benefits & Safety of PET Plastic. PET Basics | Uses for PET | PET Safety | Recycling & Sustainability What is PET resin or PET?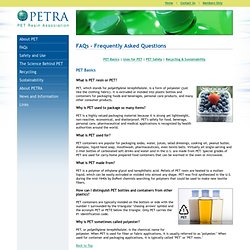 PET, which stands for polyethylene terephthalate, is a form of polyester (just like the clothing fabric). It is extruded or molded into plastic bottles and containers for packaging foods and beverages, personal care products, and many other consumer products. Why is PET used to package so many items? Coal Impoundment Location & Information System. Central Carolina Community College - North Carolina. RePaper Project. Process-Chain_rv2_b. Aluminium-Mining&Prod_b. Recycling. , helping to prolong its useful life. - It takes 20 times more energy to make aluminum from bauxite ore than using recycled aluminum. – In Georgia recycling employs over 23,000 people and adds over 3 billion dollars to the materials they process. – Recycling slows the depletion of non-renewable resources such as metal, oil, and natural gas.
Aluminium (US: aluminum) Formation of pure aluminium oxide Aluminium oxide (sometimes known as alumina) is made by heating the aluminium hydroxide to a temperature of about 1100 - 1200°C.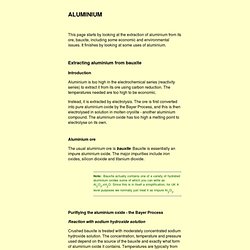 Conversion of the aluminium oxide into aluminium by electrolysis The aluminium oxide is electrolysed in solution in molten cryolite, Na3AlF6. STEP 2: Assess Performance. If you don't know where you are, you won't know which direction to go.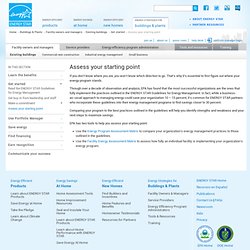 That's why it's essential to first figure out where your energy program stands. Through over a decade of observation and analysis, EPA has found that the most successful organizations are the ones that fully implement the practices outlined in the ENERGY STAR Guidelines for Energy Management. In fact, while a business-as-usual approach to managing energy could save your organization 10 – 15 percent, it's common for ENERGY STAR partners who incorporate these guidelines into their energy management programs to find savings closer to 30 percent. Comparing your program to the best practices outlined in the guidelines will help you identify strengths and weakness and your next steps to maximize savings.
County: Welcome. Welcome: Kimberly S.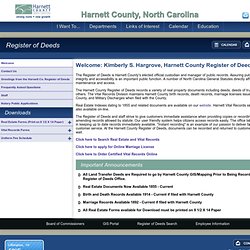 Hargrove, Harnett County Register of Deeds The Register of Deeds is Harnett County's elected official custodian and manager of public records. Assuring public record integrity and accessibility is an important public function. A number of North Carolina General Statutes directly affect record maintenance and access.
The Harnett County Register of Deeds records a variety of real property documents including deeds, deeds of trust, maps and others. Leencrod.
About | AASHE STARS. The Sustainability Tracking, Assessment & Rating System™ (STARS) is a transparent, self-reporting framework for colleges and universities to measure their sustainability performance.
STARS® was developed by AASHE , an acknowledged thought leader that advances sustainability by providing invaluable resources, with broad participation from diverse representatives of the higher education community. STARS is designed to: Provide a framework for understanding sustainability in all sectors of higher education. Home. RecycleBank :: Rewarding You For Positive Green Actions. City of Sanford, North Carolina | Official Government Website. National Recycling Coalition - Home. Home | Presidents' Climate Commitment. Resources & Events | Presidents' Climate Commitment. About NCSEA > North Carolina Sustainable Energy Association. Home » About » About the NC Sustainable Energy Association The NC Sustainable Energy Association drives public policy & market development to create clean energy jobs, business opportunities, and affordable energy to benefit North Carolina.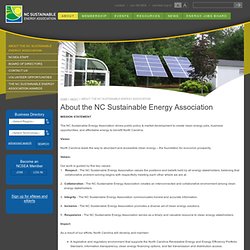 Vision: North Carolina leads the way to abundant and accessible clean energy – the foundation for economic prosperity.
---