SST Project
You may have seen in the National News Headlines recently, that the Environmental Protection Agency (EPA), and Food and Drug Administration (FDA), have taken a shift in position. Again, they are expressing concerns about possible health risks from the bisphenol-A (BPA) component of plastic bottles and food packaging found in the #7 Plastic Type that was formerly declared safe in 2008. Have you ever checked the bottom of your plastic water bottle or other plastic beverage and food containers that you use on a daily basis? There are six different types of plastic resins that are commonly used to package water and beverage containers, foods and household products.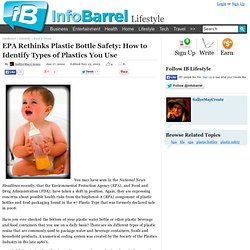 EPA Rethinks Plastic Bottle Safety: How to Identify Types of Plastics You Use - Info Barrel
Pollution Prevention (P2) Pays - N.C. Division of Pollution Prevention and Environmental Assistance
Explore Maps | Southern Forests For The Future
Earth911 article by Trey Granger Under a new law that takes effect Oct. 1, North Carolina will be banning all rigid plastic containers from landfills. This includes any bottles with a neck smaller than the container itself. The legislation was created back in 2005 , and will focus largely on the recovery of Polyethylene terephthalate (PET). This plastic, commonly identified by the number "1″ inside a recycling symbol on the bottle, is the resin of choice for most soda and water bottles. North Carolina is also building the nation's largest facility to recycle PET bottles, which will able to process 280 million pounds of material per year.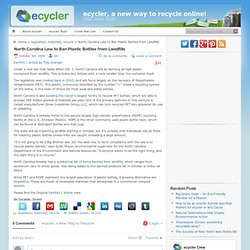 North Carolina Law to Ban Plastic Bottles from Landfills | Collect. Connect. Recycle.
Pulp Mills - Map : Pulpwatch.org
Why Use Less | addressing the madness of over-consumption of paper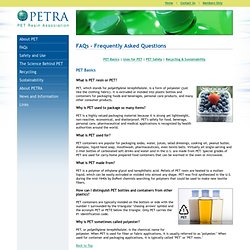 PET Basics | Uses for PET | PET Safety | Recycling & Sustainability What is PET resin or PET? PET, which stands for polyethylene terephthalate , is a form of polyester (just like the clothing fabric). It is extruded or molded into plastic bottles and containers for packaging foods and beverages, personal care products, and many other consumer products. Why is PET used to package so many items?
FAQs | PETRA: Information on the Use, Benefits & Safety of PET Plastic.
College Degrees A Waste Of Time, Money
Eco Trash Couture: Education about Conservation | Recycle Runway
Coal Impoundment Location & Information System
Central Carolina Community College - North Carolina
RePaper Project
Process-Chain_rv2_b
Aluminium-Mining&Prod_b
recycling metals - aluminium and steel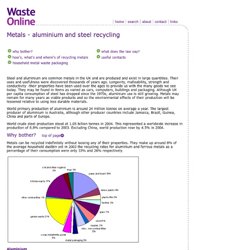 Steel and aluminium are common metals in the UK and are produced and exist in large quantities. Their uses and usefulness were discovered thousands of years ago. Longevity, malleability, strength and conductivity -their properties have been used over the ages to provide us with the many goods we see today. They may be found in items as varied as cars, computers, buildings and packaging. Although UK per capita consumption of steel has dropped since the 1970s, aluminium use is still growing.
, helping to prolong its useful life. - It takes 20 times more energy to make aluminum from bauxite ore than using recycled aluminum. – In Georgia recycling employs over 23,000 people and adds over 3 billion dollars to the materials they process. – Recycling slows the depletion of non-renewable resources such as metal, oil, and natural gas.
Recycling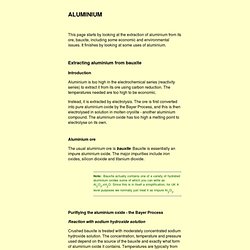 Formation of pure aluminium oxide Aluminium oxide (sometimes known as alumina) is made by heating the aluminium hydroxide to a temperature of about 1100 - 1200°C. Conversion of the aluminium oxide into aluminium by electrolysis The aluminium oxide is electrolysed in solution in molten cryolite , Na 3 AlF 6 .
aluminium (US: aluminum)
STEP 2: Assess Performance
Understanding current and past energy use is how many organizations identify opportunities to improve energy performance and gain financial benefits. Assessing performance is the periodic process of evaluating energy use for all major facilities and functions in the organization and establishing a baseline for measuring future results of efficiency efforts. Key aspects include: Data Collection and Management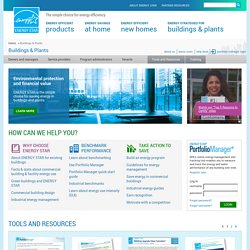 Welcome: Kimberly S. Hargrove, Harnett County Register of Deeds The Register of Deeds is Harnett County's elected official custodian and manager of public records. Assuring public record integrity and accessibility is an important public function. A number of North Carolina General Statutes directly affect record maintenance and access. The Harnett County Register of Deeds records a variety of real property documents including deeds, deeds of trust, maps and others.
County: Welcome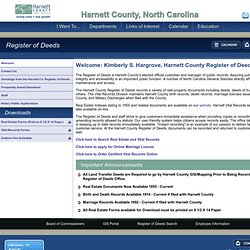 leencrod
The Sustainability Tracking, Assessment & Rating System™ (STARS) is a transparent, self-reporting framework for colleges and universities to measure their sustainability performance.
About | AASHE STARS
Recyclemania
City of Sanford, North Carolina | Official Government Website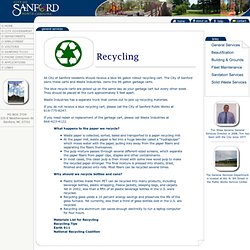 All City of Sanford residents should receive a blue 96 gallon rollout recycling cart. The City of Sanford owns these carts and Waste Management, Inc. owns the 96 gallon garbage carts. The blue recycle carts are picked up on the same day as your garbage cart but every other week. They should be placed at the curb approximately 5 feet apart. Waste Management has a separate truck that comes out to pick up recycling materials.
National Recycling Coalition - Home
Home | Presidents' Climate Commitment
Resources & Events | Presidents' Climate Commitment
Home » About » About the NC Sustainable Energy Association The North Carolina Sustainable Energy Association works to ensure a sustainable future by promoting renewable energy and energy efficiency to the benefit of North Carolina through education, public policy and economic development. Vision: The NC Sustainable Energy Association drives the market development of clean energy solutions to create more affordable, reliable, and secure energy provision and use for all of North Carolina.
About NCSEA > North Carolina Sustainable Energy Association