Articles
13 Tools for Building Your Own iPhone App. This article has been updated.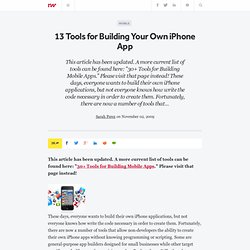 A more current list of tools can be found here: "30+ Tools for Building Mobile Apps. " Please visit that page instead! These days, everyone wants to build their own iPhone applications, but not everyone knows how write the code necessary in order to create them. 5 Free Resources for iPhone App Development | John Wang. [caption id="attachment_681" align="aligncenter" width="738" caption="Joe Hewitt's Three20 Project"] [/caption] With Apple's WWDC currently going on and the upcoming 3.0 iPhone OS getting closer to release, there are tons of new developers jumping onto the platform.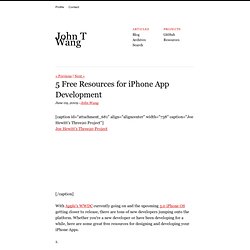 Whether you're a new developer or have been developing for a while, here are some great free resources for designing and developing your iPhone Apps. 3 Bonus Resources Mercury Intermedia's iPhone UI Vector Elements for Adobe Illustrator. How to become an iPhone developer in eight easy steps | Technology. You've probably heard all about iShoot.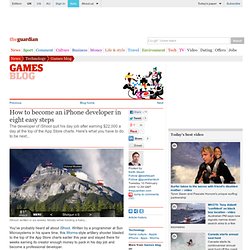 Written by a programmer at Sun Microsystems in his spare time, this Worms-style artillery shooter blasted to the top of the App Store charts earlier this year and stayed there for weeks earning its creator enough money to pack in his day job and become a professional developer. You may also have seen the news this week about nine-year-old programming prodigy Lim Ding Wen who has developed his own simple painting app for the iPhone.
Doodle Kids is doing reasonable business, attracting 4,000 downloads in less than a fortnight and gaining its author international news coverage. There's no question about it, iPhone has become the people's platform. While the PC maintains a healthy indie development scene, Apple's handset, with its low barriers to entry and seamless consumer purchasing system, is the real rags-to-riches machine.
---