Agent
ADI Global Distribution
Search Results : Sparks Direct, Lighting and Electrical Wholesal
Safety Plus // home - Safety, maar dan nog beter...
ESI.info - connecting producers and buyers
Epic Controls Electronic Instrumentation Process Control for ABB
Enchufe GSM. Control por SMS - Ofertas SoloStocks
Alert Electrical Wholesalers | Electric Showers, Storage Heaters
Modules GSM - SOS electronic
FF-Automation offers a complete and competitive one-stop service for tailor-made automation designs to solve the needs of machine builders and equipment manufacturers as a M2M (Machine-to-Machine) solutions. Around the world, AutoLog® has become the automatic choice for the best and most affordable M2M products for customer-specific PLC, control systems, interfaces, and automation products. We have 30 years of specific experience in analysing and meeting end-user needs, in partnership with our customers. Optimised product FF-Automation can optimise the cost of equipment, and will commit to fixed pricing to ensure the correct and most cost-effective control of your machine, with all specifications met and allowing for easy future changes and expansion at the right price. This allows our customers to rely on us for their automation needs, while letting them fully concentrate on their own business expertise.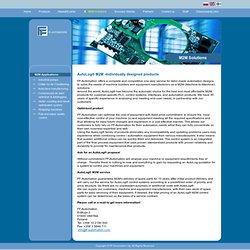 OEM Automation Solutions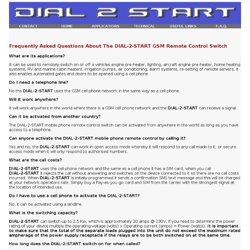 Resellers
Frequently Asked Questions About The DIAL-2-START GSM Remote Control Switch What are its applications? It can be used to remotely switch on or off a vehicles engine pre-heater, lighting, aircraft engine pre-heater, home heating systems, RV and marine cabin heaters, irrigation pumps, air conditioning, alarm systems, re-setting of remote servers, it also enables automated gates and doors to be opened using a cell phone.
TDC - Making Machines Talk