Social media links
How to Use Twitter for Marketing & PR. Editor's Note: Check out our latest ebook on How to Use Twitter for Business, complete with updates for 2011!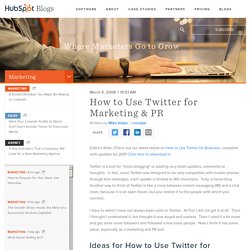 Click here to download it. Twitter is a tool for "micro-blogging" or posting very short updates, comments or thoughts. 50 Ideas on Using Twitter for Business. We really can't deny the fact that businesses are testing out Twitter as part of their steps into the social media landscape.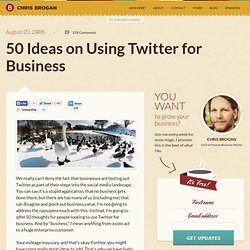 You can say it's a stupid application, that no business gets done there, but there are too many of us (including me) that can disagree and point out business value. I'm not going to address the naysayers much with this. Instead, I'm going to offer 50 thoughts for people looking to use Twitter for business. And by "business," I mean anything from a solo act to a huge enterprise customer. Your mileage may vary, and that's okay. A Critical Path for Customer Relevance, Part 2. With all of the momentum social media has earned over the years, the reality is that still today, it is very much siloed in marketing.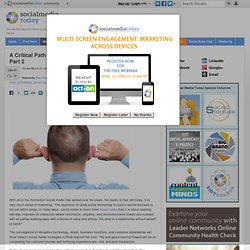 The aspiration of using social technology to build a social business is not yet within grasp. In many ways, social media is much more about media than it is about opening two-way channels for interaction where information, empathy, and resolution travel inward and outward with all parties walking away with a sense of value and affinity. For what is a relationship without benefit or bond? The convergence of disruptive technology, brand, business functions, and customer experiences will force today's social media strategies to think beyond the click. The end-game moving forward will be on completing the customer journey and fortifying experience pre, mid, and post transaction.
Facebook Brand Timelines: 6 Big Changes Every Marketer Needs to Understand. Victoria Ransom is founder and CEO of Wildfire Interactive, the global leader in social media marketing software.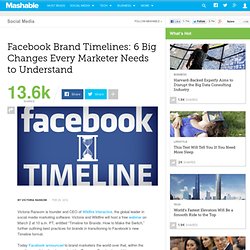 Victoria and Wildfire will host a free webinar on March 2 at 10 a.m. PT, entitled "Timeline for Brands: How to Make the Switch," further outlining best practices for brands in transitioning to Facebook's new Timeline format. Today Facebook announced to brand marketers the world over that, within the month, everything they knew about fan Pages on Facebook would be overturned. While you get your brand ready for the new Timeline format, here are six important changes to keep top-of-mind. 1. How to Use Twitter: 22 steps (with pictures) Edit Article Tweet and Gather FollowersFind and Organize People You FollowSet Up Your ProfileUsing the Other Features Edited by Teresa, Ted Ernst, Maluniu, Eric and 66 others Different social media sites have different uses, strengths, and advantages.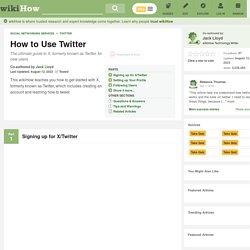 Twitter[1] could be called a 'real time social networking' site, a place for sharing information as it happens, and for connecting with others in real time, often resulting in lasting friendships and contacts. How to write a corporate Twitter strategy (…and here's one I made earlier) (Cross-posted from the Cabinet Office digital engagement blog, with thanks for the guest spot.)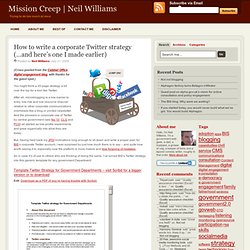 You might think a 20-page strategy a bit over the top for a tool like Twitter. After all, microblogging is a low-barrier to entry, low-risk and low-resource channel relative to other corporate communications overheads like a blog or printed newsletter. HOW TO: Build A Twitter Strategy for Your Business. Megan Berry is Marketing Manager for Klout, the standard for online influence.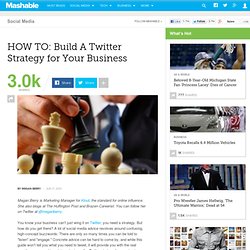 She also blogs at The Huffington Post and Brazen Careerist. You can follow her on Twitter at @meganberry. You know your business can't just wing it on Twitter, you need a strategy. But how do you get there? A lot of social media advice revolves around confusing, high-concept buzzwords: There are only so many times you can be told to "listen" and "engage. " 9 Facebook Marketing Strategies to Build Super Fans. Are you looking to attract high-quality and loyal fans to your Facebook page?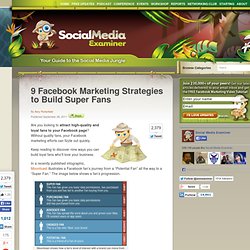 Without quality fans, your Facebook marketing efforts can fizzle out quickly. Keep reading to discover nine ways you can build loyal fans who'll love your business. In a recently published infographic, Moontoast illustrates a Facebook fan's journey from a "Potential Fan" all the way to a "Super Fan." The image below shows a fan's progression. Facebook Strategy For Your Small Business. Do you have it backwards when it comes to Facebook?
Here's what no one in the social media space seems to want to say: Facebook is a difficult place to reach new eyeballs organically if you do not already have good brand awareness. There I said it. Facebook Marketing Strategy for Business, 5 Useful Applications. It's no secret that online social networking (done well) is a great way to market your business.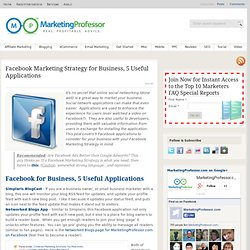 Social network applications can make that even easier. Applications are used to enhance the experience for users (ever watched a video on Facebook?). They are also useful to developers, providing them with valuable information from users in exchange for installing the application. This post covers 5 Facebook applications to consider for your business with your Facebook Marketing Strategy in mind.
---