Post-Edu-Project
Content / Interactive. The Start-Up of You.
Papers-ilia. The Start-Up of You - M.Fridman. Look at the news these days from the most dynamic sector of the U.S. economy — Silicon Valley.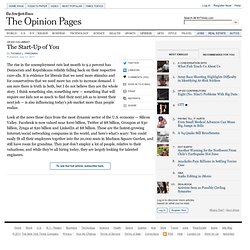 Facebook is now valued near $100 billion, Twitter at $8 billion, Groupon at $30 billion, Zynga at $20 billion and LinkedIn at $8 billion. These are the fastest-growing Internet/social networking companies in the world, and here's what's scary: You could easily fit all their employees together into the 20,000 seats in Madison Square Garden, and still have room for grandma. They just don't employ a lot of people, relative to their valuations, and while they're all hiring today, they are largely looking for talented engineers.
Indeed, what is most striking when you talk to employers today is how many of them have used the pressure of the recession to become even more productive by deploying more automation technologies, software, outsourcing, robotics — anything they can use to make better products with reduced head count and health care and pension liabilities.
---