Public Domain
Open Source Blogging: Feel Free to Steal My Content | zen habits. I consider that the golden rule requires that if I like a program I must share it with other people who like it. - Richard Stallman By Leo Babauta I get a lot of emails asking me for permission to reprint Zen Habits articles on other blogs, in newsletters, in conferences and in classrooms.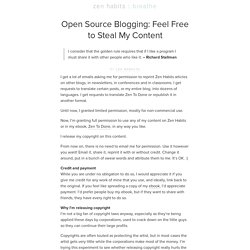 Public Domain Treasure Hunter. Schema. Watin Unit Tests with Nunit Timing problem- WeAsk. + New .COMs $7.99/yr plus 18 cents/yr ICANN fee.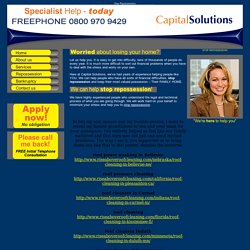 Discount based on new one-year registration prices as of 1/27/2012 with sale price reflected in your shopping cart at checkout. Discount applies to new registrations and renewals and cannot be used in conjunction with any other offer or promotion. Domains purchased through this offer will renew at regular price after the initial term has expired. Offer ends May 31, 2012 5:00 pm (MST). † Good for one 1-year registration of any available .COM, .US, .BIZ, .INFO, .NET or .ORG ‡ Annual discounts available on NEW purchases only. GoDaddy.com is the world's No. 1 ICANN-accredited domain name registrar for .COM, .NET, .ORG, .INFO, .BIZ and .US domain extensions. Is it legal to copy Stack Overflow questions and answers? - Google Search. Content Directories.
Welcome to the Content Directories The following is a list of organizations and projects powered with Creative Commons licenses.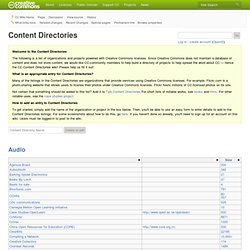 Since Creative Commons does not maintain a database of content and does not store content, we would like CC-community members to help build a directory of projects to help spread the word about CC — hence the CC Content Directories wiki! Please help us fill it out!
---