Programming related
JREAMdesign's Channel - YouTube - Iceweasel. Download Python - Iceweasel. The current production versions are Python 3.4.0 and Python 2.7.6.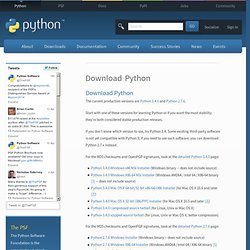 Start with one of these versions for learning Python or if you want the most stability; they're both considered stable production releases. If you don't know which version to use, try Python 3.4. Some existing third-party software is not yet compatible with Python 3; if you need to use such software, you can download Python 2.7.x instead. For the MD5 checksums and OpenPGP signatures, look at the detailed Python 3.4.0 page: For the MD5 checksums and OpenPGP signatures, look at the detailed Python 2.7.6 page:
My little python based game - YouTube - Iceweasel. Python Tutorial (1) Installing - YouTube - Iceweasel. Python Tutorial (2) Variables - YouTube - Iceweasel. Python Tutorial (3) Functions and Help - YouTube - Iceweasel. Python Tutorial (4) | Creating Functions - YouTube - Iceweasel. Standard Template Library Programmer's Guide. Permission to use, copy, modify, distribute and sell this software and its documentation for any purpose is hereby granted without fee, provided that the below copyright notice appears in all copies and that both the copyright notice and this permission notice appear in supporting documentation.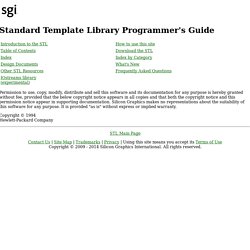 Silicon Graphics makes no representations about the suitability of this software for any purpose. It is provided "as is" without express or implied warranty. Copyright © 1994 Hewlett-Packard Company. Learn C++ C++ Language Tutorial. Search: Not logged in C++ Language These tutorials explain the C++ language from its basics up to the newest features introduced by C++11.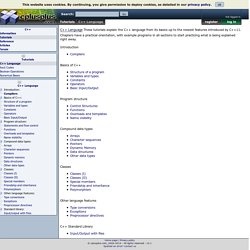 Chapters have a practical orientation, with example programs in all sections to start practicing what is being explained right away. Instructions for use. The essential tools needed to follow these tutorials are a computer and a compiler toolchain able to compile C++ code and build the programs to run on it.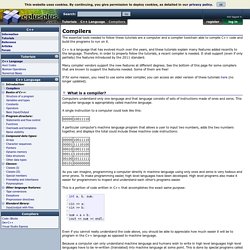 C++ is a language that has evolved much over the years, and these tutorials explain many features added recently to the language. Therefore, in order to properly follow the tutorials, a recent compiler is needed. It shall support (even if only partially) the features introduced by the 2011 standard. Many compiler vendors support the new features at different degrees. See the bottom of this page for some compilers that are known to support the features needed. C++ Language Tutorial. Vector. Vectors are sequence containers representing arrays that can change in size.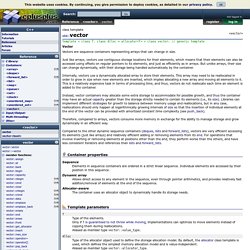 Just like arrays, vectors use contiguous storage locations for their elements, which means that their elements can also be accessed using offsets on regular pointers to its elements, and just as efficiently as in arrays. But unlike arrays, their size can change dynamically, with their storage being handled automatically by the container. Free Developer Tools - Visual Studio 2010 Express | Microsoft Visual Studio. Visual C++ 2010 Express | Microsoft Visual Studio. Visual Studio 2010 Express All-in-One ISO | Microsoft Visual Studio. An Introduction to C++ The C++ programming language consists of a vocabulary of commands that humans can understand and that can be converted into machine language fairly easily and a language structure (or grammar) that allows humans to combine these C++ commands into a program that actually does something (well, maybe does something) The vocabulary is often known as the semantics, while the grammar is the syntax.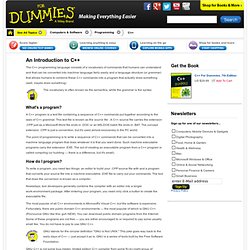 What's a program? A C++ program is a text file containing a sequence of C++ commands put together according to the laws of C++ grammar. Expressions and Declarations in C++ Programming. To perform a calculation in the C=++ program you need and expression.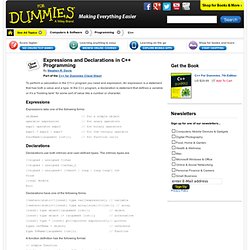 An expression is a statement that has both a value and a type. In the C++ program, a declaration is statement that defines a variable or it's a "holding tank" for some sort of value like a number or character. Expressions Expressions take one of the following forms: Working with Functions in C++ Developers often need the ability to break programs up into smaller chunks that are easier to develop.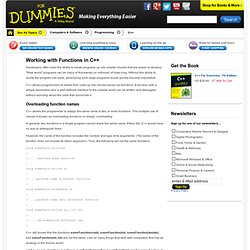 "Real world" programs can be many of thousands (or millions!) Of lines long. Beginning Programming with C++ For Dummies Cheat Sheet. Cheat Sheet C++ is not an easy language to master.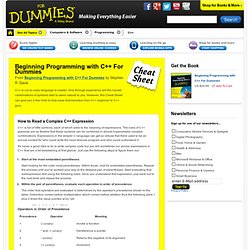 Only through experience will the myriad combinations of symbols start to seem natural to you. However, this Cheat Sheet can give you a few hints to help ease that transition from C++ beginner to C++ guru. How to Read a Complex C++ Expression. C++ Tutorial 1: Intro to the C++ Language. C++ Tutorial 2: Variables in a program. C++ Tutorial 3: Operators Pt. 1. C++ Tutorial 3: Operators pt. 2. C++ Tutorial 4 pt. 1: Decision Making with if statements. C++ Tutorial 4 pt. 2: Decision Making with if statements. C++ Tutorial 4 pt. 3: While statements and looping. C++ Tutorial 5: Intro to For Looping. Dining philosophers problem. It was originally formulated in 1965 by Edsger Dijkstra as a student exam exercise, presented in terms of computers competing for access to tape drive peripherals.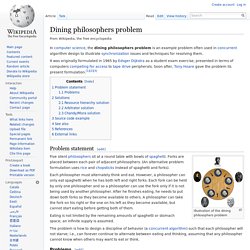 Soon after, Tony Hoare gave the problem its present formulation.[1][2][3] Problem statement[edit] The ABCs of Writing C++ Classes. Tips and Tricks for Using C++ I/O (input/output) Getting Started with Visual Studio | MSDN. Development for Beginners | Tier One: Visual C++ 2008 Express Edition | MSDN. Development for Beginners | Tier Two: Windows Development | MSDN. Development for Beginners | Tier Three: Windows Development | MSDN. Developer Learning Resources - MSDN. Walkthrough: Working with Projects and Solutions (C++) Here's how to create a C++ project in Visual Studio, add code, and then build and run the project. The project in this walkthrough is a program that tracks how many players are playing different card games.
In Visual Studio, work is organized in projects and solutions. A solution can contain more than one project—for example, a DLL and an executable that references that DLL. For more information, see Solution and Project Basics. To complete this walkthrough, you must understand the fundamentals of the C++ language. Visual C++ Guided Tour.
In this guided tour you will learn about the Visual Studio development environment and about the various types of applications that you can create with Visual C++. This includes command-line application, Windows applications, and even a simple game. This guided tour will also teach you how to create reusable libraries of code, and how to ship your code to customers after you have written and tested it. Because each topic builds on information in the topics before it, we recommend that you complete the guided tour in order. Visual C++ Walkthroughs. Walkthroughs give step-by-step instructions for common scenarios, which makes them a good place to start learning about the product or a particular feature area.
Introduces the Visual Studio integrated development environment (IDE) and the various kinds of applications that you can create by using Visual C++. Provides links to sample code that shows the capabilities of Visual C++ and the libraries and technologies that it supports. Ruby on Rails 3 Essential Training – Free Video Training Tutorials, Free Lynda.com Inc. Online Tutorial - Iceweasel.
---