ISP/Browser related
CrossFTP - FTP and Amazon S3 Client.
Links tagged - LISTS. Where Productivity Goes to Die. Links tagged - BABES. Links tagged - VIDEOS. TK - Renaming The Internet. Register a domain name.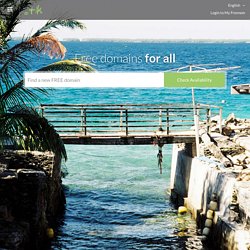 It's FREE! Details Dot TK is a FREE domain registry for all websites on the Internet. It has exactly the same power as other domain extensions, but it's free! Because it's free, millions of others have been using .TK domains since 2001 - which makes .TK powerful and very recognizable. Dot TK Support - Dot TK Support WikiDot TK. Importing bookmarks and other data from other browsers. Firefox enables you to import bookmarks and other information from browsers installed on your computer.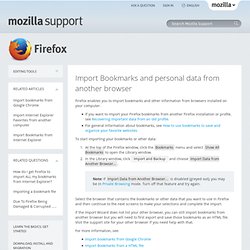 To start importing your bookmarks or other data: Click the Bookmarks button on the right side of the navigation toolbarOn the menu bar, click At the top of the Firefox window, click the menu and select to open the Library window. Click the Bookmarks button and select to open the Library window. In the Library window, click Import and Backup and choose . Importing Bookmarks from an HTML File. To replace your existing bookmarks with a Firefox bookmark backup file in JSON format, see Restoring bookmark backups.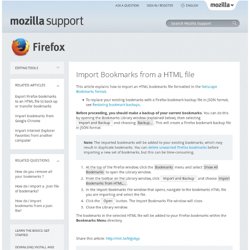 Before proceeding, you should make a backup of your current bookmarks. You can do this by opening the Bookmarks Library window (explained below), then selecting. Thunderbird. Thunderbird - Features. Beyond Add-ons Add-ons are the cornerstone of customization, but adapting Firefox to suit your style doesn't stop there.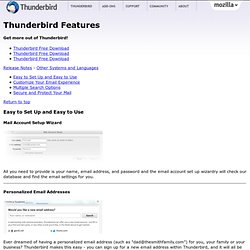 You can add new search engines, change toolbar preferences, display different sizes, shapes and styles for your browser's navigation buttons and more. With additional preferences, you can specify a Web mail client (such as Gmail) to open up when you click on an address from a Web page or set up a news reader application for the blogs you encounter. Download HTTrack Website Copier 3.44-1 - HTTrack Website Copier - Offline Browser. FileZilla - Client Features. Overview FileZilla Client is a fast and reliable cross-platform FTP, FTPS and SFTP client with lots of useful features and an intuitive graphical user interface.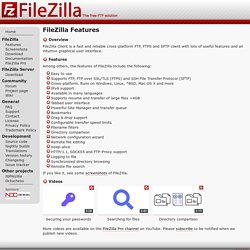 Features. Build a Home FTP Server with FileZilla. Upload and download files on your home PC from anywhere by turning it into a personal FTP server.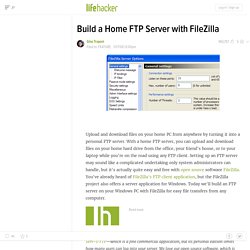 With a home FTP server, you can upload and download files on your home hard drive from the office, your friend's house, or to your laptop while you're on the road using any FTP client. Setting up an FTP server may sound like a complicated undertaking only system administrators can handle, but it's actually quite easy and free with open source software FileZilla .
Geek to Live: How to access a home server behind a router/firewall. Geek to Live: How to assign a domain name to your home web server. FAQ. This is a list of frequently asked questions and corresponding answers.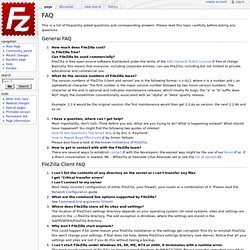 Please read this topic carefully before asking any questions. General FAQ. Online FTP tester. Online FTP tester. Introduction Setting up an FTP server is not easy.
Since there are dozens of different server products and thousands of different firewalls and router models exist, it is impossible to give detailed step-by-step instructions suitable for every user.
---