Tutoriels || Tutorials
Offline Web Applications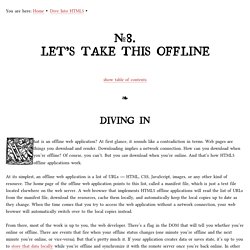 You are here: Home Dive Into HTML5 show table of contents Diving In What is an offline web application? At first glance, it sounds like a contradiction in terms. Web pages are things you download and render.
What if we want to say "Hello" a lot without getting our fingers all tired? We need to define a method! irb ( main ): 010 : 0 > def h irb ( main ): 011 : 1 > puts " Hello World! " irb ( main ): 012 : 1 > end => nil The code def h starts the definition of the method. It tells Ruby that we're defining a method, that its name is h .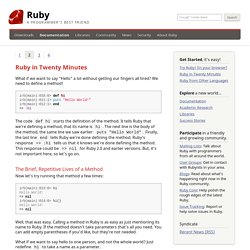 Ruby in Twenty Minutes
A former student asked me a few days ago how I learned Ruby on Rails. The answer was that I simply read alot of great tutorials. So in the spirit of sharing, here are the 12 tutorials that I found most useful: Rolling with Ruby on Rails – Curtis Hibbs of ONLamp.com offers his first excellent introduction to Ruby on Rails. This is the article that got me really excited about RoR. 2.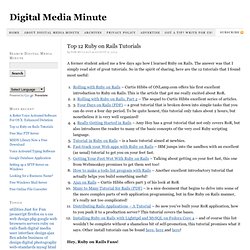 - GeoDjango with PostGIS quick start guide How to create a new Django project? To start a project with Django, it is necessary to start the BitNami Console .
Django - BitNami documentation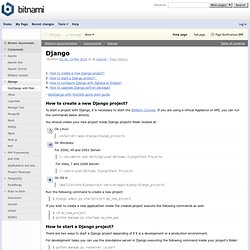 Five Days To A Django Web App - The Daily Build
Ever needed to install Django in a Microsoft Windows environment, here is a quick start guide to make that happen: Read through the official Django installation documentation , it might just save you a world of hut down the road. Download Python for your version of Windows.
Installing Django On Windows | #if debug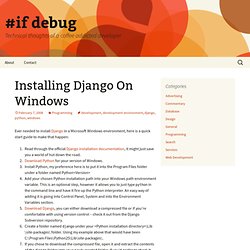 Python game programming tutorial.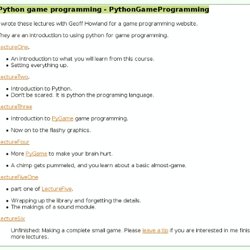 I wrote these lectures with Geoff Howland for a game programming website. They are an introduction to using python for game programming. LectureOne .
Welcome to the online version of The Django Book, a free book about the Django Web framework for the Python programming language. A note about this edition Welcome to the community edition of the Django Book! This book was originally published by Apress in 2009, and covered Django 1.0.
Django by Example: Django Tutorials - Django by Example