Tools
» Industry, Science & Trading » Eve Tools
=V=Xplorer
N.E.A.T. Eve Accounting Tool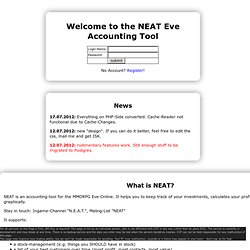 News 17.07.2012: Everything on PHP-Side converted. Cache-Reader not functional due to Cache-Changes.
Edited by: Jedra Okin on 17/03/2010 22:15:37 This is very nice, thank you. I've been using eve asset manager to try to get an idea of base price vs. market price but found that it didn't clearly indicate what to sell like this does. I was thinking about making my own app but yours does almost everything I want and no doubt you'll improve it. I have a few suggestions of things I would find useful: - Display delta as a % in addition to a number, just as a nice to have option - Allow options to use an absolute ISK value in addition to or instead of the % of sell price.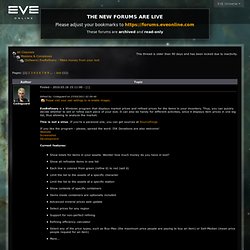 EVE Online | EVE Insider | Forums | Missions & Complexes | [Sofware] EveRefinery - Make money from your loot
EvE Online Tutorial - EVE Mon [Eve Co Pilot]
EVE Mentat – EVE Online trade tool
Out of support Please note that this software is no longer developed/supported! I do however (try to) update the underlaying database with updates from CCP. What is EVEWalletAware?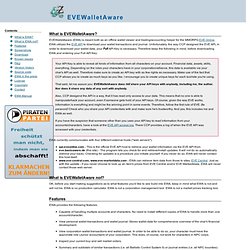 EVEWalletAware
unnamed pearl