Adobe Flex
Flash Builder Plug-in for SAP NetWeaver Gateway going away in April
The Official Flex Team Blog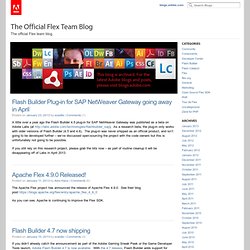 Some folks migrating 3.x projects to 4.x have run into noticeable performance degradation, especially if they are using the default skins that ship with each SDK.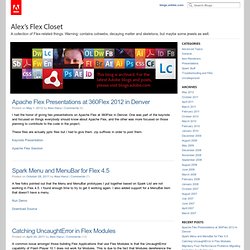 Alex's Flex Closet
Matt Chotin
Flex PM Updates Over the last few months we've announced some exciting new members of the Flex PM team: Andrew focusing on Flash Builder and Deepa focusing on the Flex SDK.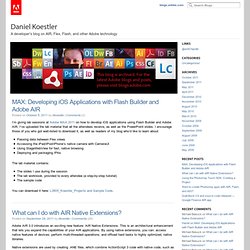 Last week, Adobe announced the public betas of Flex "Hero" and Flash Builder "Burrito." You can use these tools to begin creating your own mobile applications that run Flash, AIR, and Flex content, and I recommend you check them out here and here. If you're looking for the next step in getting started with a real-world Flex app, however, you may be interested in the following:
Daniel Koestler
Advanced CSS Selector With the Flex SDK Gumbo alpha release almost ready, I wanted to blog about the new advanced CSS selector capabilities.
Pete's Blog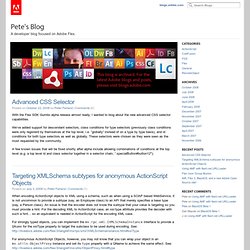 There has been some recent discussion over how to get tics and labels on Spark Sliders.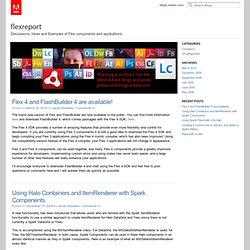 flexreport
Peter deHaan
New Adobe ColdFusion blog — http://cfexamples.com/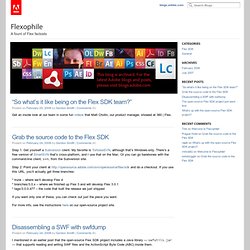 Last June we announced that with the release of Flex 3, the Flex SDK would move to an open-source development model.
Flexophile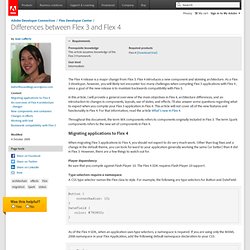 One of the major themes in the Flex 4 SDK is "Design in Mind".
Differences between Flex 3 and Flex 4 | Adobe Developer Connecti