Gay
KAISERIN Magazine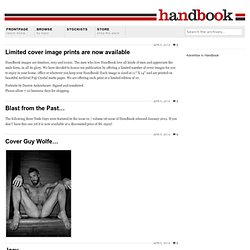 Handbook Magazine
Heres a submission from Issue 01 / Volume 05, January 2011 Do you suck? by Matt James I blinked in disbelief.
Destroyer Magazine
It is now five years ago I announced on this blog that I Love Mags had opened for business. Happy birthday, I Love Mags! Five years is a long time on the internet. It proves devotion both from the creator (me) and the customers/readers/fans (you). There are plenty of examples of similar businesses that have vanished during those years, for various reasons. "None mentioned, none forgotten", as we say in Scandinavia.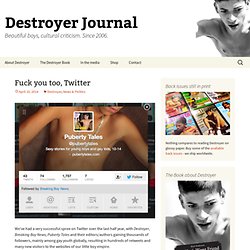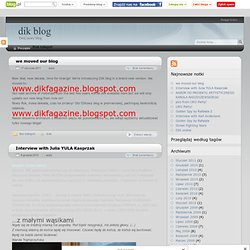 [English version below] Kochani, DIK postanowił otworzyć się na dziewczyny. Startujemy zatem z nową Panią Redaktor – Katarzyną Szustow, która dla DIKa przeprowadziła rozmowę z fenomenalną Julią YULA Kasprzak. Na razie krótko, ale spodziewajcie się więcej już w niedalekiej przyszłości. I wpadajcie na koncert w sobotę!
serwis plotkarski DIK Fagazine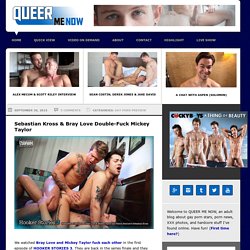 QUEER ME NOW : The Hardcore Gay Porn Blog - Gay Porn Stars, Muscle Men, Anal Sex, Gay Porn News, Free XXX Pics and Videos
I'm still on vacation in New York and last night (Friday, April 11th) I went to COCKYBOYS Book Release Party for the book A Thing of Beauty at Providence Nightclub. Jake Jaxson, Benny Morecock, RJ Sebastian along with many CockyBoys models were there to kick start their book tour (after New York, they are going to Berlin, Paris, London and Chicago). I met so many porn people there.
www.scumbagmagazine.net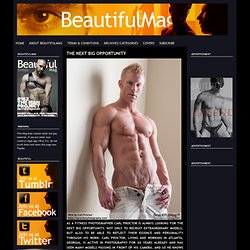 Beautiful
Jeff Lynch is a 28 years old choreographer living in Chicago, IL. He was born and raised on the east coast, in northern New Jersey and Albany, and spent his formative years in Cincinnati, OH. Here he attended Northwestern University, where he graduated with a BA in theatre, focusing on dance and choreography. Jeff loves exploring masculinity through dance and has done so since college with concert dance and movement theatre pieces, and now mostly burlesque. Jeff Lynch's life revolves around the shows he produces, directs and choreographs.
Are you 18+? Yes / No It's Wednesday, 12 March 2014 at 01:20:29 P.M. Emanuel was photographed by Florian Tenk
BUTT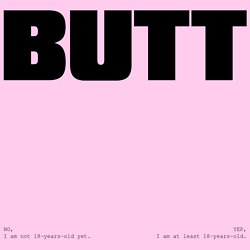 Gawker — Today's gossip is tomorrow's news
News, Videos & Reviews on Gay & Bisexual Men | After Elton | Gay Celebrities in Entertainment, TV & Movies
Soothe Your Soul with 'Southern Skies', a New Track from Yuck: VIDEO London-based indie rock band Yuck has an EP called Southern Skies that went on sale this week and the title track and video will lower your blood pressure. Check it out along with the full EP, AFTER THE JUMP... Continue reading "Soothe Your Soul with 'Southern Skies', a New Track from Yuck: VIDEO" Posted Apr. 19,2014 at 9:37 PM EST by Andy Towle in Music, Music Video, News, Yuck | Permalink | Comments (5)
Gay Blog Towleroad: More than gay news | gay men.