Youraveragemojo
Mary Jo
Gotta Have It - 8/11: Fab, Not Drab. Gotta Have It - 7/25: Table For Two. Stocking Stuffers - Words Of Wisdom. RELA_GiftGuide_v03a 1 of 14 Gold Standard 2 of 14Featuring an ultra-mod graphic print in glamorous gold, these pens will come in handy for writing that list of New Year's resolutions—then crossing them out come February.SHOP NOW: Set of 14 Pens in Zigzag Pattern Gold, $23Color Theory 3 of 14Give your artsy sister the perfect accessory for her coffee-fueled painting sessions.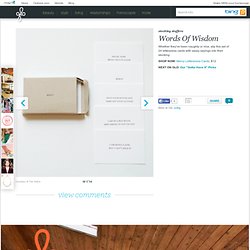 Or, in lieu of giving one as a stocking stuffer, you can gift her a full set of these colorful mugs to bring a touch of passion into her home decor. SHOP NOW: Pantone Coffee Mugs, $15 eachDo A Solid 4 of 14Perfect for the Francophile, these petite solid perfumes comes with Parisian scenes on their packaging. Ooh la la! Pillow Talk To Go - Portable Conversation Starters from TableTopics. Gotta Have It - 10/20: Saving Dough. The Joys of Parenthood. Foodie Flashcards - Learn to Speak Foodie with Knock Knock.
Dessert Recipes. Restaurants/Places to See. Clothes. Tantra. Booze Bites: Irish Car Bomb Jell-O Shots. Chewable beer bite?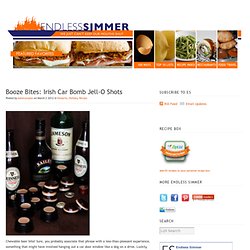 Sure, you probably associate that phrase with a less-than-pleasant experience, something that might have involved hanging out a car door window like a dog on a drive. Luckily, we're here to supplant that memory with a chewable beer bite you can enjoy. Let's talk Irish Car Bomb Jell-shots.
Travel
Business. Fitness/Weight Loss. Pearltrees videos. Help. Astrology. Recipes. Cinco de Mayo recipes. Credit Repair.
---