Usefull web
Below are some useful tips and links that can help to make your site accessible by all browsers, and better in general. This is not meant to be a complete guide to HTML, just a look at web design from an accessibility point of view. I have tried whenever possible to provide links to sites with more indepth information than what is here- please let me know of any sites that would enhance the usefulness of any of the sections below, or if I have missed any important topics in accessibility. Remember when reading this page that the advice provided is as general and thorough as possible to make it the most useful to the most readers.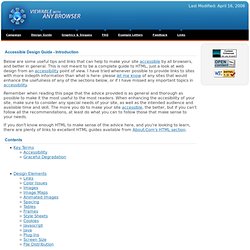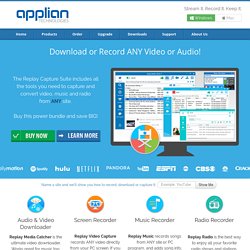 Downloading YouTube Videos is Just the Start Besides being a great way to download YouTube videos, and convert YouTube to MP3, Vixy Freecorder does a whole lot more. Download videos from thousands of other sites besides YouTube. Record audio playing from any web site or application, and save as an MP3 file. Capture any part of your screen as a video. Convert video files to hundreds of different formats.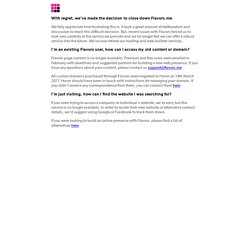 Login Community Create and share your digital world Create a gorgeous free website in minutes, bringing together your social media updates, photos, videos and more into a unified web presence.
Drag to Share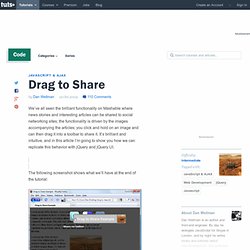 We've all seen the brilliant functionality on Mashable where news stories and interesting articles can be shared to social networking sites; the functionality is driven by the images accompanying the articles; you click and hold on an image and can then drag it into a toolbar to share it. It's brilliant and intuitive, and in this article I'm going to show you how we can replicate this behavior with jQuery and jQuery UI. The following screenshot shows what we'll have at the end of the tutorial: Getting Started The latest version of jQuery comes with jQuery UI and in this example we only need the core, draggable and droppable components, so make sure only these are selected in the download builder. Once the jQuery UI archive has been downloaded, unpack the js folder from the archive (we don't need the development bundle or CSS framework in this example) in a working folder.
7stacks
About Our Software W e've been creating apps since 1996, each one is born out of . Because, so often we stare at our machines and ask "Why can't I do ___?"
Spice up your website with animated Twitter Buttons in Flash! We have a selection of buttons for you, free to download. Social networking has revolutionised the internet in a few short years and out of it Twitter has emerged as one of the most popular and noteworthy social and information networks.
Flash Twitter Buttons for your website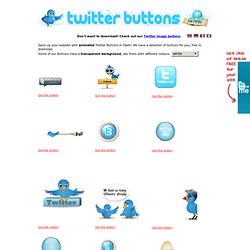 Voxel - Dedicated Servers, Managed Servers, and Managed Web Host
Key features High-Quality Patterns Over 100 effect patterns, each of them enabling you to achieve... Show/Hide Effects FlashEff has been such a successso far mainly due to its high...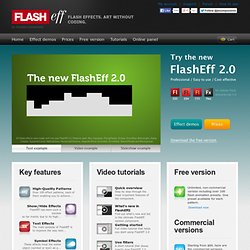 Facebook Connect Login Buttons - Facebook Developer Wiki
Facebook Share - Facebook Developer Wiki
Create Forms and Surveys Since 1998 FormSite.com has helped people build professional online html forms and web surveys. We have over 100 pre-built web forms that you can customize for registrations, reservations, secure orders, customer surveys and payment collection.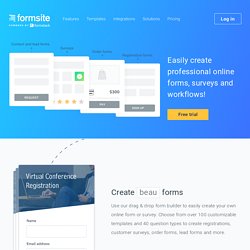 Free SMS : Free MMS : SMS Text Messaging
Password Protect All (almost) Running Programs/Documents LockThis! is a tiny Windows utility that makes it possible to password protect almost any programs or documents that's currently running/open.
LockThis! Password Protect Any Running Application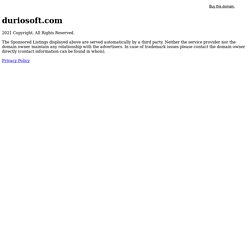 CacheMyWork is a handy utility that enables you to reboot Windows without losing your place in your work. It builds a checklist of currently open applications, and will restart the apps you've selected the next time you logon to the computer. Cache My Work is great for occasions when you need to unexpectedly reboot, such as on "Patch Tuesday", after installing new drivers, or when Windows runs out of Desktop Heap, Handles or GDI Objects (which happens more often than I'd like - even with the fixes described here ). If you're like me, you avoid rebooting your computer because it means you'll forget what you were working on. Every time I have to reboot because of some install/uninstall/patch, invariably I forget half of what I was working on because I don't remember all the docs and apps I have to reopen (those 5-15 minutes between "shutdown all apps" and "logged in, Windows quieted down" are huge opportunities for me to be randomized and lose my short-term memory cache).
Cache My Work: reopen your Apps after reboot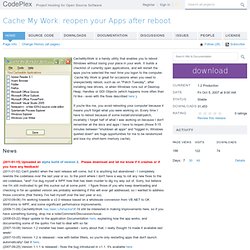 Best Manual Social Bookmarking Service
10 Techniques For a Fantastic Footer
A strong footer can leave your visitors with a lasting positive impression. There are tons of creative ways to boost the cool factor of your footers by focusing on both form and function. Below you'll find 10 simple ideas to inspire you towards footer greatness. 1: Make It the Primary Navigation Tool
Jeff Hunter's Oracle / Software Engineering Site
You're really lucky that you got to our site because you can find all sorts of info that you need in your professional life, from top to bottom. We update our site on a daily basis and make sure that the content is of top notch quality. You'll obtain the knowledge and skills that will allow you to charge more for your work because it will be of way higher quality. You can spend that money for going to your favorite resorts or what not.