Recettes + Cooking Blog
More Than a S'more. S'more Pie - In the Kitchen with Stefano Faita. Recipes » Baking Desserts Oct 15, 2012 Updated: June 25, 2013.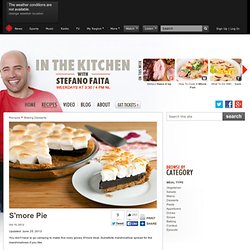 S'more Pie Recipe. Christmas Cake and Cookies with i am baker's Amanda Rettke! You know those people you meet that you're just in awe of once you meet?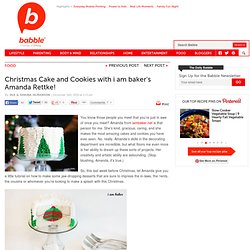 Amanda from iambaker.net is that person for me. She's kind, gracious, caring, and she makes the most amazing cakes and cookies you have ever seen. No, really. Amanda's skills in the decorating department are incredible, but what floors me even more is her ability to dream up these sorts of projects. The Secrets To DIY Cake Magic. Today we have a special guest post from Family Style's own Rachel Faucett.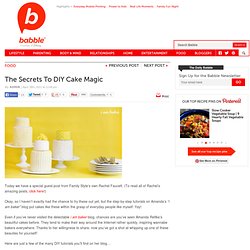 (To read all of Rachel's amazing posts, click here!) Okay, so I haven't exactly had the chance to try these out yet, but the step-by-step tutorials on Amanda's "i am baker" blog put cakes like these within the grasp of everyday people like myself. Yay! Even if you've never visited the delectable i am baker blog, chances are you've seen Amanda Rettke's beautiful cakes before. They tend to make their way around the Internet rather quickly, inspiring wannabe bakers everywhere. Cinco de Mayo piñata cookies. Video how-to: Pinata Cookies Ingredients: 1 cup sugar1 cup powdered sugar1 cup butter1 cup vegetable oil2 eggs1 teaspoon cream of tartar1 teaspoon salt 1 teaspoon almond extract1 teaspoon baking soda5 cups flour1 tablespoon vanillaMini M&M candies1/2 cup powdered sugar (frosting)2 teaspoons milk (frosting) Directions to make piñata sugar cookies: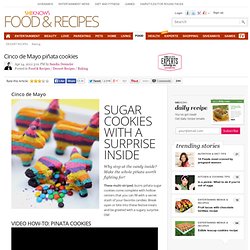 Icecream Cupcakes II. …who said: sequels are never any good?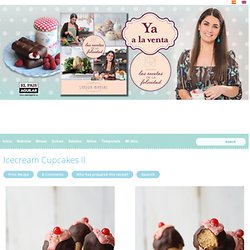 Icecream Cupcakes II… Fill the cones with smarties for an additional surprise… Translate. Playing With Food: May Meringues. Hello everyone!
It's Emilie and I'm back with the May edition of Playing With Food . Thank you for your warm response to my first post , it's wonderful to see the joy that food brings! Translate. Goodie Goodie. Gumdrops!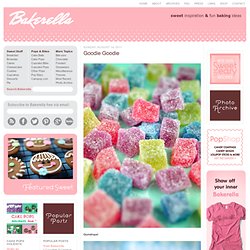 Pretty little homemade gumdrops. I found a recipe for them in the book Celebrating Candy and wanted to give these sugary treats a try. Plus, it's just fun to try new things. You'll need some unflavored gelatin… Oreo Marshmallows. Marshmallows are a curious sweet treat for me.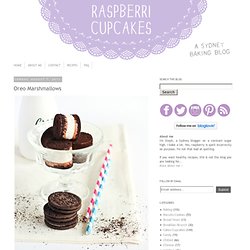 When I was younger I wasn't crazy about them, I loved to heat them up in the microwave and watch them expand, but I never ate them straight out of the packet that much. But ever since Sweetness The Patisserie opened up near me I found out how good handmade marshmallows could be. It was a revelation, and I have been making my own marshmallows ever since. Heart milk cubes. With Valentine's Day quickly approaching, I am excited to share a couple projects to celebrate the holiday with subtly and style.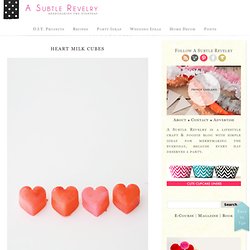 These milk heart cubes are a sweet surprise for your man's morning coffee or a tall glass of milk. As they melt, the milk turns pink (the twins were in love!). To make the milk cubes, combine milk and a few drops of red food coloring together in a small bowl. Polka Dot Cake from Bake Pop Pan. Will putting polka dots inside a cake work?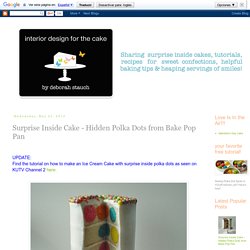 How does one do that? I conducted a little experiment to find out. Perhaps you've seen these in the store lately and walked right by them. Valentine's Day Egg in the Basket | Reclaiming Provincial. The other day, my brother and I were talking about fish sandwiches. (Weird opening sentence, I know.) He informed me that the café where he works serves a sandwich called the Son of Salmon, to which I replied, ". . . wait, what?!"
I spent the next hour brainstorming sandwich names for my future food cart, Killer Sandwiches. Teeny Tiny Rainbow Cakes. You've probably seen many full-size rainbow cakes (here's one with White Chocolate Buttercream and who can resist this Vanilla Rainbow Cake?). But there's something special about having a tiny little rainbow cake of one's own, which is why I'm making these for a friend's birthday later this month. They're just the ticket to bring a smile to anyone's face, especially a slightly birthday-weary guest of honor! These are easy to make, and a fantastic candidate for "make-ahead" due to the freezer time involved.
The parchment paper is actually, I believe, the most important part of the recipe—the layers are so thin that there's no other way to handle them. The parchment paper provides both stability AND mobility! Rainbow Cherry Jigglers Recipe. Picture 44701 « DIY Geometric Favor Boxes. DIY Pinata Cupcakes. I did a dou­ble take when I came across these yummy treats. Every­one loves those amaz­ing piñata cook­ies, but what about piñata cup­cakes? This recipe from blog­ger La Rec­eta de la Feli­ci­dad shows you how to turn any cup­cake, muf­fin, or cake (or any dessert for that mat­ter) into a piñata by adding a choco­late dome filled with sweet surprises. The La Rec­eta de la Feli­ci­dad blog is filled with won­der­ful images of culi­nary bliss. The pho­tog­ra­phy is com­pletely amaz­ing and the recipes are yours for the taking. This gor­geous treat is to die for! DIY Pinata Cookies :: Handmade Charlotte.
Sprinkle Bakes. The perfect cheesecake. Ingredients Crust     2 cups (475 ml) of cracker crumbs     2 Tbsp sugar     Pinch salt     5 Tbsp (70 g) salted butter, melted Filling     2 pounds cream cheese (900 g)     1 1/3 cup granulated sugar (270 g)     2 teaspoons vanilla     4 large eggs     2/3 cup sour cream (160 ml)     2/3 cup wh...
By: sweet_kim. Oreo Cupcakes. Death By Oreo Cupcakes. Délicieux Finger cheesecake « Desserts « Recettes « blog cuisine.
---