Notable Photographers
Nat Fein Photography. Malcolm Browne in Memoriam: The Story Behind the Iconic Burning Monk. Photographer Malcolm Browne, known for his shocking and iconic image of a self-immolating monk in Saigon, died on Aug. 27, 2012 at the age of 81.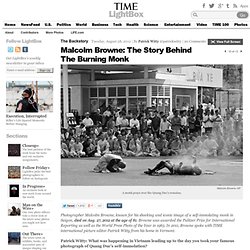 Browne was awarded the Pulitzer Prize for International Reporting as well as the World Press Photo of the Year in 1963. In 2011, Browne spoke with TIME international picture editor Patrick Witty from his home in Vermont. Patrick Witty: What was happening in Vietnam leading up to the day you took your famous photograph of Quang Duc's self-immolation? Malcolm Browne: I had been in Vietnam at that point for a couple of years when things began to look ugly in central Vietnam. Malcolm Browne, Journalist Who Took The 'Burning Monk' Photo, Dies : The Two-Way. Hide captionBrowne is pictured in 1965 while working as a correspondent for the Associated Press in Saigon, South Vietnam.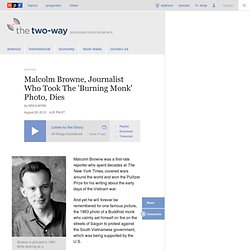 Malcolm Browne was a first-rate reporter who spent decades at The New York Times, covered wars around the world and won the Pulitzer Prize for his writing about the early days of the Vietnam war. And yet he will forever be remembered for one famous picture, the 1963 photo of a Buddhist monk who calmly set himself on fire on the streets of Saigon to protest against the South Vietnamese government, which was being supported by the U.S. In a war that would produce many shocks to the American public, Browne's photo was one of the first and remains an iconic image of the war a half-century later.
Malcolm Browne. Malcolm Wilde Browne (April 17, 1931 – August 27, 2012) was a American journalist and photographer.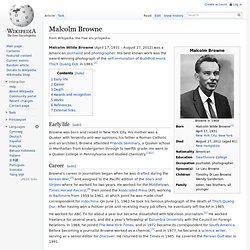 His best known work was the award-winning photograph of the self-immolation of Buddhist monk Thích Quảng Đức in 1963.[2] Early life[edit] Untitled. Jeff Widener is best known for his now famous image of a lone man confronting a column of tanks in Tiananmen Square during the 1989 Beijing riots which made him a nominated finalist for the 1990 Pulitzer.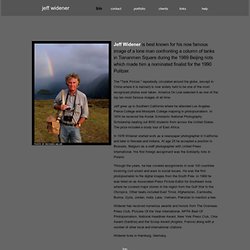 The "Tank Picture," repeatedly circulated around the globe, (except in China where it is banned) is now widely held to be one of the most recognized photos ever taken. America On Line selected it as one of the top ten most famous images of all time. Jeff grew up in Southern California where he attended Los Angeles Pierce College and Moorpark College majoring in photojournalism. Jeff Widener. Jeff Widener (born August 11, 1956 in Long Beach, California) is an American photographer, best known for his image of the Tank Man confronting a column of tanks in Tiananmen Square during the Tiananmen Square protests of 1989 which made him a nominated finalist for the 1990 Pulitzer.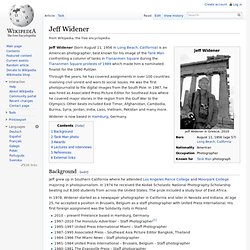 Through the years, he has covered assignments in over 100 countries involving civil unrest and wars to social issues. He was the first photojournalist to file digital images from the South Pole. In 1987, he was hired as Associated Press Picture Editor for Southeast Asia where he covered major stories in the region from the Gulf War to the Olympics.
Other beats included East Timor, Afghanistan, Cambodia, Burma, Syria, Jordan, India, Laos, Vietnam, Pakistan and many more. Widener is now based in Hamburg, Germany. Todd Webb Photographs | Presented by The Evans Gallery. Saul Leiter. Saul Leiter (December 3, 1923 – November 26, 2013) was an American photographer and painter whose early work in the 1940s and 1950s was an important contribution to what came to be recognized as the New York School.[1] Biography[edit] Saul Leiter was born in Pittsburgh, Pennsylvania.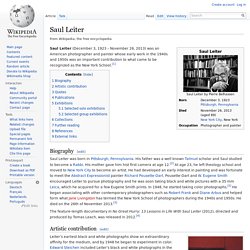 His father was a well known Talmud scholar and Saul studied to become a Rabbi. His mother gave him a Detrola camera at age 12.[2] At age 23, he left theology school and moved to New York City to become an artist. He had developed an early interest in painting and was fortunate to meet the Abstract Expressionist painter Richard Pousette-Dart. Gordon Parks. Early life[edit] Parks was born in Fort Scott, Kansas, the son of Sarah (née Ross) and Jackson Parks.[3] He was the last child born to them.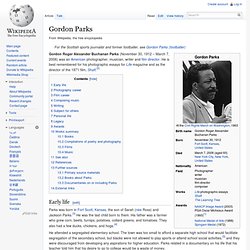 His father was a farmer who grew corn, beets, turnips, potatoes, collard greens, and tomatoes. They also had a few ducks, chickens, and hogs.[4] He attended a segregated elementary school. The town was too small to afford a separate high school that would facilitate segregation of the secondary school, but blacks were not allowed to play sports or attend school social activities,[5] and they were discouraged from developing any aspirations for higher education.
Alfred Stieglitz. Alfred Stieglitz (January 1, 1864 – July 13, 1946) was an American photographer and modern art promoter who was instrumental over his fifty-year career in making photography an accepted art form.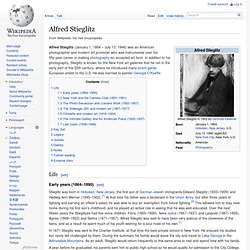 In addition to his photography, Stieglitz is known for the New York art galleries that he ran in the early part of the 20th century, where he introduced many avant-garde European artists to the U.S. He was married to painter Georgia O'Keeffe. Life[edit] Early years (1864–1890)[edit] Henri Cartier-Bresson. Henri Cartier-Bresson (August 22, 1908 – August 3, 2004) was a French photographer considered to be the father of photojournalism.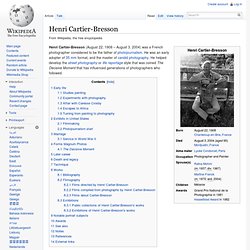 He was an early adopter of 35 mm format, and the master of candid photography. He helped develop the street photography or life reportage style that was coined The Decisive Moment that has influenced generations of photographers who followed. Mark Seliger. Mark Seliger. Mark Seliger (born 1959) is an American photographer noted for his portraiture.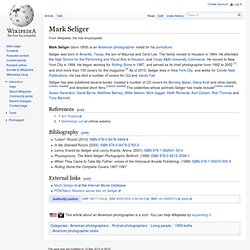 References[edit] Bibliography[edit] "Listen" Rizzoli (2010) ISBN 978-0-8478-3464-8In My Stairwell Rizzoli (2005) ISBN 978-0-8478-2760-2Lenny Kravitz by Seliger and Lenny Kravitz, Arena (2001) ISBN 978-1-892041-50-0Physiognomy: The Mark Seliger Photographs, Bulfinch (1999) ISBN 978-0-8212-2598-1When They Came to Take My Father- voices of the Holocaust Arcade Publishing, (1996) ISBN 978-1-55970-305-5Rolling Stone the Complete Covers 1967-1997 External links[edit] Eve Arnold. Eve Arnold, OBE, Hon.
FRPS (née Cohen; April 21, 1912 – January 4, 2012) was an American photojournalist.[2][3] She joined Magnum Photos agency in 1951, and became a full member in 1957. Early life and career[edit] Eve Arnold was born Eve Cohen in Philadelphia, Pennsylvania, the middle of nine children born to immigrant Russian-Jewish parents, William Cohen (born Velvel Sklarski), a rabbi, and his wife, Bessie (Bosya Laschiner). Her interest in photography began in 1946 while working in a New York City photo-finishing plant. Andrew Smith Gallery - Annie Leibovitz - American Music. Eve Arnold's most memorable shots – in pictures | Art and design.
Eve Arnold obituary | Art and design. The longevity of Eve Arnold's career as a photographer matched the heterogeneity of her work. Despite the success of her portraits of the rich and famous, Arnold, who has died aged 99, was equally well known for photographing "the poor, the old and the underdog". She said: "It's the hardest thing in the world to take the mundane and try to show how special it is. " Helen Levitt. Cover art for Levitt's book Crosstown (2002). Cover art for Levitt's book Slide Show (2005). Helen Levitt (August 31, 1913 – March 29, 2009)[1][2] was an American photographer. Dorothea Lange. Dorothea Lange (May 26, 1895 – October 11, 1965) was an influential American documentary photographer and photojournalist, best known for her Depression-era work for the Farm Security Administration (FSA). Lange's photographs humanized the consequences of the Great Depression and influenced the development of documentary photography.
Early life[edit] Eugène Atget. Organ Grinder (1898) Eugène Atget (12 February 1857 – 4 August 1927) was a French flaneur[1] and a pioneer of documentary photography, noted for his determination to document all of the architecture and street scenes of Paris before their disappearance to modernization.[1] Most of his photographs were first published by Berenice Abbott after his death.[2] An inspiration for the surrealists and other artists, his genius was only recognized by a handful of young artists in the last two years of his life, and he did not live to see the wide acclaim his work would eventually receive.[2] Biography[edit] Atget's birthplace in Libourne (France) Group f/64. Ansel Adams. Edward Weston. Fred R. Archer.
---