Editing-Posting
The Professional's Photo Book
I'm sure that you've heard the expression "A picture is worth 1,000 words." This is no less true, whether you are a seasoned professional photographer, or an aspiring amateur. What many people don't realize is that your pictures could be worth $1,000.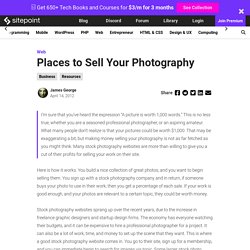 Places to Sell Your Photography
Earlier today Flickr announced on their blog they've kicked off Phase 2 of their effort to build the Flickr Collection on Getty Images by sending out invitations to various Flickr photographers. (See Building the Flickr Collection on Getty Images ) I was one of the many photographers who received an invitation and decided to check it out. To cut to the chase for now I'm going to be passing on the opportunity and below are the reasons why, but first how the Flickr-Getty arrangement works. How it Works Getty representatives through Flickr are sending out email invitations with an initial list of images with in your photostream that have been selected for inclusion into the Flickr Collection on Getty Images. A link is provided in the invitation to enroll in the program, fill out paperwork (contributors agreement, tax docs, etc.) and submit high resolution images to be evaluated for acceptance.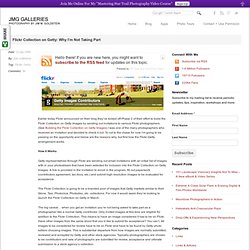 Flickr Collection on Getty: Why I'm Not Taking Part
Best Selling & Trendsetting Royalty Free photos - FOTOLIA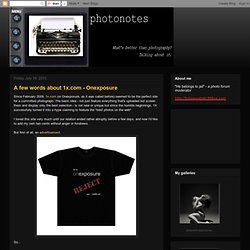 A few words about 1x.com - Onexposure
Since February 2009, 1x.com (or Onexposure, as it was called before) seemed to be the perfect site for a committed photograph. The basic idea - not just feature everything that's uploaded but screen them and display only the best selection - is not new or unique but since the humble beginnings, 1X successfully turned it into a hype claiming to feature the "best photos on the web". I loved this site very much until our relation ended rather abruptly before a few days, and now I'd like to add my own two cents without anger or fondness. But first of all, an advertisement .
Want to let people share and use your photographs, but not allow companies to sell them? Looking for access to course materials from the world's top universities? Want to encourage readers to re-publish your blog posts, as long as they give you credit?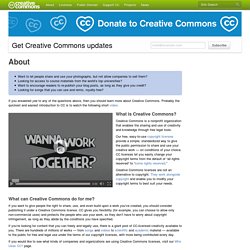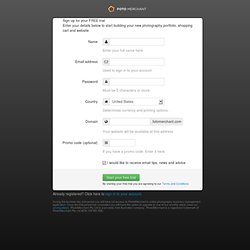 Create Photography Websites | Sell Photos Online | PhotoMerchant
(a) This clause 1 defines certain terms used in this agreement. (b) Other terms are defined elsewhere in this agreement. 1.1 Participants (a) ' Customer ' means a person who visits a Member Website for the purposes of viewing or purchasing Photographs. (b) ' we ' means PhotoMerchant Pty Ltd (ACN 129 981 826) with its registered office at Suite 40, First Floor, 61-65 Glencoe Street, Sutherland, NSW, Australia 2232, and, where it would be appropriate in the context, includes PhotoMerchant Pty Ltd's parent, subsidiary or affiliated entities and all officers, employees and contractors of PhotoMerchant Pty Ltd or its parent, subsidiary or affiliated entities.
There are hundreds of thousands of web hosts out there, the vast majority of which meet the WordPress minimum requirements , and choosing one from the crowd can be a chore. Just like flowers need the right environment to grow, WordPress works best when it's in a rich hosting environment. We've dealt with more hosts than you can imagine; in our opinion, the hosts below represent some of the best and brightest of the hosting world. If you do decide to go with one of the hosts below and click through from this page, some will donate a portion of your fee back—so you can have a great host and support WordPress.org at the same time. If you don't need the flexibility of a full web host, you may consider getting a free blog on WordPress.com . Bluehost
Best WordPress Hosting Compared: We Did the Research
Which describes you best? I'm a Small Business Looking for: Hassle-Free Hosting Hacker Proof* Mind-Blowing Tech/Customer Support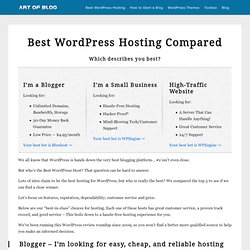 Web Hosting - Shared cPanel Web Hosting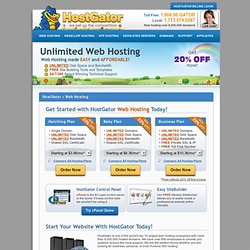 » Hatchling Plan • Single Domain • UNLIMITED Disk Space • UNLIMITED Bandwidth • Shared SSL Certificate » Baby Plan • UNLIMITED Domains • UNLIMITED Disk Space • UNLIMITED Bandwidth • Shared SSL Certificate » Business Plan
Best 10 Web Hosting Sites by WPDesigner.com - Free Wordpress Themes and reviews of Top Web Hosts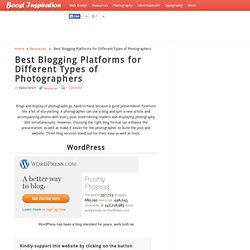 Home » Resources » Best Blogging Platforms for Different Types of Photographers Blogs and display of photographs go hand-in-hand because a good presentation functions like a bit of storytelling. A photographer can use a blog and spin a new article and accompanying photos with every post, entertaining readers and displaying photography skill simultaneously. However, choosing the right blog format can enhance the presentation, as well as make it easier for the photographer To see the full content, kindly share this page by clicking one of the buttons below Written by Elaine Hirsch
Best Blogging Platforms for Different Types of Photographers
Photorific is a premium WordPress theme great for photography and portfolio websites but can also be used for other projects. With Photorific, you can set as many background images as you want for every page, post, & portfolio item. The image will be automatically stretched to fit the users browser.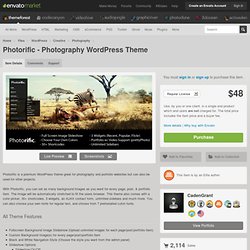 Photorific - Photography WordPress Theme
Photos - Google+
Topaz DeNoise 5 Review - About Topaz DeNoise
Review Navigation: > Topaz DeNoise is a plugin developed by Topaz Labs which supplements photo-editing software such as Adobe Photoshop or Lightroom by adding an alternative way of noise reduction. DeNoise offers more control over the noise reduction than the features built into Photoshop and similar photo editing software.
Photorific Premium WordPress Theme
Photorific - Premium WordPress Theme Support « StunningWP
WPBeginner has been helping WordPress beginners since 2009. Over these past years, we have received all levels of questions (some beginner, some advanced). Overtime some questions have been asked over and over again. In this article, we will share most frequently asked questions by WordPress Beginners with answers.
15 Most Frequently Asked Questions by WordPress Beginners
best blog for photographers to use
best hosts for wordpress
photoshop
Adobe Photoshop is a graphics editing program developed and published by Adobe Systems . Adobe's 2003 " Creative Suite " rebranding led to Adobe Photoshop 8's renaming to Adobe Photoshop CS. Thus, Adobe Photoshop CS6 is the 13th major release of Adobe Photoshop. The CS rebranding also resulted in Adobe offering numerous software packages containing multiple Adobe programs for a reduced price.
Adobe Photoshop
What is Photoshop?
Features | Adobe Photoshop CS5
Photoshop Extended software for 3D graphic design
photoshop cs6
When a lot of designers and creative types think about photo editing, they think Photoshop. But the truth is that Photoshop can be way over-powered for many types of photo editing. And all those options can lead to creative overload, making it impossible to get your work done in a timely manner. That doesn't mean you don't need a program that's incredibly powerful, though.
Review: Adobe Photoshop Lightroom 4