Personality
Profiles of the 16 Myers Briggs Personality Types | PersonalityDesk. ENTP in a Nutshell ENTPs are inspired innovators, motivated to find new solutions to intellectually challenging problems.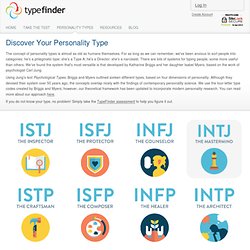 They are curious and clever, and seek to comprehend the people, systems, and principles that surround them. Open-minded and unconventional, Visionaries want to analyze, understand, and influence other people. Personality Test - VisualDNA. Revenge of the introverts: It's often assumed extroverts do best in life, but a new book claims quite the opposite...
By Susan Cain Published: 22:45 GMT, 25 March 2012 | Updated: 07:11 GMT, 26 March 2012 Do you hate crowds and small talk?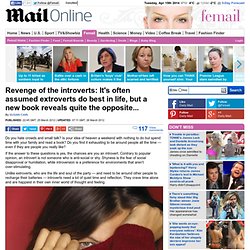 Is your idea of heaven a weekend with nothing to do but spend time with your family and read a book? Do you find it exhausting to be around people all the time — even if they are people you really like? If the answer to these questions is yes, the chances are you an introvert. Are You A-Freyd of Introverts? Photo courtesy of Novella photography, Matt & Paulette Griswold In the previous post, I said that you're probably not an introvert or an extrovert , arguing against a bimodal distinction.
However, you may show signs of a temperament described as being introverted or extroverted based on how you display certain tendencies. But what are they? And how can you tell? How you measure introversion or extroversion?
---