Semantic
LIBSVM -- A Library for Support Vector Machines. LIBSVM -- A Library for Support Vector Machines Chih-Chung Chang and Chih-Jen Lin Version 3.18 released on April Fools' day, 2014.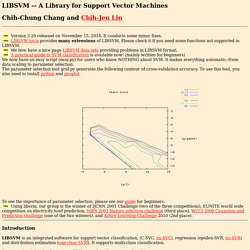 It conducts some minor fixes. Home Page of Thorsten Joachims. · International Conference on Machine Learning (ICML), Program Chair (with Johannes Fuernkranz), 2010. · Journal of Machine Learning Research (JMLR) (action editor, 2004 - 2009). · Machine Learning Journal (MLJ) (action editor). · Journal of Artificial Intelligence Research (JAIR) (advisory board member).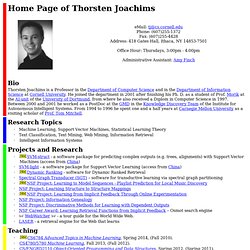 SVM-Light Support Vector Machine. Database Mining Tutorial. What's Database Text Mining?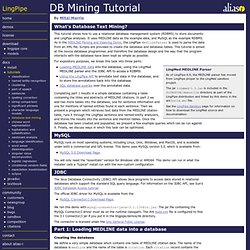 This tutorial shows how to use a relational database management system (RDBMS) to store documents and LingPipe analyses. It uses MEDLINE data as the example data, and MySQL as the example RDBMS. As in the MEDLINE Parsing and Indexing Demo, the LingPipe MedlineParser is used to parse the data from an XML file. Type - Poem character. The OpenNLP Homepage. Download - WordNet - Download. Use of WordNet in other projects or papers Please note that WordNet® is a registered tradename.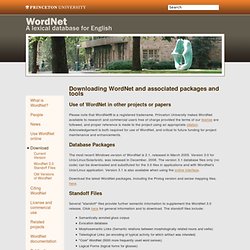 Princeton University makes WordNet available to research and commercial users free of charge provided the terms of our license are followed, and proper reference is made to the project using an appropriate citation. Acknowledgement is both required for use of WordNet, and critical to future funding for project maintenance and enhancements. Online Access. The DBpedia data set can be accessed online via a SPARQL query endpoint and as Linked Data. 1.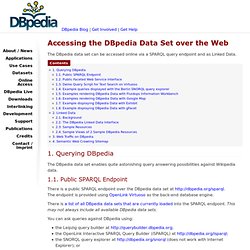 Querying DBpedia.
---