Organizations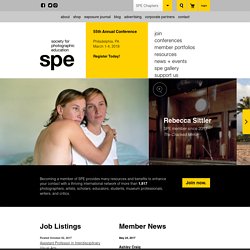 The Society for Photographic Education is a nonprofit membership organization that provides and fosters an understanding of photography as a means of diverse creative expression, cultural insight, and experimental practice. Through its interdisciplinary programs, services, and publications, the society seeks to promote a broader understanding of the medium in all its forms through teaching and learning, scholarship, and criticism.
Society for Photographic Education
Flashes of Hope
wppionline
photo marketing association
National Press Photographers Association
Editorial Photographers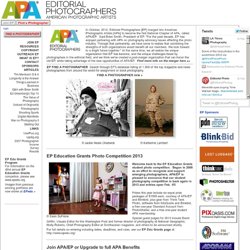 APA Editorial Photographers (APA / EP) is a chapter of American Photographic Artists dedicated to improving the business of editorial photography EP FIND A PHOTOGRAPHER Search through EP's database listing of 1,500 of the top magazine and news photographers from around the world for assignment or stock photography. 2013 EP Edu Grants Awarded! APA/EP is pleased to announce the winners of the 2013 EP Education Grants Student Photo Competition!. See the 2013 Winners » With nearly 300 entries, this year was our largest competition ever and all the judges noted the high quality of the submissions.
ASPP | American Society of Picture Professionals | Welcome
American Society of Media Photographers
Help-Portrait Community
News You Can Use... 2013 Merch is Here! The store is up and running, and we have new apparel waiting for you here! >> http://help-portrait.com/shop/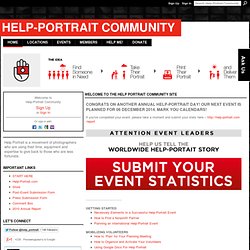 Shooting Back - An organization dedicated to empowering children at risk by teaching them photography.
joinipe
Editorial Photographers
Women In Photography International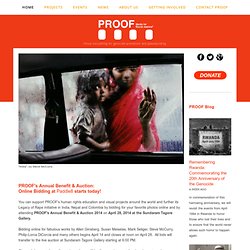 Welcome To Proof - Home
You can support PROOF's human rights education and visual projects around the world and further its Legacy of Rape initiative in India, Nepal and Colombia by bidding for your favorite photos online and by attending PROOF's Annual Benefit & Auction 2014 on April 28, 2014 at the Sundaram Tagore Gallery. Bidding online for fabulous works by Allen Ginsberg, Susan Meiselas, Mark Seliger, Steve McCurry, Philip-Lorca DiCorcia and many others begins April 14 and closes at noon on April 28. All bids will transfer to the live auction at Sundaram Tagore Gallery starting at 6:00 PM. Please join us at the gallery where there will be live music, great food and great work.