Wine
Market Street Winery - CHARLESTON, SC - WinoNation. Wine Education Resources. Download lists of wine tasting terms b. Wine 101. An introduction to wine. The Basics of Wine Tasting. Learning how to taste wines is a straightforward adventure that will deepen your appreciation for both wines and winemakers.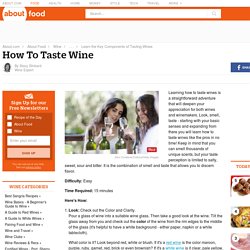 Look, smell, taste - starting with your basic senses and expanding from there you will learn how to taste wines like the pros in no time! Keep in mind that you can smell thousands of unique scents, but your taste perception is limited to salty, sweet, sour and bitter. It is the combination of smell and taste that allows you to discern flavor. Snooth | Buy Wine Online - Wine Gifts, Ratings and Recommendations. CorkSavvy - A Free Online Wine Journal, Virtual Cellar, Bottle Rack, Wine and Food Pairings, Restaurant Wine Menus, Vineyard Listings, Interviews and Information. Foggy Ridge Cider Club -- Foggy Ridge Cider Online Store. Foggy Ridge Cider Club Members enjoy four (4) 3, 6 or 12 bottle shipments delivered directly to you (or as a gift) every year.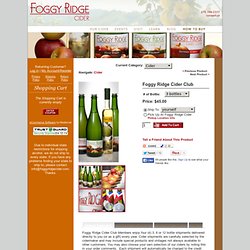 Cider shipments are carefully selected by the cidermaker and may include special products and vintages not always available to other customers. You may also choose your own selection of our ciders by noting this in your order comments.
---