Art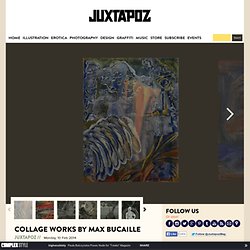 Collage Works by Max Bucaille
"At first mathematician, Max Bucaille (1906-1992) joined the surrealist group in 1947. Collagist and poet often overshadowed by Max Ernst, he built a major body of work. In The Dream Scanner, one of his better knowns books published in 1950, the poet Jean Laude, writer of the preface, presents the work of the artist: "Max Bucaille, since it's him we speak about, takes a pair of scissors and glue. He takes old illustrated books and, for our pleasure, daydreams. [...]
Facebook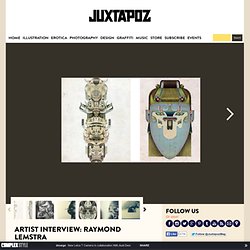 Artist Interview: Raymond Lemstra
Inspired by primitive art, Raymond Lemstra focuses on using the most basic components of drawing to evoke a visceral human response. The world Lemstra continues to build with every drawing is both subdued and wonderfully rich, full of mystery and totemic power. "I would happily embrace any comparison to how a kid starts drawing," says Lemstra in our interview, in which he expands on the primitive technique, being an illustrator, his childhood in the Netherlands and hanging out with Moebius. Your work is hedged in an attempt to "bring back the sense of wonder we remember from being a child." What was your childhood like? Who are some of your favorite childhood characters?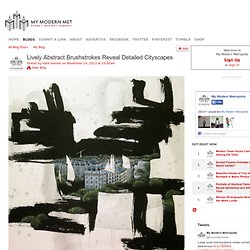 Lively Abstract Brushstrokes Reveal Detailed Cityscapes
Using large, swift brushstrokes and irregular splatters, Korean artist Jieun Park reveals urban landscapes hidden beneath the surface of her paintings. From a distance, the broad strokes are simply a bundle of abstract lines. However, upon closer inspection, bits of an urban landscape emerge from the seemingly haphazard marks.
Peter Doig's paintings - in pictures | Art and design
Jules Julien
Magazine - Conceptual Interventions by Fabian Bürgy
Sleep Studies — Iskra Fine Art
Earlier this month Lauren and I escaped city life with our dear friend Grace, of Stripes & Sequins, for a weekend chock-full of sun and DIY. With an abundant supply of rhinestone and brass curb chain, we decided to try weaving the components together to make our own collar necklaces. It was fun to see how wonderfully different the pieces turned out - each so fabulous in their own unique way! Honestly, isn't that the best part about DIYing with friends?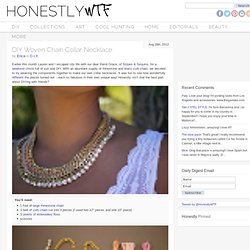 photo © Seo Young Deok The human body and its formation lie at the core of the Korean artist Seo Young Deok's work who is preoccupied with the stories told through the human figure. His solo exhibition 'Dystopia' took place at the INSA/Arko Art Centre in Seoul from 26 October 2011 until 31 October 2011 and showed his nude sculptures made meticulously in welded metal chain links piece by piece. Seo Young Deok presented a number of nude sculptures, some lying on the ground, some hung on the walls.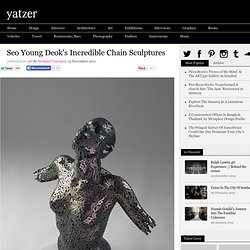 50 Emotional Portraits Photography | Design Arena
Ireland's creative community got together to release a lot of pent up anger and sadness through the medium of the A3 poster, all in aid of Temple Street Children's Hospital. Ad creatives, designers, animators, directors, illustrators and more took time out to dress up their favourite worst feedback from clients, transforming quotes that would normally give you a twitch, into a diverse collection of posters. The work was exhibited by the kind folks at The Little Green Café, Bar and Gallery. The exhibition ran from November 2nd - 7th, with A3 prints of all entries selling for only €10 apiece, with all proceeds going to Temple Street. After receiving an unbelievable amount of support and interest we've finished taking orders on prints. However feel free to drop us a line at verysharpsuits@gmail.com.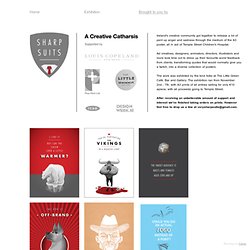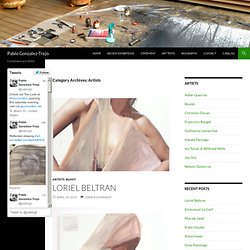 David Szauder is doing some digital art defacing with his project Failed Memory inspired by the parallels between human and digital memory. See more artworks by David Szauder here. 1Share 0Share Madison Weaver is doing some art Defacing artworks. See more here.
Artists | Pablo Gonzalez-Trejo
Gallery - Category: More AKR - Image: A K Robinson_13
A.M.Konahin
Drawing On Cups
Sarah Muirhead
Lee Jin Ju
MONSTER BRAINS: Domenico Gnoli - Modern Bestiary, 1968
Stephen Mackey
Untitled (installation) - Martin Wittfooth
Visual artist Samuli Heimonen
Gallery - Category: Ricardo Cavolo - Image: Ricardo Cavolo_19
New Sketchbook Works by Pat Perry
We found some great new work put out by Pat Perry, an artist and illustrator who calls Grand Rapids, Michigan home. In between showing his art from coast to coast or working with an assortment of clients, Pat travels as much as possible. Although he is happy to be able to speak and have an audience through his artwork, he does his best everyday to listen and learn from the world he lives in. His series of sketchbook drawings reflect this beautifully as well.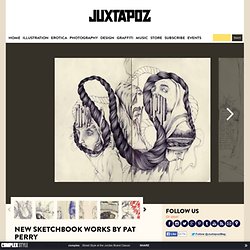 Angus Watson, New Zealand Artist, Current Work
Portfolio - Shireen Qureshi
ASTRONOMICA 14
north27worshipcenter.files.wordpress.com/2011/09/christ_on_the_cross_diego_velazquez_1632
T A M A R A M U L L E R
Outlived - Art - Pat Perry
Lavatory Self-Portraits in the Flemish Style
Facebook
Explore Artists | Art21
I can't apologize enough. on the Behance Network
WEST COLLECTS
Facebook
Facebook
Mike Kelley / Interview 4 of 4
Gallery - Category: Alex Gross cabinet cards - Image: Alex Gross Cabinet Cards_10
NOWNESS.com presents: Gerhard Richter Painting
Facebook
Kenichi Hoshine
Colour photographs of circus performers, 1940s-1950s