HTML, JAVASCRIPT, DOM, PHP...
Bienvenue sur PHP Débutant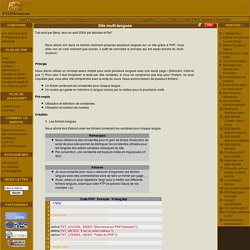 Nous allons voir dans ce tutorial comment proposer plusieurs langues sur un site grâce à PHP. Vous allez voir ce n'est vraiment pas sorcier, il suffit de connaître le principe qui est assez proche du multi-couleurs. Nous allons utiliser un concept assez simple pour avoir plusieurs langues avec une seule page ! (Etonnant, n'est-ce pas ?)
Consultez les manuels de PHP, MySQL et HTML avec Ma
Page last changed today See section 7E and 7F of the book. The target/srcElement properties are sometimes buggy in Explorer 5 on Mac and unreliable in Netscape 4. On this page I give some example scripts for reading out event properties. There are very serious browser incompatibilities in this area.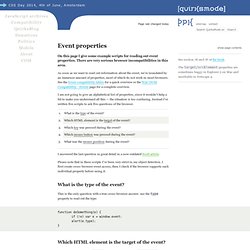 Event properties
Javascript Tips - Event Key Codes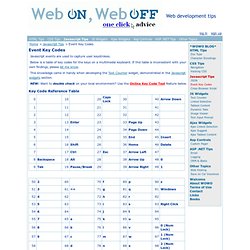 Javascript events are used to capture user keystrokes. Below is a table of key codes for the keys on a multimedia keyboard. If this table is inconsistent with your own findings, please let me know. This knowledge came in handy when developing the Text Counter widget, demonstrated in the Javascript widgets section. NEW: Want to double check on your local environment? Use the Online Key Code Test feature below.
W3C DOM Compatibility - CSS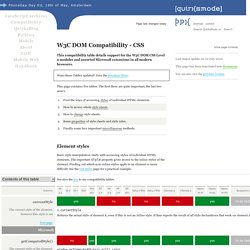 Page last changed today This compatibility table details support for the W3C DOM CSS Level 2 modules and assorted Microsoft extensions in all modern browsers. Want these Tables updated? Join the donation drive. This page contains five tables.