Social Bookmarking and PearlTreeStuff
4 Promising Curation Tools That Help Make Sense of the Web. Steven Rosenbaum is a curator, author, filmmaker and entrepreneur.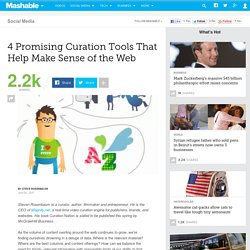 He is the CEO of Magnify.net, a real-time video curation engine for publishers, brands, and websites. His book Curation Nation is slated to be published this spring by McGrawHill Business. Pearltrees: Create The World Of Your Interests - pearltrees. PearlTrees better than bookmarking for organizing stuff online. Instead of bookmarks organized with long lists, Pearltrees puts your links into a dynamic, sharable web of connections.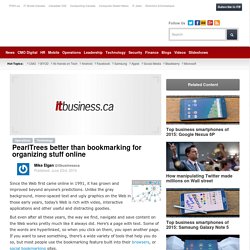 Since the Web first came online in 1991, it has grown and improved beyond anyone's predictions. Unlike the gray background, mono-spaced text and ugly graphics on the Web in those early years, today's Web is rich with video, interactive applications and other useful and distracting goodies. But even after all these years, the way we find, navigate and save content on the Web works pretty much like it always did. LinkaGoGo - free Online Favorites manager and Social Bookmarking Application.
Faves. Delicious. Blurpalicious - Social Bookmarking. Pearltrees: The Future of Social Bookmarking :sinlee.com. After trying out Pearltrees today, I have to say I'm incredibly impressed.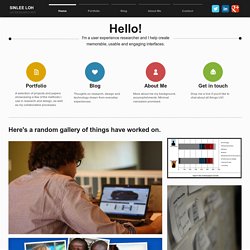 It was featured on CNN.com as a possible next big thing on the web and since its beta launched on Wednesday, there has been massive scrutiny in the online world over its social-network-meets-categorized-mind-map-bookmarking style. The webhounds have definitely stirred and are barking up this flash-based (pearl)tree. What Is It On the surface, Pearltrees is (are?) A fancy bookmarking system that's guided by a visually intuitive drag-and-drop interface. Gravee - The Social Search and Recommendation Engine. Blippy / What are your friends buying?
---