Mobile
Nexus Communauté. FRandroid - Galaxy Nexus. Nous sommes une communauté dédiée à Android et tout ce qui gravite autour.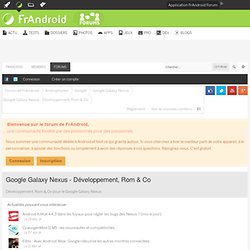 Si vous cherchez à tirer le meilleur parti de votre appareil, à le personnaliser, à ajouter des fonctions ou simplement à avoir des réponses à vos questions. Rejoignez-nous. C'est gratuit. Connexion Inscription <div class='message error'><strong>Javascript Disabled Detected</strong><p>You currently have javascript disabled. XDA devs - Galaxy Nexus. GALAXUS | Une dose de Google, un soupçon d'Android… Un galaxy Nexus... Musique et audio. Höre Original-Musik & Audio von der weltweit größten Community von Musikern, Bands, Produzenten und Komponisten aller Art.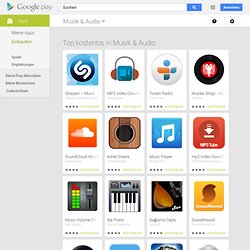 SoundCloud ist die weltweit führende Audio-Plattform, mit über 12 Stunden veröffentlichter Musik & Audio pro Minute. Finde und spiele neue Songs, Remixe, Comedy, Nachrichten und mehr. TuneIn Radio. ✔ Free✔ Over 10.000 stations ✔ Local stations from your region ✔ Editorial recommendations ✔ Categorical search: genre, topic, city, country✔ Title information ✔ Homescreen widget✔ Save radios as favorites✔ Similar stations✔ Alarm clock ✔ Sleep timer ★ WELL ORGANIZED Use the rad.io features to sort radio programs by top 100, genre, topic, city, country or language and find out what is on air at the moment.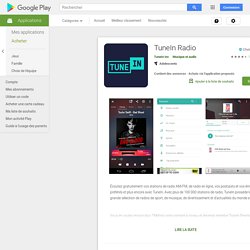 Directly view which station plays which song at the moment. Podkicker Podcast Player. Si vous appréciez Podcast Addict vous pouvez acheter cette app afin de soutenir son développement.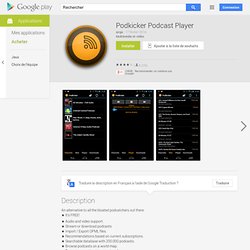 Une fois cette app installée, les bannières de pub de Podcast Addict seront désactivées. Pour une prise en compte immédiate pensez à arrêter/redémarrer Podcast Addict. Aucune nouvelle fonctionnalité ne sera ajoutée car Podcast Addict n'est pas limité dans sa version gratuite (avec bannière pub). ATTENTION: Cette app n'est PAS Podcast Addict. Social. SymbolsKeyboard & TextArt, the only symbols keyboard and the most featured text art and picture app for Android!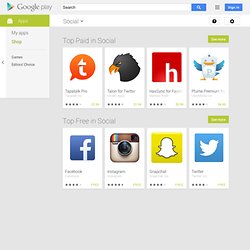 Send ascii symbols or text art from the library to facebook, sms, mail, twitter, blog,... You can also create your own art! Check out this top5 ranked social app! Contains layouts for the following languages: ✔ Arabic لوحة المفاتيح العربية ✔ Belarusian Белорусская клавиатура ✔ English ✔ Finnish Suomi ✔ German Deutsch ✔ Hebrew עברית ✔ Russian Русская клавиатура ✔ Spanish Español ✔ Ukrainian Українська клавіатура Also includes✔ built-in English dictionary✔ user dictionary✔ contact dictionary✔ word suggestion (beta version)
WhatsApp Messenger. Free messages, Free Calls.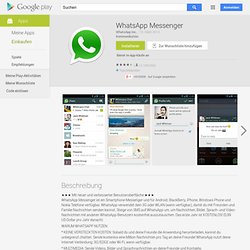 Unlimited! Now, call and send messages as much as you want! Nimbuzz Messenger combines the power of internet and smart phone messenger into one, and lets you make cheap international voice calls, send unlimited chat messages, share files on any mobile device across popular messengers. Nimbuzz Messenger is available on Android, iOS, Windows Phone, Blackberry, Symbian, Java, Windows and Mac. Nimbuzz Messenger lets you chat with your buddies on Nimbuzz, Facebook, Gtalk 24x7 for free.
Facebook pour Android. With Bright Camera, you can create and share you attractive selfie on Facebook simple and easy.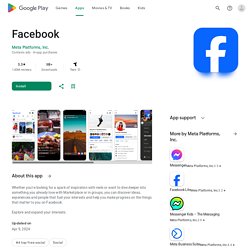 Get notified when friends like and comment on your selfie and see friends' latest photos in one place. Bright Camera free app is: Facebook photo feed, android photo gallery, advanced camera for selfie, photo portrait editor and Facebook photo uploader. Skype. ★ In many ways better than Skype, Viber, Tango, Vonage, Whatsapp ★ ★ Absolutely Ads Free!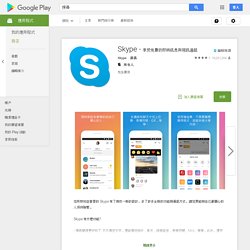 ★ ★ NO NEED to apply for account ★ ★ Can choose to display or hide the Caller ID ★ ★ Great voice quality at very LOW VoIP call rates for US and international calls★ ★ Best Call Recorder - record phone calls freely★ ★ 30 cents free gift credit to start★ ★ Pay As You Go with Google Wallet ★ ★ Buy More Get More ★ ************************************* buy $20 get $1 gift credit buy $50 get $5 gift credit buy $100 get $15 gift credit************************************* -----Customer REVIEWS----- "Great phone.
Voyages et infos locales. ***Sensational 40% Price Drop!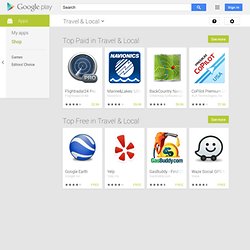 ***Easter Promo Deal (19 and 20 April)Don't miss out! * Over 3M downloads worldwide* Top 5 travel apps in more than 50 countries* Featured in Tuaw, Forbes, TechCrunch Fast detailed offline maps of all countries of the world. Maps work everywhere, anytime. TripAdvisor. Febrero 2014 - Nueva Versión 4!!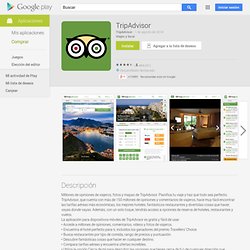 Creemos que debes tener una experiencia inolvidable en tus viajes. Por eso hemos diseñado la app más amigable para planificar tu viaje en segundos. Más de 800.000 personas ya han viajado con TouristEye llevando toda la información, consejos de usuarios y mapas en sus móviles sin necesidad de tener Internet. Funcionalidades de TouristEye: ✓ Colecciona ideas para tus viajes y escapadas. Triposo. February 2014 - Version 4! We believe that you should have an unforgettable experience on your trips.
That's why we have designed the most user-friendly app to plan your trip in seconds. More than 800,000 people have already traveled with TouristEye taking all the information, user tips and maps on their mobile phones without Internet. TouristEye features: ✓ Collect ideas for your trips and getaways. Sygic: GPS Navigation. L'APPLICATION DE NAVIGATION HORS LIGNE LA PLUS TELECHARGEE AU MONDE ! NOUVEAU : l'affichage frontal novateur projette les informations de navigation sur votre pare-brise Sygic est un logiciel de navigation GPS pas à pas de pointe que vous pouvez essayer gratuitement.
Des cartes de haute qualité de TomTom et d'autres fournisseurs sont stockées sur votre téléphone ou votre tablette Android, ou encore sur une carte SD, pour vous permettre de naviguer sans connexion Internet. La licence à vie vous donne accès à de nombreuses mises à jour de cartes gratuites chaque année. Pour faciliter et sécuriser la conduite de nuit, Sygic propose un mode de navigation par affichage frontal. Wipolo. Travel Compass includes all major travel booking and reservation sites in one app. Book a hotel room at Booking.com, Hostels.com, DHR -Discount Hotel Reservations, Otel.com, HRS or Hotels.com.
Or search for a local specialist like Venere in Italy or STC in Switzerland. Do you want a hotel of a special chain? Accor, AmericInn, Best Western, Choice Hotels, Hilton, Marriot, Holiday Inn, Hyatt, Ibis, Kempinsky, Mövenpick, Novotel, Park Plaza Hotels, Radisson, Ramada, Sheraton, Taj Hotelsand many more are included. Note. Scoop.it. Buffer ist die beste Lösung, um Beiträge auf Twitter für Android, Facebook, LinkedIn und App.net von News-Apps wie Flipboard, Zite, Taptu, TweetDeck, Evernote, Pocket, Instapaper, Pulse, Feedly, Google Currents und jeder anderen Google-Reader-App zu teilen. Mit Buffer erhalten Sie außerdem Zugriff auf Twitter statistiken, Facebook- und LinkedIn-Statistiken. Wenn Sie etwas finden, das Sie teilen möchten, können Sie es einfach zu Ihrer Warteschlange hinzufügen.
Buffer wird die Tweets auf Twitter, Beiträge auf Facebook bzw. LinkedIn-Updates so organisieren, dass sie über den ganzen Tag hinweg veröffentlicht werden. Sie werden die besten Ergebnisse beim Teilen auf Facebook und Twitter für Android erhalten, wenn Sie Buffer verwenden. Pocket -formerly Read It Later. Evernote. Photo. Pixlr-o-matic. Actualités et magazines. Flipboard: L'actualité de votr. Taptu -Compilez vos nouvelles. Flux d'actu. » News Republic Fr. Feedly. feed your mind.
---