Mobile
FRandroid - Galaxy Nexus
XDA devs - Galaxy Nexus
GALAXUS | Une dose de Google, un soupçon d'Android… Un galaxy Nexus
Musique et audio
TuneIn lets you listen to the world's radio with music, sports, news, talk, and comedy streaming from every continent. Enjoy 70,000 live radio stations and 2 million podcasts, concerts or shows on your Android phone or tablet, all for free. Already a TuneIn listener?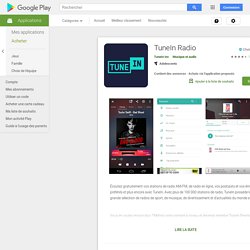 An alternative to all the bloated podcatchers out there.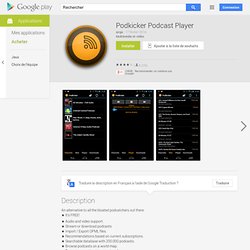 Podkicker Podcast Player
Social
WhatsApp Messenger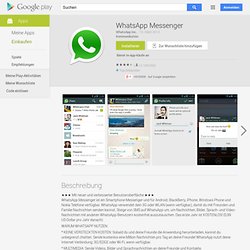 ★★★ Nouvelle interface utilisateur améliorée ★★★ WhatsApp Messenger est un messager de smartphones disponibles pour Android, BlackBerry, iPhone, Windows Phone et les téléphones Nokia.
Tus cuentas crear cuentas y establecer contraseñas Permite que la aplicación utilice las capacidades del autenticador de cuentas del administrador de cuentas, incluida la creación de cuentas y la obtención y configuración de sus contraseñas. agregar o eliminar cuentas Permite que la aplicación ejecute operaciones, como agregar y eliminar cuentas, y eliminar sus contraseñas.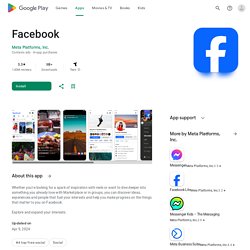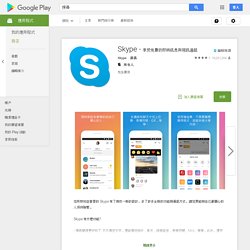 Free voice and video calls to anyone else on Skype, whether they're on an Android, iPhone, Mac or PC, as well as IMs to your friends and family, no matter where they are.
Voyages et infos locales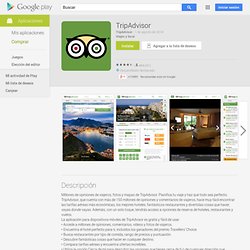 TripAdvisor
Préparez et réalisez le voyage idéal grâce à TripAdvisor. Avec plus de 50 millions d'avis et de conseils donnés par de vrais voyageurs, vous trouverez toujours le meilleur endroit pour manger, dormir et vous divertir, où que vous soyez.
One travel guide for the whole world. It's free and works offline.
Triposo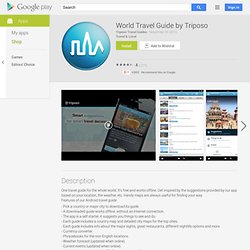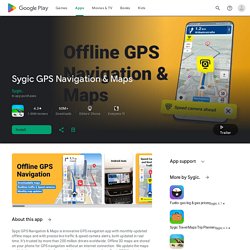 DIE AM HÄUFIGSTEN HERUNTERGELADENE OFFLINE-NAVIGATIONSANWENDUNG DER WELT! ★★★★★ "Diese 5 Sterne sind wohlverdient." – Wagner, Deutschland ★★★★★ "Ich verwende die App seit 3 Wochen in den USA und bin über 3.800 km gereist.
Sygic: GPS Navigation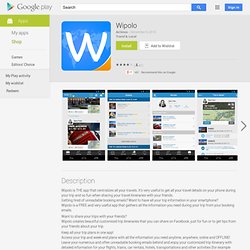 Wipolo
L'application de voyage indispensable pour avoir toute son actualité voyage et celle de ses amis sur son téléphone.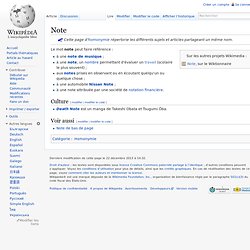 Un article de Wikipédia, l'encyclopédie libre.
Note
Scoop.it
Pocket -formerly Read It Later
When you find something on the web that you want to view later, put it in Pocket. It automatically syncs to your phone, tablet or computer so you can view it any time, even without an internet connection. New York Times, Business Week, and TechCrunch call it "DVR for the web."
★ New York Times 'Le Top 10 des applications à posséder' : TechCrunch Crunchies, Mashable Awards et the Webbys
Evernote
Photo
Pixlr-o-matic
Awarded 2011's "Best App Ever" award for the Best Photo Editing App on Android by 148apps.com
Actualités et magazines
Flipboard brings together world news and social news in a beautiful magazine designed for your Android phone and tablet.
Taptu -Compilez vos nouvelles
» News Republic Fr