Mobile
Nous sommes une communauté dédiée à Android et tout ce qui gravite autour. Si vous cherchez à tirer le meilleur parti de votre appareil, à le personnaliser, à ajouter des fonctions ou simplement à avoir des réponses à vos questions. Rejoignez-nous. C'est gratuit. Connexion Inscription <div class='message error'><strong>Javascript Disabled Detected</strong><p>You currently have javascript disabled.
FRandroid - Galaxy Nexus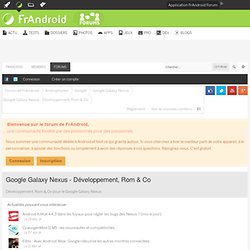 XDA devs - Galaxy Nexus
GALAXUS | Une dose de Google, un soupçon d'Android… Un galaxy Nexus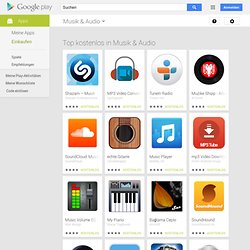 Musique et audio
Shazam recognizes music and media playing around you. Tap the Shazam button to instantly match, and then explore, buy and share. You can Shazam as much as you want!
✔ Free✔ Over 10.000 stations ✔ Local stations from your region ✔ Editorial recommendations ✔ Categorical search: genre, topic, city, country✔ Title information ✔ Homescreen widget✔ Save radios as favorites✔ Similar stations✔ Alarm clock ✔ Sleep timer ★ WELL ORGANIZED Use the rad.io features to sort radio programs by top 100, genre, topic, city, country or language and find out what is on air at the moment. Directly view which station plays which song at the moment.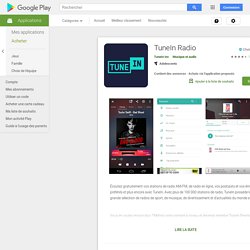 Gérez tous vos Podcasts Audio et Vidéo ainsi que vos chaines YouTube et vos flux de News sur appareil Android.Retrouvez les Podcasts des principaux réseaux Francophones (BadGeek, Bepod, Europe1, Freepod, Nowatch, Radio01.net, Radio France, RMC, RTL, RTS et SynopsLive) mais aussi Anglophones.Si vos podcasts favoris et autres catchup radios manquent à l'appel, n'hésitez pas à utiliser le moteur de recherche qui grâce à l'intégration de la base de données iTunes recense plus de 150000 podcasts !La migration vers Podcast Addict peut également se faire grâce à l'import de fichiers OPML (iTunes, Google Reader, ...) Bref vous n'avez aucune excuse pour ne pas tester cette app, voire l'adopter! Podcast Addict intègre dorénavant une bannière PUBLICITAIRE. L'application reste gratuite et non limitée.Une nouvelle application nommée "Podcast Addict - Donate" est disponible sur le Google Play.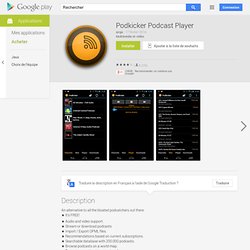 Podkicker Podcast Player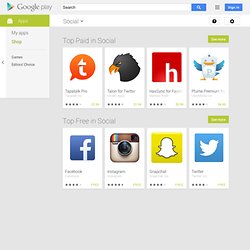 Social
SymbolsKeyboard & TextArt, the only symbols keyboard and the most featured text art and picture app for Android! Send ascii symbols or text art from the library to facebook, sms, mail, twitter, blog,... You can also create your own art! Check out this top5 ranked social app! Contains layouts for the following languages: ✔ Arabic لوحة المفاتيح العربية ✔ Belarusian Белорусская клавиатура ✔ English ✔ Finnish Suomi ✔ German Deutsch ✔ Hebrew עברית ✔ Russian Русская клавиатура ✔ Spanish Español ✔ Ukrainian Українська клавіатура Also includes✔ built-in English dictionary✔ user dictionary✔ contact dictionary✔ word suggestion (beta version)
WhatsApp Messenger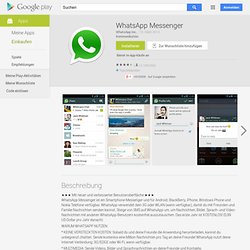 Free messages, Free Calls. Unlimited! Now, call and send messages as much as you want!Nimbuzz Messenger combines the power of internet and smart phone messenger into one, and lets you make cheap international voice calls, send unlimited chat messages, share files on any mobile device across popular messengers. Nimbuzz Messenger is available on Android, iOS, Windows Phone, Blackberry, Symbian, Java, Windows and Mac. Nimbuzz Messenger lets you chat with your buddies on Nimbuzz, Facebook, Gtalk 24x7 for free.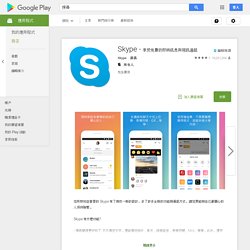 ★ In many ways better than Skype, Viber, Tango, Vonage, Whatsapp ★ ★ Absolutely Ads Free! ★ ★ NO NEED to apply for account ★ ★ Can choose to display or hide the Caller ID ★ ★ Great voice quality at very LOW VoIP call rates for US and international calls★ ★ Best Call Recorder - record phone calls freely★ ★ 30 cents free gift credit to start★ ★ Pay As You Go with Google Wallet ★ ★ Buy More Get More ★ ************************************* buy $20 get $1 gift credit buy $50 get $5 gift credit buy $100 get $15 gift credit************************************* -----Customer REVIEWS----- "Great phone.
* Over 2.5M downloads worldwide* Top 10 travel apps in over than 50 countries Fast detailed offline maps of all countries of the world. Maps work everywhere, anytime. Internet connection isn't required. HIGH LEVEL OF DETAILS• More details than on the other maps.• Millions of points-of-interest (POIs): restaurants, gas stations, tourist destinations...• Up-to-date map data which is added daily by map users worldwide.
Voyages et infos locales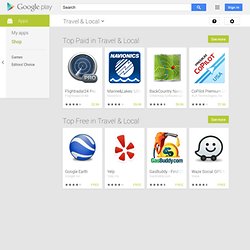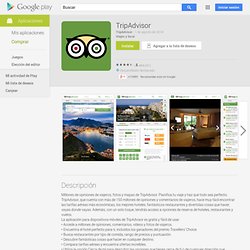 TripAdvisor
Préparez et réalisez le voyage idéal grâce à TripAdvisor. Avec plus de 50 millions d'avis et de conseils donnés par de vrais voyageurs, vous trouverez toujours le meilleur endroit pour manger, dormir et vous divertir, où que vous soyez. TripAdvisor est gratuit et facile à utiliser : • Trouvez des hôtels, des restaurants et des activités, dans n'importe quelle destination • Consultez des millions de photos prises par des voyageurs • Utilisez la fonction « Près d'ici » pour découvrir ce qui vous entoure d'après votre position ou d'après l'adresse que vous saisissez
We believe that you should have an unforgettable experience on your trips. That's why we have designed the most user-friendly app to plan your trip in seconds. More than 500,000 people have already traveled with TouristEye taking all the information, user tips and maps on their mobile phones without Internet. TouristEye features: • Plan your trip in seconds without missing any essential place. Do it in a visual and simple way, with over 10,000 cities and 200,000 places, activities and unique experiences available.
Triposo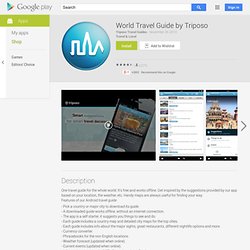 L'APPLICATION DE NAVIGATION HORS LIGNE LA PLUS TELECHARGEE AU MONDE !NOUVEAU : l'affichage frontal novateur projette les informations de navigation sur votre pare-brise Sygic est un logiciel de navigation GPS pas à pas de pointe que vous pouvez essayer gratuitement. Des cartes de haute qualité de TomTom et d'autres fournisseurs sont stockées sur votre téléphone ou votre tablette Android, ou encore sur une carte SD, pour vous permettre de naviguer sans connexion Internet. La licence à vie vous donne accès à de nombreuses mises à jour de cartes gratuites chaque année. Pour faciliter et sécuriser la conduite de nuit, Sygic propose un mode de navigation par affichage frontal.
Sygic: GPS Navigation
Wipolo
Wipolo c'est l'application qui regroupe tous vos voyages. Indispensable pour avoir vos détails de voyage sur votre smartphone pendant vos déplacements, fun pour partager vos itinéraires de voyage avec vos amis. Vous voulez mieux organiser vos déplacements ? Avec Wipolo, passez de dizaines d'emails de réservation illisibles à un résumé propre et complet de votre voyage que vous pouvez consulter même hors connexion. Vous souhaitez partager vos voyages avec vos amis ?
Un article de Wikipédia, l'encyclopédie libre. Cette page d'homonymie répertorie les différents sujets et articles partageant un même nom. Sur les autres projets Wikimedia : Note, sur le Wiktionnaire
Note
Scoop.it
Path is the trusted place for your personal life. It's where you can be yourself, stay close to the people who matter most, and share life instead of links. Path gives you complete control over what you share, and who you choose to share with. With its beautiful design and simple experience, Path maintains a 5 star rating and is loved by millions of people—and it's ad-free. - "Simply put, my family's lives have become better because of Path. It warms my heart just seeing that they have 'seen' what I've been up to, and being able to share special moments together as a family, no matter how far apart we may be. " - Ben Welland, Canada
Pocket -formerly Read It Later
NewsHunt, India's #1 mobile newspaper app brings together the News from 80+ regional newspapers in 11 languages, and the largest collection of regional language ebooks from the world.
Evernote
Photo
Pixlr-o-matic
Actualités et magazines
Taptu -Compilez vos nouvelles
» News Republic Fr