analyse prédictive
Get flash to fully experience Pearltrees
La business intelligence n'est pas qu'une question de choix technologique
Excerpted from Jeremy Rifkin's The Third Industrial Revolution: How Lateral Power is Transforming Energy, the Economy, and the World , Palgrave Macmillan 2011. Our industrial civilization is at a crossroads. Oil and the other fossil fuel energies that make up the industrial way of life are sunsetting, and the technologies made from and propelled by these energies are antiquated.
Samedi 24 septembre Réseaux sociaux - 24 septembre 2011 :: 08:06 :: Par Nicolas-Lecointre L'outil de surveillance des réseaux sociaux Viralheat a publié hier une extension pour Chrome permettant d'analyser en direct les sentiments ressortant d'une recherche sur Twitter.
Mark White, de la firme Deloitte, a identifié cinq « déploiements perturbateurs » qui pourraient changer la donne de façon positive au sein des organisations. Lors d'une présentation donnée à Montréal, le directeur de la technologie à la maison-mère de la firme de services professionnels Deloitte aux États-Unis, Mark White, a commenté cinq approches technologies qui pourraient perturber – pour le meilleur – les organisations au cours des prochaines années. La première tendance porte sur l' analytique réelle , où la scrutation de l'information sous forme de service géré permet d'en extraire une valeur accrue. M. White a dit parier que les organisations produisaient beaucoup plus de rapports qu'elles n'en utilisaient, et que l'information employée ne servait pas toujours à résoudre les vrais problèmes.
intelligence artificielle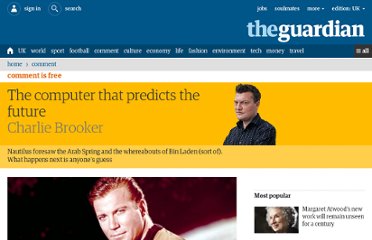 Hey, wouldn't it be great if we had a supercomputer that could predict the future? By "we", incidentally, I mean "we" as in "the human race", not "we" as in "myself and you – you specifically". You might be Josef Fritzl for all I know. I don't want to find myself sharing a supercomputer desktop with Fritzl. Every time I went to open a window, he'd nail it shut. That's a massive digression for an opening paragraph, so let's pretend it didn't happen and start again, after I click my fingers.