DIY
DIY, recycled pallet house with IKEA-style assembly instructions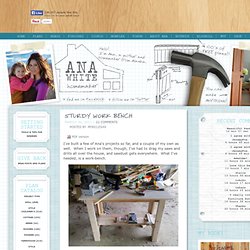 Build a Sturdy Work Bench
Preparation Instructions: This isn't a project that you'll want to display in your dining-room so, if you prefer, you don't have to finish it much. The top, though, should be reasonably smooth and, if you used pine to top it, could stand some wood hardener.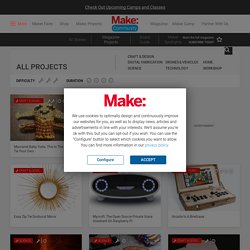 Explore our growing cookbook of DIY projects for the workshop, kitchen , garage, and backyard. Learn new skills, find family fun , build a robot or a rocket . Get started in electronics and use new platforms like Raspberry Pi and Arduino to power your inventions. Get inspired and start making something today. Welcome to the new Make: Projects! User accounts are temporarily disabled.
Inspired by Annette's Modern DIY Outdoor Planter post , Apartment Therapy reader Chris shows us all how easy this project was to recreate... Thank you for your post on Annette's modern DIY outdoor planter . I immediately went to Home Depot to replicate it in my barren back patio. Since the patio was not even remotely level, I had to pour a concrete footing for the blocks. The total cost of the project (supplies, soil, plants) was under $200. Here is a photo of the finished product.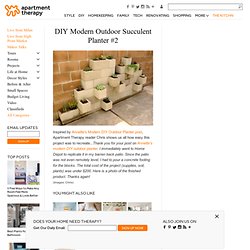 Tackling spring-cleaning this month? Us too. But there's no sense in doing it if you're going to create a big mess for the planet (and your body) in the process.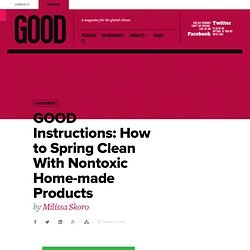 You'll only need basic tools to build a cold frame. Since the cold frame will be pretty large, it's best to build it outside or in a garage, or you may not get it out the door... A hand-held drill (cordless or corded) A miter saw (powered is better, but you could do it with a hand saw and miter box) A jig saw, circular saw or table saw (really, anything that can cut large sheets of plywood) A screw driver A Tape Measure A marking implement of some sort A paint brush Two, Three or Four windows, with at least one dimension in common Some 2x2s (as required) Some 2x3s (as required) Some 2x4s (as required) Some inexpensive 1/8" or 1/4" plywood Exterior wood screws (deck screws) Exterior wood-sealing paint Some galvanized or brass hinges (may not be necessary if the hinges on the windows are still good) Some big, sturdy exterior-grade handles A tube of latex sealant A common heating vent (optional)
Build a Cold Frame Using Old Windows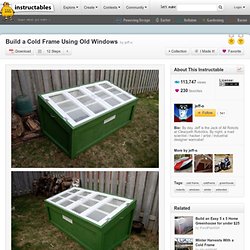 Admire the label art, open the bottle, drink the wine, put a stopper in, then consume the rest later … and then what? While a true collector might still keep the empty glass around, most of us then dispose of the leftover container and move on. Here are some illuminating reasons to think twice before recycling them right away.