DIY
DIY, recycled pallet house with IKEA-style assembly instructions. Build a Sturdy Work Bench. Preparation Instructions: This isn't a project that you'll want to display in your dining-room so, if you prefer, you don't have to finish it much.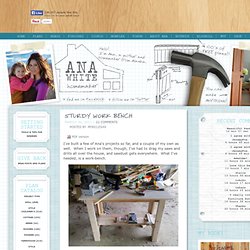 The top, though, should be reasonably smooth and, if you used pine to top it, could stand some wood hardener. CD Art. Make: Projects This guide shows you one of the ways to reuse your old CDs.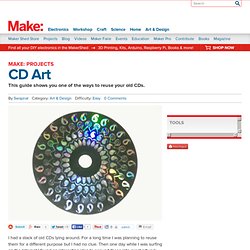 I had a stack of old CDs lying around. The DIY Modern Outdoor Succulent Planter #2. Instructions: How to Spring Clean With Nontoxic Home-made Products - Environment. Tackling spring-cleaning this month?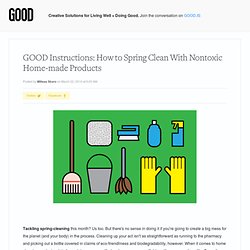 Us too. But there's no sense in doing it if you're going to create a big mess for the planet (and your body) in the process. Cleaning up your act isn't as straightforward as running to the pharmacy and picking out a bottle covered in claims of eco-friendliness and biodegradability, however. When it comes to home cleaning products a lot of eco claims are unverified and—worse—unverifiable, with rare exceptions like Seventh Generation. Build a Cold Frame Using Old Windows. You'll only need basic tools to build a cold frame.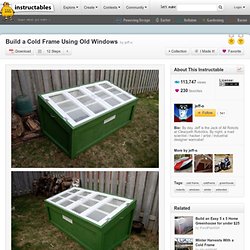 Since the cold frame will be pretty large, it's best to build it outside or in a garage, or you may not get it out the door... A hand-held drill (cordless or corded) A miter saw (powered is better, but you could do it with a hand saw and miter box) A jig saw, circular saw or table saw (really, anything that can cut large sheets of plywood) A screw driver A Tape Measure A marking implement of some sort A paint brush Two, Three or Four windows, with at least one dimension in common Some 2x2s (as required) Some 2x3s (as required) Some 2x4s (as required) Some inexpensive 1/8" or 1/4" plywood Exterior wood screws (deck screws) Exterior wood-sealing paint Some galvanized or brass hinges (may not be necessary if the hinges on the windows are still good) Some big, sturdy exterior-grade handles A tube of latex sealant A common heating vent (optional)
Black Labels, Bright Lights: 5 DIY Wine Bottle Lamp Projects. Admire the label art, open the bottle, drink the wine, put a stopper in, then consume the rest later … and then what?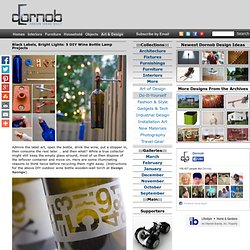 While a true collector might still keep the empty glass around, most of us then dispose of the leftover container and move on. Here are some illuminating reasons to think twice before recycling them right away. (Instructions for the above DIY outdoor wine bottle wooden-wall torch at Design Sponge). More than decor, candles can add nice mood lighting to a space – particularly when filtered through dark greens and browns of a glass wine bottle.
Probably for safety reasons you do not find many home bottle cutter kits these days unless they are vintage/used ones – but find one and you can make any kind of customized, personalized, faux-engraved gift you want as the pictures above illustrate.
---