DIY
Valentines Gift - Deck of Love Cards. NOTE: I have created a FAQ page here with additional information on products used and where to buy them or you can check out the dedicated website here.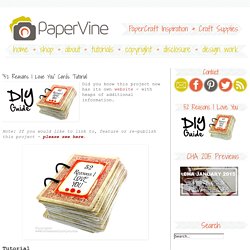 Creating the Reasons Labels There are two templates available for purchase. This page HERE has all the information you need to make a decision regarding which is best for you. Like a Candle in the Tin... A good weekend to diy. Everyday Mom Ideas: Scrap Paper Tree Centerpiece Tutorial (Featured guest blogger) Hi there!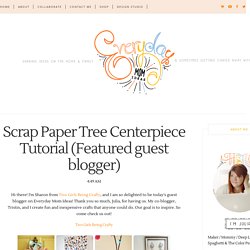 I'm Sharon from Two Girls Being Crafty, and I am so delighted to be today's guest blogger on Everyday Mom Ideas! Thank you so much, Julia, for having us. My co-blogger, Tristin, and I create fun and inexpensive crafts that anyone could do. Make Glowing Firefly Jars » Curbly | DIY Design Community « Keywords: firefly, summer, outdoor, Craft.
My birthday is on June 17th, which, when you're a kid, is a pretty great day for a birthday.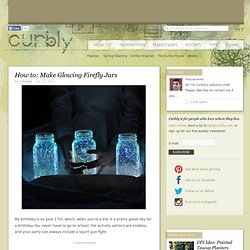 You never have to go to school, the activity options are endless, and your party can always include a squirt gun fight. Related Video: But, each year I also get another special, seasonal gift. OnTheGo Family First Aid Kit by KandisKorner. <div id="javascript-nag" class="notice"><p> Take full advantage of our site features by enabling JavaScript.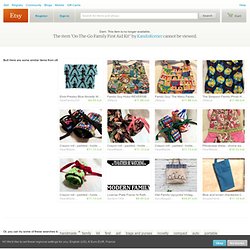 <a href=" more</a>. </p></div> Help Etsy Cart. Matchbox Chest of Drawers. These little matchbox chest of drawers are great for keeping small treasures in or as storage for stamps, buttons or even bugs (for all the boys out there!)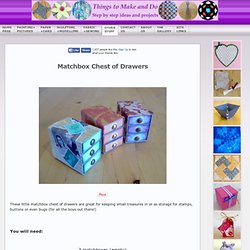 You will need: 3 matchboxes (empty) Patterned paper or plain paper, decorated PVA glue Flexible tape measure or string Ruler Pencil Scissors Craft knife or bradawl 3 split pins (paper fasteners or brads) Extra decorations (optional) Wire & Paper. DIY Paper Pinwheels. Creative Kismet » Blog Archive » little guiding stars. Since the new year has started I've been trying to think of ways to be more kind to my self.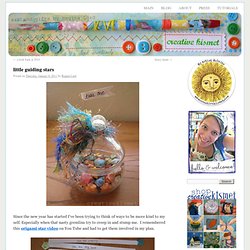 Especially when that nasty gremlins try to creep in and stump me. I remembered this origami star video on You Tube and had to get them involved in my plan. I thought it would be fun to make a whole bunch with kind words and "you are…." phrases inside. I made 60 of them, enough to last me the whole year if I open one a week, plus a few extra just in case.
Paper Filigree Snowflake Gallery. I've switched over to using acid free paper and glue to make my paper filigree snowflake ornaments now.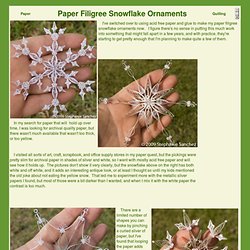 I figure there's no sense in putting this much work into something that might fall apart in a few years, and with practice, they're starting to get pretty enough that I'm planning to make quite a few of them. In my search for paper that will hold up over time, I was looking for archival quality paper, but there wasn't much available that wasn't too thick, or too yellow. I visited all sorts of art, craft, scrapbook, and office supply stores in my paper quest, but the pickings were pretty slim for archival paper in shades of silver and white, so I went with mostly acid free paper and will see how it holds up.
The pictures don't show it very clearly, but the snowflake above on the right has both white and off white, and it adds an interesting antique look, or at least I thought so until my kids mentioned the old joke about not eating the yellow snow. Snowflake Cards.
Crafts by Carolyn - Exploding Box. Vintage Book Planner Tutorial. I desperately needed a day planner.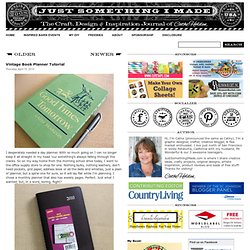 With so much going on I can no longer keep it all straight in my head 'cuz something's always falling through the cracks. So on my way home from the morning school drive today, I went to the office supply store to shop for one. How to make a Mini Scrapbook | Mini Album Tutorial. Written by Amy Manhart This how to make a mini scrapbook tutorial comes to us from Amy Manhart.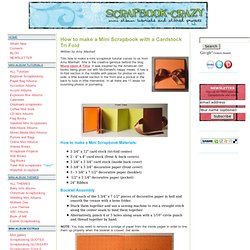 She is the creative genious behind the blog Wuns Upon A Time. It was inspired by the American Girl books being given out with McDonald's happy meals. It has a tri-fold section in the middle with places for photos on each side, a little booklet section in the front and a pocket in the back to tuck in little mementos. How to make a staple-free matchbook notepad. In an effort to use up the damaged & small surplus of 2010 calendars I have on-hand, I've been experimenting with ways to repurpose them.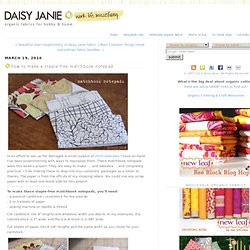 These matchbook notepads were this week's project. They are easy to make .... and adorable ... and completely practical. I'll be making these to drop into my customers' packages as a token of thanks. I love you more than... Weblog. Altered matchboxes are easy and fun to make! To view a step-by-step tutorial with photos for making these paper boxes, check out the Matchbox Valentines How Tuesday post on the Etsy Storque blog. These little boxes are approximately the size of standard, store-bought, 32-count matchboxes (1.5″ x 2″ x .5″). They make lovely mini gift boxes, and are also fun to swap! 9 Cool Things to Do With Old Books » Written Word.
Bibliophiles and bookworms, English majors and lovers of literature: is it possible to have too many books? They accumulate so quickly! Every member of your family getting you the same three books you requested for Christmas. Seeing Don DeLillo marked half-off, knowing you dumped a half-caff latte on your copy of Underworld, and – even though only the first three pages are illegible – justifying its purchase. 15+ years of required reading lists stored in boxes in your basement, even though you can bet your bippy you will never willingly read the poetry of Robert Burns again.
We are up to our waists in books, some of which we hate (really Master Burns?
Home & Furniture
Clothing & Accessories. DIY - Wedding. Lichtenstein make-up. Mila's Daydreams. Plastic Spoon Rose. Dahlia flower tutorial. Crafts | Handmade Gift Ideas | DIY Projects - Craftbits.com. How to: wax paper and crayon fall leaves. Crayon Hearts.
---