Skyrim
Skyrim Map
In a special message from Game Director Matt Firor, the Elder Scrolls Online gets an official PC and Mac release date of Friday, April 4th, 2014. Playstation 4 and Xbox One console users can expect to see the game in June of 2014, with an exact date yet to be announced. Firor explains the motivations behind releasing the game first on PC and Mac, saying "...we need to do a staggered rollout of the different versions of the game to spread out the…Read more > ESO developer Zenimax Online, has once again released an informative video, this time detailing character progression.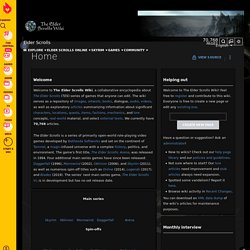 Skyrim Alchemy Laboratory Wizard - The Elder Scrolls V: Skyrim - Darliandor's Alchemy Lab
Skyrim Standard Edition Box Art Collector's Edition Box Art Skyrim, the fifth game in the Elder Scrolls series, takes place in Skyrim Province 200 years after the Oblivion Crisis. A newly revealed Dragon language plays an integral role in the story. The ancient home of the Nords, Skyrim, teeters at the brink of destruction.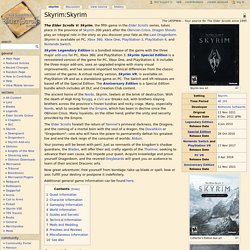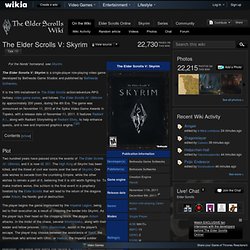 For the Nords' homeland, see Skyrim. The Elder Scrolls V: Skyrim is a single-player role-playing video game developed by Bethesda Game Studios and published by Bethesda Softworks. It is the fifth installment in The Elder Scrolls action/adventure RPG fantasy video game series, and follows The Elder Scrolls IV: Oblivion by approximately 200 years, during the 4th Era. The game was announced on November 11, 2010 at the Spike Video Game Awards in Topeka, with a release date of November 11, 2011. It features Radiant A.I., along with Radiant Storytelling or Radiant Story, to help enhance quests, and a new and improved graphics engine.[1][2] Plot
Skyrim Wiki Guide & Walkthrough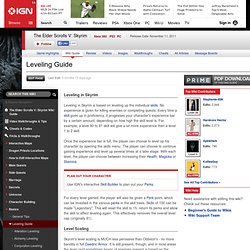 Leveling Guide - Skyrim Wiki Guide
Hold up, buddy. To edit this page, you'll need a username. (It's free and only takes a sec.) Leveling in Skyrim Leveling in Skyrim is based on leveling up the individual skills. No experience is given for killing enemies or completing quests.