Dragon Age: Origins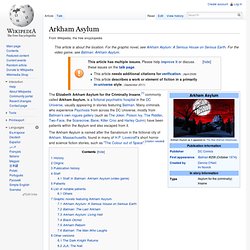 The Arkham Asylum is named after the Sanatorium in the fictional city of Arkham, Massachusetts, found in many of H.P. Lovecraft's short horror and science fiction stories, such as "The Colour out of Space".[citation needed] History[edit] Arkham Asylum is located on the outskirts of Gotham City and is where those of Batman's foes considered to be mentally ill are patients (other foes are incarcerated at Blackgate Penitentiary).
Arkham Asylum
Answer
Dragon Age: Origins is a role-playing video game developed by BioWare's Edmonton studio and published by Electronic Arts. It is the first game in the Dragon Age franchise. The game was released for Microsoft Windows, PlayStation 3 and Xbox 360 on November 3, 2009, and for Mac OS X on December 21, 2009. Upon its release, Dragon Age: Origins was lauded with overwhelmingly positive reviews and considered a critical success. Review aggregator site Metacritic ranks the PC, PlayStation 3, and Xbox 360 versions of the game with scores of 91, 87, and 86, respectively. The game also received multiple awards from numerous outlets, ranging from IGN's "PC Game of The Year (2009)"[13] to the Academy of Interactive Arts & Sciences "Role-Playing/Massively Multiplayer Game of the Year 2009".[14]
Wikipedia: DragonAge Origins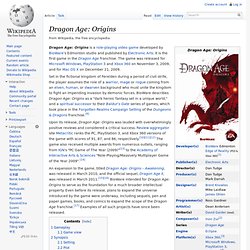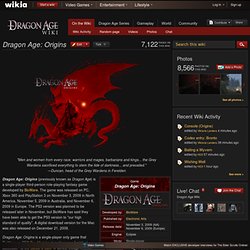 DragonAge Wikia
"Men and women from every race; warriors and mages, barbarians and kings... the Grey Wardens sacrificed everything to stem the tide of darkness... and prevailed."—Duncan, head of the Grey Wardens in Ferelden left Dragon Age: Origins (previously known as Dragon Age) is a single-player third-person role-playing fantasy game developed by BioWare.
Dragon Age: Awakening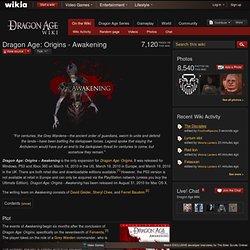 "For centuries, the Grey Wardens—the ancient order of guardians, sworn to unite and defend the lands—have been battling the darkspawn forces. Legend spoke that slaying the Archdemon would have put an end to the darkspawn threat for centuries to come, but somehow they remain." Dragon Age: Origins – Awakening is the only expansion for Dragon Age: Origins. It was released for Windows, PS3 and Xbox 360 on March 16, 2010 in the US, March 18, 2010 in Europe, and March 19, 2010 in the UK. There are both retail disc and downloadable editions available.[1] However, the PS3 version is not available at retail in Europe and can only be acquired via the PlayStation network (unless you buy the Ultimate Edition). Dragon Age: Origins - Awakening has been released on August 31, 2010 for Mac OS X.
Gifts - The Dragon Age Wiki - Dragon Age, characters, creatures,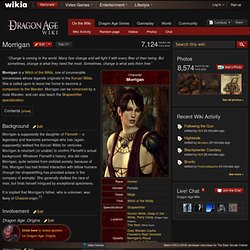 If the Warden initiates romance with Morrigan, then similarly pursues Leliana and/or Zevran, she will eventually confront the Warden and force him to choose - and the rival(s) can force an ultimatum in the same context. A "[Kiss her]" option can be unlocked at a lower Approval value than with any other potential paramour (minimum (+20) and either 'Interested' or with a successfully-resolved 'good side' dialogue). If this "first kiss" occurs in the presence of Alistair, he may chide Morrigan (in banter) about making "kissy faces"; subsequently, public kisses in Alistair's company prompt a "projectile vomit" remark. Before even reaching Lothering, it is possible to raise Morrigan's Approval enough to elicit a sexual proposition (
Morrigan - The Dragon Age Wiki - Dragon Age, characters, creatur
Blood Dragon Armor Set - The Dragon Age Wiki - Dragon Age, chara