A revisar FDSQ
Gamification driving innovation | Social Gaming Hub for Social Game News,Social Game Reviews. The way people work together has been under significant change since the breakthrough of social media.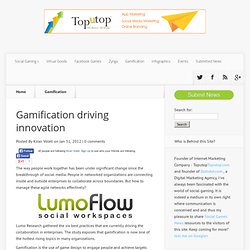 People in networked organizations are connecting inside and outside enterprises to collaborate across boundaries. But how to manage these agile networks effectively? Lumo Research gathered the six best practices that are currently driving the collaboration in enterprises. The study exposes that gamification is now one of the hottest rising topics in many organizations. Gamification is the use of game design to engage people and achieve targets more effectively.
Unit and Functional Testing in Android. I don't have to tell you that testing is a fundamental part of the product development cycle, although I just did.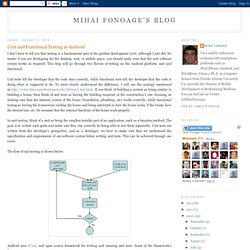 No matter if you are developing for the desktop, web, or mobile space, you should make sure that the end software system works as required. This blog will go through two flavors of testing on the Android platform: unit and functional. Unit tests tell the developer that the code runs correctly, while functional tests tell the developer that the code is doing what is supposed to do. To more clearly understand the difference, I will use the analogy mentioned in. 10 Tips for Building a Strong Online Community Around Your Startup. Megan Berry is Senior Marketing Manager for Klout, the standard for online influence.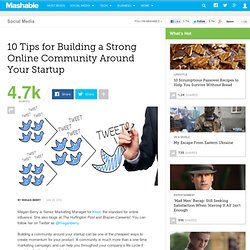 She also blogs at The Huffington Post and Brazen Careerist. You can follow her on Twitter as @meganberry. Building a community around your startup can be one of the cheapest ways to create momentum for your product. A community is much more than a one-time marketing campaign, and can help you throughout your company's life cycle if you take the time to grow it right. Here are 10 tips for getting started. Stop Designing Pages And Start Designing Flows - Smashing UX Design. Advertisement For designers, it's easy to jump right into the design phase of a website before giving the user experience the consideration it deserves.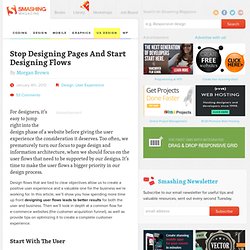 Too often, we prematurely turn our focus to page design and information architecture, when we should focus on the user flows that need to be supported by our designs. It's time to make the user flows a bigger priority in our design process. Design flows that are tied to clear objectives allow us to create a positive user experience and a valuable one for the business we're working for. 20 Great Sites to Learn the Ins and Outs of Video Game Design |
If you love to play video games, this could be your first step into a career as a game designer.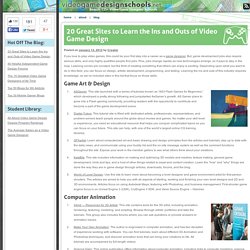 But, game development jobs also require serious skills, and only highly qualified people find jobs. Plus, jobs change rapidly as new technologies emerge, so it pays to stay in the loop. 25 Best Startup Failure Post-Mortems of All Time. Warning: Illegal string offset 'keywords_time' in /home/chubbybrain/public_html/blog/wp-content/plugins/internal_link_building.php_/internal_link_building.php on line 103 Want more entrepreneurial goodness?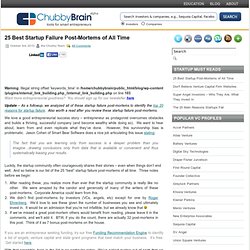 You should sign up for our newsletter here. Update – As a followup, we analyzed all of these startup failure post-mortems to identify the top 20 reasons for startup failure. Also worth a read after you review these startup failure post-mortems. Android - How to automate version code incrementing in AndroidManifest. Acra - Application Crash Report for Android. Juri's TechBlog: Coding an Update Functionality for your Android App. 5 min read Coding an Update Functionality for your Android App Juri wrote this on February 07, 2011 An immediate answer would be: why should I need that.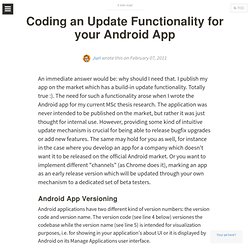 I publish my app on the market which has a build-in update functionality. Aprendamos a medir el ROI del marketing móvil, ¡lo vamos a necesitar! Sabemos que la mejor forma de medir el impacto de nuestras acciones y el retorno de nuestras inversiones, sigue necesitando una estrategia clara de seguimiento de nuestra presencia social.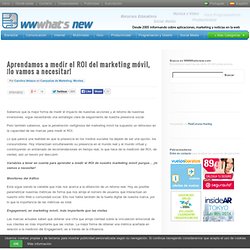 Pero también sabemos, que la penetración vertiginosa del marketing móvil ha supuesto un retroceso en la capacidad de las marcas para medir el ROI. Lo que parece una realidad es que la presencia en los medios sociales ha dejado de ser una opción, los consumidores. Hoy interactúan simultaneando su presencia en el mundo real y el mundo virtual y construyendo un entramado de recomendaciones en tiempo real, lo que hace de la medición del ROI, de verdad, aún un tesoro por descubrir. Variables a tener en cuenta para aprender a medir el ROI de nuestro marketing móvil porque… ¡lo vamos a necesitar! Monitoreo del tráfico.
Proper Care and Feeding of your MAU MAM (Monthly Active Monsters) | Stephanie KAISER. Rating: 4.6/5 (5 votes cast) By now you have all heard others suggest that to succeed with your social game service you must first focus all of your energy on understanding, improving, and thoroughly optimizing your game's initlal conversion and retention.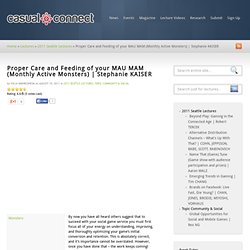 This is absolutely correct, and it's importance cannot be overstated. However, once you have done that – the work keeps coming! Mobile Goes Social: One Company Experience | Giancarlo Mori. Rating: 1.0/5 (1 vote cast) Giancarlo Mori, Chief Creative Officer at Glu Mobile, is sharing his reflections and insights learned from transforming a premium mobile game development organization into a freemium social mobile game development organization.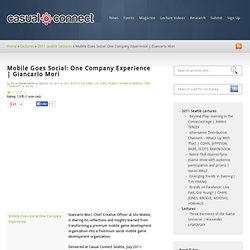 Delivered at Casual Connect Seattle, July 2011. Giancarlo Mori serves as Glu's Chief Creative Officer, responsible for product ideation, strategy and production. Giancarlo has more than 20 years of experience in software development, 15 of which he spent as a senior/executive level in the video game industry. Recently, Giancarlo has provided creative and product leadership to several new gaming ventures, including Animal Logic, the award winning special effects and digital film studio.
Make a Rockstar App – Get Groupies! | Adam BOYDEN. Rating: 0.0/5 (0 votes cast) The most successful casual game creators have their own groupies — a following that is addicted to their game. For example, have you heard of a little game called, Angry Birds? What Is Social Mobile? | Jennifer LU. Rating: 0.0/5 (0 votes cast) The Social Mobile game is a new beast, having arrived in the market just in the last year.
In this lecture from leading developer TinyCo, you will learn the basics of social-mobile gaming—both what traits it shares with traditional smartphone and Facebook games and how it is different from both. Nurturing a Robust Social Games Ecosystem | Sean RYAN. Rating: 5.0/5 (2 votes cast) A high level look at what it takes to create a healthy and thriving ecosystem for social games. It might compare and contrast early gaming experiences on MySpace with 1G Facebook games, to the Scamville days, to today's situation (good and bad), and then looking towards the future with a call to action for devs to help get us there.
FedEx Day: 24 horas de innovación | Hora de innovar. Antes de entrar a explicar mi experiencia personal en la implantación de este sistema, sería conveniente explicar primero en qué consiste un FedEx Day y de dónde proviene. Hace unos años, Mike Cannon-Brookes – cofundador de una empresa de software australiana llamada Atlassian - estaba decidido a fomentar la innovación y creatividad en su empresa. Pese a ser un fiel defensor del uso de sistemas de motivación intrínseca (o inmateriales) en la empresa – la antítesis de los ya mencionados sistemas de bonificaciones e incentivos, que sólo fomentan la motivación extrínseca – el empresario australiano no estaba seguro de cómo poder crear espacios donde sus empleados pudieran romper con la rutina diaria del trabajo y fomentar su creatividad, desarrollando nuevas ideas y desplegando todo su potencial y talento.
Game Theory - Marketing meets Social Gaming and Gamification. 10 Things I Hate About Casual Games | Dave ROBERTS. Rating: 4.0/5 (6 votes cast) Dave Roberts will highlight the 10 worst things about being a casual game developer and whine about why they won't get fixed in the next 10 years. He promises to include all forms of casual games in his rant, including social and mobile as well as the traditional download space. Delivered at Casual Connect Seattle, July 2011 Dave Roberts joined PopCap Games in 2005 as the companys chairman and chief executive officer, overseeing all aspects of the companys operations and guiding PopCap through the adolescent stage to corporate maturity.
He brings more than twenty years of entrepreneurial and technology experience. Casual Games on Mobile – Prosperous or Profitless? | Paul THELEN. Super Happy Modern HTML5 Browser Games | Vincent SCHEIB. The Social Mobile Market | Tim MEREL, Andrew CHAN, Matthew TUBERGEN. Surf & Turf: Navigating The Red Oceans and Greenfields of Social Gaming | Shanti BERGEL. Finding the "Minimum Viable Game" and When to Kill Your Baby | Curt BERERTON. Social Games for Smartphones; The Challenges and the Opportunities | Hong-Yee WONG.
Gamification For Everyone: What's Your Strategy? | Keith SMITH. Smart Gamification: Seven Core Concepts for Creating Compelling Experiences | Amy Jo KIM. Gameology: Gamer Behaviors and Engagement with Game Virtual Goods and Currencies | Robb LEWIS. Virtual Economics – Don't Just Act…REACT! | Simon JONES. Challenging Social Success Conventions: Social Games Don't Have to Suck | David SCOTT, Paul PREECE. Alternative Distribution Channels – What's Up With That? | COHN, JEPPSSON, RABE, SCOTT, RABINOVICH. Challenging Social Success Conventions: Making Every Game a Success Story | Jens BEGEMANN. Tendencias: Gamification, aplicando dinámicas de juego en Marketing. Screenfly by QuirkTools — Test Your Website at Different Screen Resolutions.
2012: Los deseos de un programador | Escuela De Codigo. Pair programming. Moscow – All the on-stage video. Cosas que me hubiera gustado saber antes de empezar con mi start-up en España - Como ahorrar dinero en comida | Ahorrar, ahorro. More Android Games that Play Nice. Cómo crear un blog desde cero y no rendirse después de la primera semana - Por qué vender es "sucio" y el marketing te hace perder el tiempo - Si quieres ser un profesional de marketing online, esto son los conceptos importantes en el 2012 que debes conocer - Ayuda - Ayuda a Emprender - EMPRENDEDORES.es. Managing Startups: Best Posts of 2011. Casual Connect | Category Archive | 2011 Kyiv Lectures.
Fontys ILS Top, 01: Farmville's Sheep Invasion | Science of the Time. Foursquare: Today's best-executing startup. Home | RootsTech.org. Que no falten las fuentes de financiación. Gamification Is More Than A Game For Businesses. Insync – convierte tu cuenta de Google Docs en una alternativa a DropBox. Amy Neumann: Make 2012 A Giving Year: 10 Creative Online Social Good Resources. Mine the theme space. Dropbox Automator Is Like IFTTT For Dropbox. Startups: Give Us Your Best One-Sentence Pitch. Insync ("Dropbox For Google Users") Gets Major Revamp, Goes Free. Usability Evaluation For Video Games: Gulfs Of Execution, Evaluation. Accelerators. Darse de alta como autónomo - Crear una empresa - Crear una empresa. 10 digital business books to download for Androids. Parallels Between Lean Startups and Lean Publishing. Secrets Of The Accidental Entrepreneur. The Top 30 Android Apps And Games Of 2011.
---