Go
Le Jeu de Go sur jeudego.com - Jeux de go et jeux asiatiques
Ces pages s'inspirent de celles réalisées par Hiroki Mori. N'hésitez pas à visiter son site! Introduction Voici une liste d'exercices grâce auxquels vous pourrez apprendre facilement le jeu de go sans explications compliquées. Vous apprendrez en jouant réellement. Amusez-vous bien!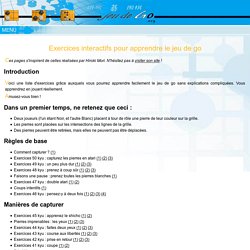 Exercices interactifs pour apprendre le jeu de go
Ageishi : pierres capturées Ago : coup à la machoire Aji : arrière goût Ajikeshi : suppression d'un arrière goût Akisankaku : (mauvais) angle vide Akisumi : coin vide Akushu : mauvais coup Amai : insuffisant Amashi : stratégie consistant à délaisser des groupes faibles pour prendre l'avantage ailleurs Amarigatachi : mauvaise forme résultant d'une séquence abusive Atari : pierres en prise Ate : mise en atari Atekomi : coup au contact des deux pierres d'un kosumi adverse Atenobi : ate suivi d'un nobi Atetsugi : ate suivi d'un tsugi Atetsuke : ate suivi d'un tsuke Atsui : solide Atsumi : force Boshi : chapeau Botsugi : connexion d'un ikkentobi Byoyomi : décompte des secondes Chigaikomuku : début de partie où Noir commence par deux 3-4 sur le même bord, mais orientés différemment Chosei : ko de longue vie Chuban : milieu de partie
echecs et go, game of life
La bibliographie du jeu de Go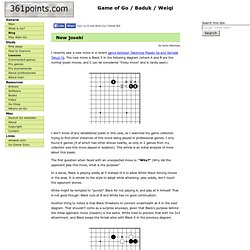 The Game of Go / Baduk / Weiqi
by Sorin Gherman I recently saw a new move in a recent game between Takemiya Masaki 9p and Yamada Takuji 7p. The new move is Black 5 in the following diagram (where A and B are the normal joseki moves, and C can be considered "tricky move" and is rarely seen): I don't know of any established joseki in this case, so I searched my game collection trying to find other instances of this move being played in professional games.
Dernière version La version actuellement téléchargeable est la 4.21. Téléchargez ou consultez l'historique pour la description des dernières modifications. Présentation Drago est un freeware Windows dédié au jeu de Go qui permet de :
Drago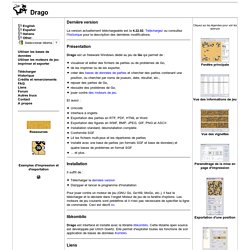 Jeu de go - Joseki 001
JavaGO