JS platforms
May 07 2008 Every once in a while we like to focus on different design elements and how to use javascript and ajax to make them more interactive and more flexible to the user. In this article we'd like to present a list of over 30 hand-picked Sliders, Scrollers and scrollbar techniques you can use to achieve some special visual effects in your designs.
30 Javascript/Ajax Techniques for Sliders, Scrollers and Scrollbars - Noupe Design Blog
jScrollPane is a cross-browser jQuery plugin by Kelvin Luck which converts a browser's default scrollbars (on elements with a relevant overflow property) into an HTML structure which can be easily skinned with CSS. jScrollPane is designed to be flexible but very easy to use. After you have downloaded and included the relevant files in the head of your document all you need to to is call one javascript function to initialise the scrollpane.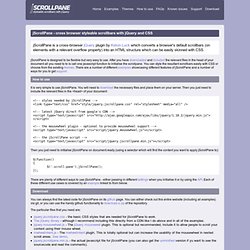 jScrollPane - cross browser styleable scrollbars with jQuery and CSS
DotNetNuke Tips for Skinning, CSS, and Design - The Announcements Module and jQuery as an Accordion
Importing jQuery UI CSS into Your DotNetNuke Site - The Mighty Blog - DotNetNuke Blogs | DNN Blogs | jQuery | ASP.Net | SQL Server - The Mighty Blog
dataTables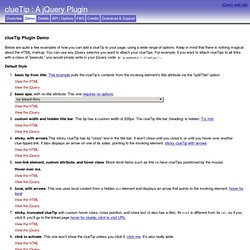 clueTip Plugin Demo Below are quite a few examples of how you can add a clueTip to your page, using a wide range of options. Keep in mind that there is nothing magical about the HTML markup.
clueTip Plugin Demo
Fun with Overflows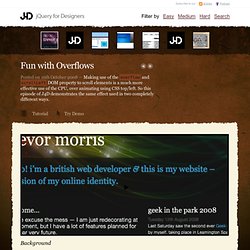 Background The first is a scrollable timeline.
PNG Overlay Demo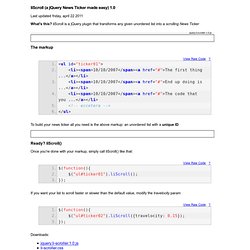 jQuery liScroll - a jQuery News Ticker
Last updated friday, april 22 2011
ignore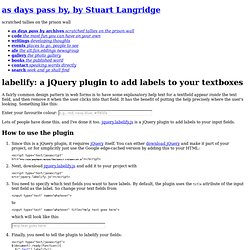 labelify: a jQuery plugin to add labels to your textboxes
15 Great jQuery Plugins For Better Table Manipulation
Table is the most difficult object to be styled, due to its browser compatibility and markup.