Arduino
bionic_arduino_class4.pdf (application/pdf Object)
Arduino Help Table of Contents- aHTtoc
Bionic Arduino is a set of four 3-hour classes in November 2007 hosted by Machine Project and taught by Tod E. Kurt. It is an introduction to microcontroller programming and interfacing with the real world using the Arduino physical computing platform. It focuses on building new physical senses and making motion with the building blocks of robotics, using Arduino as a platform.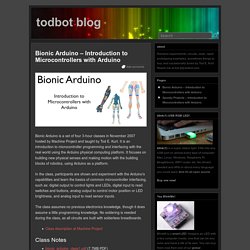 ARDUINO_NOTEBOOKv6.pdf (application/pdf Object)
Here are some documents I have written for using the Arduino platform: How to add 16 digital inputs to the Arduino using shift registers How to add 16 digital outputs to the Arduino using shift registers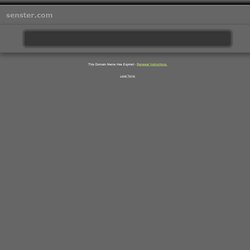 Arduino Resources « Alex Zivanovic
Presentations and Documents tagged arduino
Make: Online: Arduino Archives
Meditation strikes a special chord with me as a maker because it is said to foster creativity, intuition, imagination, and fantasy. I can't think of traits better suited to making. I've tried meditation in the past, but it didn't seem to stick.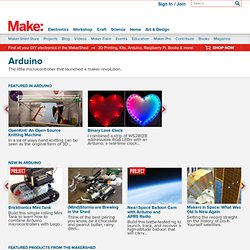 External resources for Arduino - Wikiid