Science and Technology Studies
Electronic Data Center : Eurobarometers Data
What do I do on this page? This page provides links to the Electronic Data Center's holdings of Eurobarometer studies. Before using this page, you are advised to first visit our series description page to learn about the study series and the topics covered in each study. To Download a Study: Under each study number, you will see a link to a codebook (in PDF format unless noted otherwise) and SPSS (ready to use) data file. Occasionally, there will also be further appendices or questionnaires (also in PDF unless noted otherwise). Right-click on the appropriate link.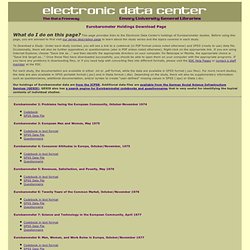 Eurobarometer 63.1: Science and Technology, Social Values, and Services of General Interest, January-February 2005 - ICPSR Dataverse - Odum Institute Dataverse Network
STS: Program in Science, Technology, and Society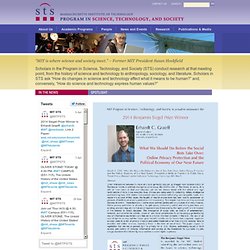 "MIT is where science and society meet." – Former MIT President Susan Hockfield Scholars in the Program in Science, Technology, and Society (STS) conduct research at that meeting point, from the history of science and technology to anthropology, sociology, and literature. Scholars in STS ask "How do changes in science and technology affect what it means to be human?" and, conversely, "How do science and technology express human values?"
Jean Jackson Jean Jackson began teaching anthropology at MIT in 1972. She has carried out fieldwork in Mexico, Guatemala, and, from 1968 to the present, in Colombia, initially in the Central Northwest Amazon. In addition to her work on indigenous mobilizing in Colombia, with a focus on the role of the State and NGOs, she has also conducted ethnographic research in an inpatient chronic pain center, and published articles and essays about mind/body coordination.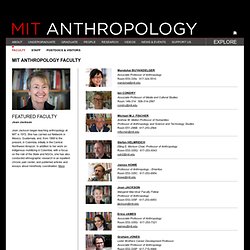 Anthropology - Faculty and Staff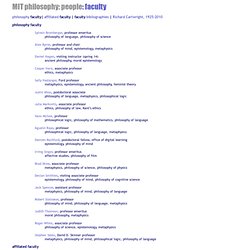 philosophy faculty
MIT philosophy: people: faculty philosophy faculty| affiliated faculty | faculty bibliographies | Richard Cartwright, 1925-2010 philosophy faculty Sylvain Bromberger, professor emeritus philosophy of language, philosophy of science Alex Byrne, professor and chair
STS: Faculty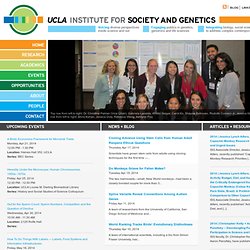 The UCLA Center for Society and Genetics
Top row from left to right: Dr. Christina Palmer (Vice Chair), Gabriela Lazalde, Kristin Geiger, Carol Ko, Shayna Svihovec, Rodolfo Cornejo Jr., Jessica Kianmahd Bottom row from left to right: Shira Kohan, Jessica Doty, Rebecca Wang, Ashlynn Fiss Left to right: Rich Moushegian, JoAnne Damron-Rodriguez, Chris Kelty, Juliet Williams, Kyle McJunkin, Timothy F.
People – The UCLA Center for Society and Genetics
Program on Science, Technology and Society at Harvard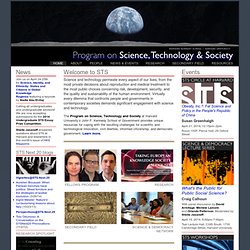 Science and technology permeate every aspect of our lives, from the most private decisions about reproduction and medical treatment to the most public choices concerning risk, development, security, and the quality and sustainability of the human environment. Virtually every dilemma that confronts people and governments in contemporary societies demands significant engagement with science and technology. The Program on Science, Technology and Society at Harvard University's John F. Kennedy School of Government provides unique resources for coping with the resulting challenges for scientific and technological innovation, civil liberties, informed citizenship, and democratic government.
STS Program » People » Faculty Affiliates