LIQUID PUBLICATION
F1000 - Post-publication peer review of the biomedical literature. Features - Take a Tour - F1000. If you've forgotten your password, please enter your email address below and we'll send you instructions on how to reset your password.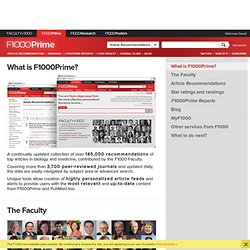 The email address should be the one you originally registered with F1000. You registered with F1000 via Google, so we cannot reset your password. To sign in, please click here. What is Web Science? - Web Science Trust. Research Areas — LiquidPub Project. Welcome to Liquid Pub project!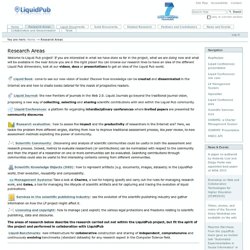 If you are interested in what we have done so far in the project, what we are doing now and what will be available in the near future you are in the right place! You can browse our research lines to have an idea of the different Liquid Pub dimensions, look at our videos , docs or presentations to get an idea of the Liquid Pub world. Liquid Publications: Scientific Publications meet the WebChanging the way scientific knowledge is produced, disseminated, evalua. Interdisciplines. Copy/paste this URL to link to this paper The concept of homophily [2] describes relationships that are based on some measures of similarity or closeness.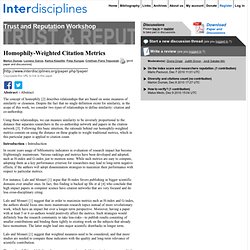 Despite the fact that no single definition exists for similarity, in the scope of this work, we consider two types of relationships to define similarity: citation and co-authorship. Using these relationships, we can measure similarity to be inversely proportional to the distance that separates researchers in the co-authorship network and papers in the citation network [3]. Following this basic intuition, the rationale behind our homophily-weighted metrics consists on using the distance on these graphs to weight traditional metrics, which in this particular paper is applied to citation count.
Abstract : Abstract. Research Evaluation — LiquidPub Project. Documents Reviewing peer review: a quantitative analysis of peer review Fabio Casati, Maurizio Marchese, Katsiaryna Mirylenka, Azzurra Ragone In this paper we focus on the analysis of peer reviews and reviewers behavior in a number of different review processes.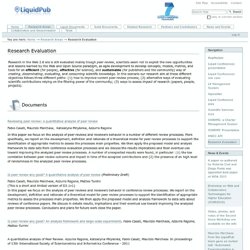 More specifically, we report on the development, definition and rationale of a theoretical model for peer review processes to support the identification of appropriate metrics to assess the processes main properties. We then apply the proposed model and analysis framework to data sets from conference evaluation processes and we discuss the results implications and their eventual use toward improving the analyzed peer review processes.
University of Trento - Italy - UNITN-Eprints - Reviewing peer review: a quantitative analysis of peer review. Casati, Fabio and Marchese, Maurizio and Mirylenka, Katsiaryna and Ragone, Azzurra (2010) Reviewing peer review: a quantitative analysis of peer review.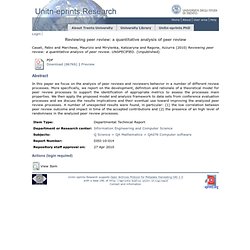 UNSPECIFIED. (Unpublished) Liquid Publications: Scientific Publications meet the Web — LiquidPub Project. Is liquid publication and peer review the wave of the future in science? As a professor and researcher, one of my most time-consuming tasks is performing peer review.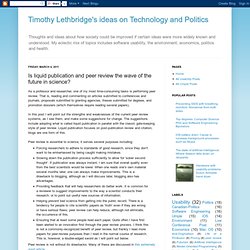 That is, reading and commenting on articles submitted to conferences and journals, proposals submitted to granting agencies, theses submitted for degrees, and promotion dossiers (which themselves require reading several papers). In this post I will point out the strengths and weaknesses of the current peer review systems, as I see them, and make some suggestions for change.
Liquid Publications. A possible alternative to Peer Review and the 'publish or perish' logic of academic publishing URL = "In a nutshell, the approach proposes the following ideas and contributions: 1.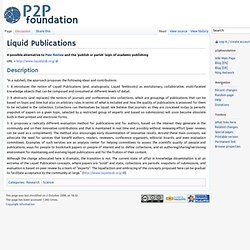 ---