LIQUID PUBLICATION
Features - Take a Tour - F1000
Welcome to Liquid Pub project! If you are interested in what we have done so far in the project, what we are doing now and what will be available in the near future you are in the right place! You can browse our research lines to have an idea of the different Liquid Pub dimensions, look at our videos , docs or presentations to get an idea of the Liquid Pub world.
Research Areas — LiquidPub Project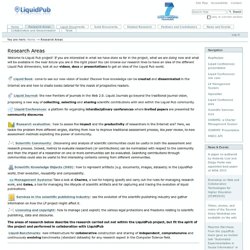 Liquid Publications: Scientific Publications meet the WebChanging the way scientific knowledge is produced, disseminated, evalua
Interdisciplines
Copy/paste this URL to link to this paper The concept of homophily [2] describes relationships that are based on some measures of similarity or closeness.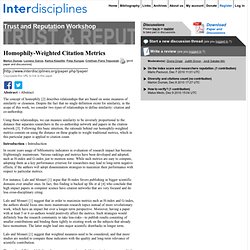 Documents Reviewing peer review: a quantitative analysis of peer review
Research Evaluation — LiquidPub Project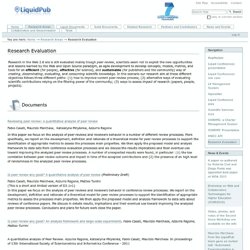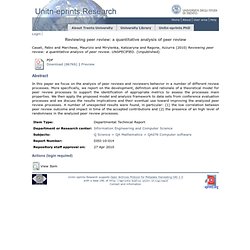 Casati, Fabio and Marchese, Maurizio and Mirylenka, Katsiaryna and Ragone, Azzurra (2010) Reviewing peer review: a quantitative analysis of peer review. UNSPECIFIED. (Unpublished)
University of Trento - Italy - UNITN-Eprints - Reviewing peer review: a quantitative analysis of peer review
Is liquid publication and peer review the wave of the future in science?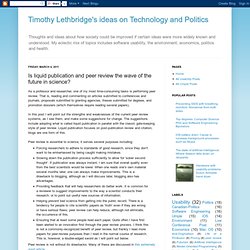 As a professor and researcher, one of my most time-consuming tasks is performing peer review. That is, reading and commenting on articles submitted to conferences and journals, proposals submitted to granting agencies, theses submitted for degrees, and promotion dossiers (which themselves require reading several papers). In this post I will point out the strengths and weaknesses of the current peer review systems, as I see them, and make some suggestions for change.
Richard Smith: Enter the "liquid journal"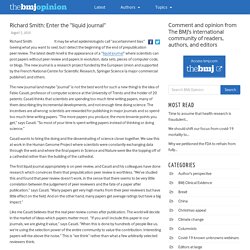 It may be what epidemiologists call "ascertainment bias" (seeing what you want to see), but I detect the beginning of the end of prepublication peer review. The latest death knell is the appearance of a "liquid journal" where scientists can post papers without peer review and papers in evolution, data sets, pieces of computer code, or blogs.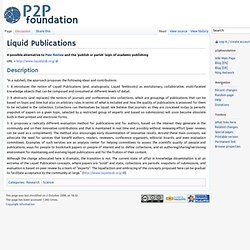 Liquid Publications
A possible alternative to Peer Review and the 'publish or perish' logic of academic publishing