CROCHET BLOGS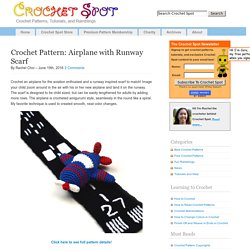 Crochet Spot
Self-Proclaimed "Crochet Doctor" Gives Unsolicited Crochet Advice By Caissa "Cami" McClinton – April 19th, 2014 5 Comments Well, you never asked for it, but I'm going to advise you anyway! Read on, because maybe these are problems you've grappled with, or perhaps these are problems you didn't even know you had! I am not only pointing out crochet problems, but offering solutions as well!
This is a very easy but lovely cowl in a rich colorway that is very flattering. The 3-D, textured roundels lend a "furry" and fun feel to the cowl, making it at the same time, cozier. It reminds me of a yarnie Hawaiian lei. Enjoy! Materials- 1 skein Red Heart worsted weight yarn, Copper Classic (alternately, you can use Wintuk Rust) 1 skein Red Heart worsted weight yarn, Carrot About 1/2 skein Red Heart worsted weight yarn, Pumpkin Crochet hook size H Scissors Blunt needle to weave in tails With Copper Classic or Wintuk Rust and H hook, ch 120, sl st to join rnd.
Craftybegonia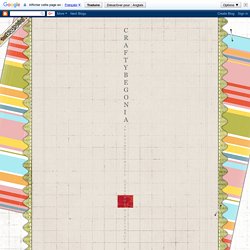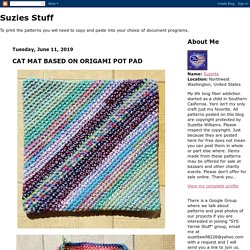 Suzies Stuff
Saturday, January 04, 2014 Top Blogger Thanks for making me a "Top Blogger". Friday, November 01, 2013
Happy Yellow House!
The Crochet Dude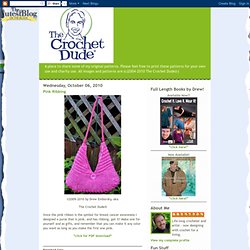 Here is a versatile granny square that can be used for afghans, lapghans, shawls, etc. I used some Lion Brand for this example, feel free to substitute any yarn you'd like! Enjoy!
The bad thing with Facebook is that it's too easy to communicate without communicating... one fast picture and a little sentence and you're done! I was all against Facebook for the longest time, and then a friend convinced me that since I'm so far away from home (Montevideo, Uruguay), it'd be easier to share pictures of the girls, see what everybody was up to and that kind of thing, and I joined. At the beginning I was all into it, but now I barely go into my personal account :( Let's see how long my "I hate cell phones and I don't see the need for one" will last... How do you guys relate to all this pretend communication? Is it just me?
Ana Paula's Amigurumi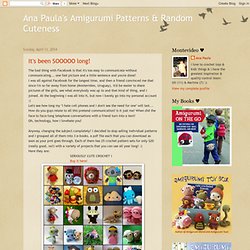 Mary Maxim Starlette (1 skein = 180 yds/165 m) 7 skeins Kelly Green 4 skeins White Gauge: 10 sc and 10 rows = 3 inches Abbreviations: Ch = chain Sc = single crochet NB: All stitches are sc unless otherwise noted.
Blooming Patterns